Previous games in the Europa series have been a difficult, although rewarding affair to get into. Developers Paradox Entertainment have seen this and with the release of Crown of the North we are greeted with a title that is not only a treat to get into and play but also very easy to master and make the most of.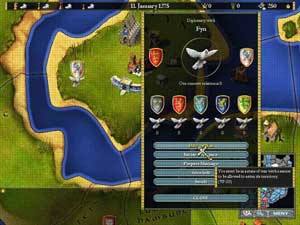 Using a top down management system you start with the battle for Scandinavia during the time period of 1275 through to 1340 and though the title starts you off slow and steady, you do get the chance to expand your kingdom beyond the initial start up area to dominate the entire region. Itís a well paced game that really allows gamers to develop and the title responds to your progression in a fashion that makes sense.
As with other sim games you have to maintain your troops, battles and money in order for your nation to develop and take over others. The menu system is easily navigated and you are never really left scratching your head as to what button to press as you are being decimated.
Interaction with other growing nations is also a key feature to look after as trade with them will expand your standing in the region and also keeping various political factions appeased will assist you with withstanding a dissatisfied populace who otherwise overthrow you. These areas have things that you can do to appease them such as developing churches and making sure that you keep trade routes open etc. The victories that you accumulate will also assist in making sure everyone is happy with you.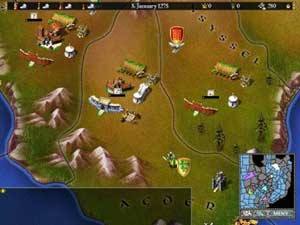 Moods in the game are shown via weather effects and a stormy area of the map means that you better get your butt over there and fix up whatever is wrong pronto! As with many other games in this genre, at times you find yourself micromanaging these little petty annoyances and losing focus on the bigger picture. This will possibly make the control freaks happy but considering the rest of the game seems to being aimed on making the game easy for the gamer to master, it might seem annoying to gamers who just want to get in and out of the title.
This edition of the series is standalone which is great for an addon pack and there are also a number of bonus mission/quests to keep you going beyond the game. The title is solid from a graphical perspective and audio is also consistent with the genre.
All things said and done Crown of the North will keep gamers happy for quite some time. Whilst not the most accurate historical strategy title, there is enough of cultural relevance that buffs should be able to recognise key events from that time. I think that most gamers will find themselves lost in the world of Europa Universalis for some time with this one. I know I did!