East vs. West
East VS West: A Hearts of Iron Game is an upcoming strategy game from Paradox Studios and was one of three games previewed at the "Strategy is Our Game" Tour. Each of the games is still in development, but Impulse Gamer was invited to attend and preview the games to see how they are currently looking. This was the first time East VS West has been shown, so this truly is a first look!
East VS West is a strategy war game that takes place during the Cold War era. As with most Paradox games, East VS West gives the players untold freedoms; allowing them to pick their own country to play as and giving them free reign to set their own goals and victory conditions. The game is very much a sandbox which allows players to repeat history or create their own timeline.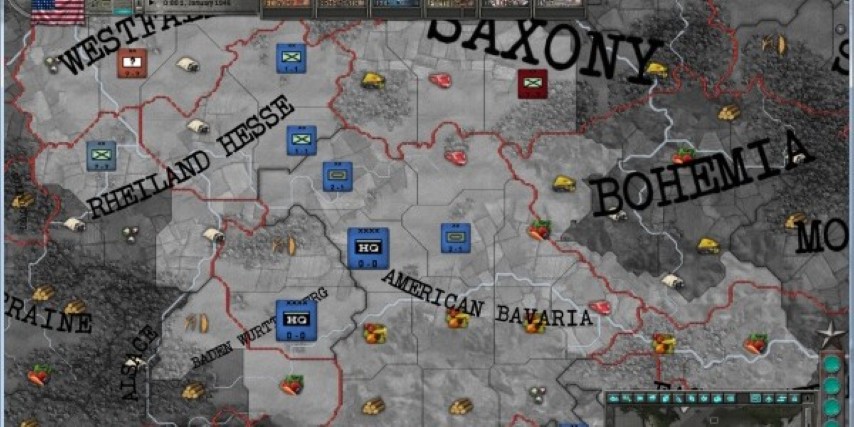 By the time of the Cold War the world was very developed and discovered and as such there are more countries and areas to play as then ever before. With so many countries and so many leaders, the choices are limitless. Paradox went all out and detailed with the goal of making every choice have an impact. Each country has their own population and each population is monitored with age. If a player loses too many troops in a time of war they might find themselves missing out on young people and find a gap in their population. This forces places to not only keep track of their troops, but to remember that those troops come from somewhere and aren't always expendable.
In addition, the game features elections and policies that a leader will want to keep an eye on. If he wants to remain in power and not have to worry about riots, he has to keep an eye on how people view him. Changing too many policies can cause people to question the leader and with too much questioning arises the chance of revolts.
A unique feature in East VS West is the introduction of the 'goal' system. When a person plays a game they don't always want to have to monitor and keep track of every single thing they need to research to get the final piece of technology they want. As such the goals system allows a player to pick what item they eventually want and to select it, the game will then go down the tree and research each piece of technology to get to the final goal. This allows new players or players that don't have as much time to quickly grab the technology they want without digging around in menus.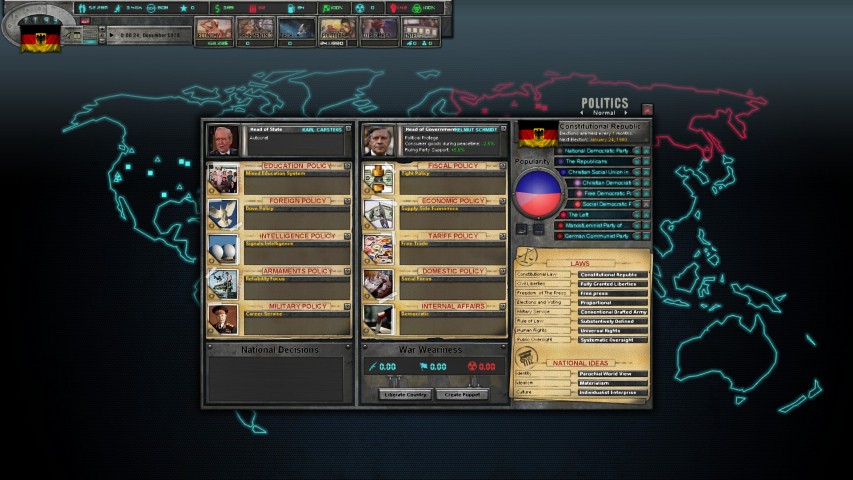 During the Cold War, missiles had a much long range and as such finding targets was the main focus. To help showcase this, East VS West introduces spies, special units that can be sent to do all kinds of various things. A spy starts off with little training and each type of mission gives him experience and makes him better and better. Different spies have different abilities ranging from eliminating other spies, converting enemy spies, killing key leaders, and more. Players can use these spies to watch their enemies and strike if they desire or to try and rule through the diplomacy game by forging and altering details.
The U.N. plays a large role in East VS West by allowing players the ability to take part in the diplomatic features of the U.N. Players can try and get sanctions placed on countries, embargos on trade, and more. Thus players have to be careful to make sure how other countries view them. A loved country can find quite a few friends to help tilt the U.N.'s choices in their favor.
The Cold War era was a time where countries had to be careful to avoid World War III and East VS West is no different. There are different threat levels and if things get too bad it is highly possible that nuclear war will start. If a player is trying to cause it, power to him. But a player that wants to keep their nation going strong will have to watch out that they don't bite off more than they can chew.
While the multiplayer wasn't previewed and obviously mods were not out since the game is still in development, the developers assured me that the game would be completely moddable like their other games and the multiplayer would feature up to 32 players.
In the long run, East VS West: A Hearts of Iron Game is a fun way to experience all the subterfuge of the Cold War Era. It allows players to try being diplomatic, sneaky, or even hostile and each choice will affect your country for years to come.