SBK 09 Superbike World Championship
Since late last year, Moto GP 08 has undoubtedly held the crown for bike racing games on both PC and Console. The announcement of SBK 09 made for salivating mouths and questions of whether it could topple Moto GP's mountain, and it may just do that.
SBK 08 was, to be kind, a flop, it just didn't have the edge that racing fans crave, but in SBK 09 all the wrongs from the previous title have be made right. Still based on the Superbike World Championship (Obviously) it gives you the full rider roster and a great selection of the tracks presented in the 2009 season. Also giving you basic racing modes of Training, Quick Race, and Championship, it's stripped back to its core value, the racing. The racing in this game is absolutely phenomenal. The engine that Black Bean have produced to recreate a Racing Bikes physics are brilliant and fail to miss a single detail, down and unshifting mid corner will whip the front and tail and make you lose corner traction while still showing the riders hand movements to represent a clutch in. It a mile ahead of what could be expected. The damage systems have been upgraded and show some great detailing of panel damage and even performance deterioration depending on the accident that occurs.
The attention to detail is glowing with minute changes making all the difference, from watching the tires change from white to black as they run off the gravel onto the sticky tarmac, to the reproduction of the teams racing livery and some beautiful track landscaping and event weathering, its graphically complete. The audio is just as impressive, when using a surround speaker arrangement it is a beautiful roar that bellows out and can also be utilised as a warning of approaching riders when heard over a roaring crowd. Although the soundtrack is also impressive, the games default settings will loop a track constantly while in a race which can easily become frustrating and cause more than one spin-out.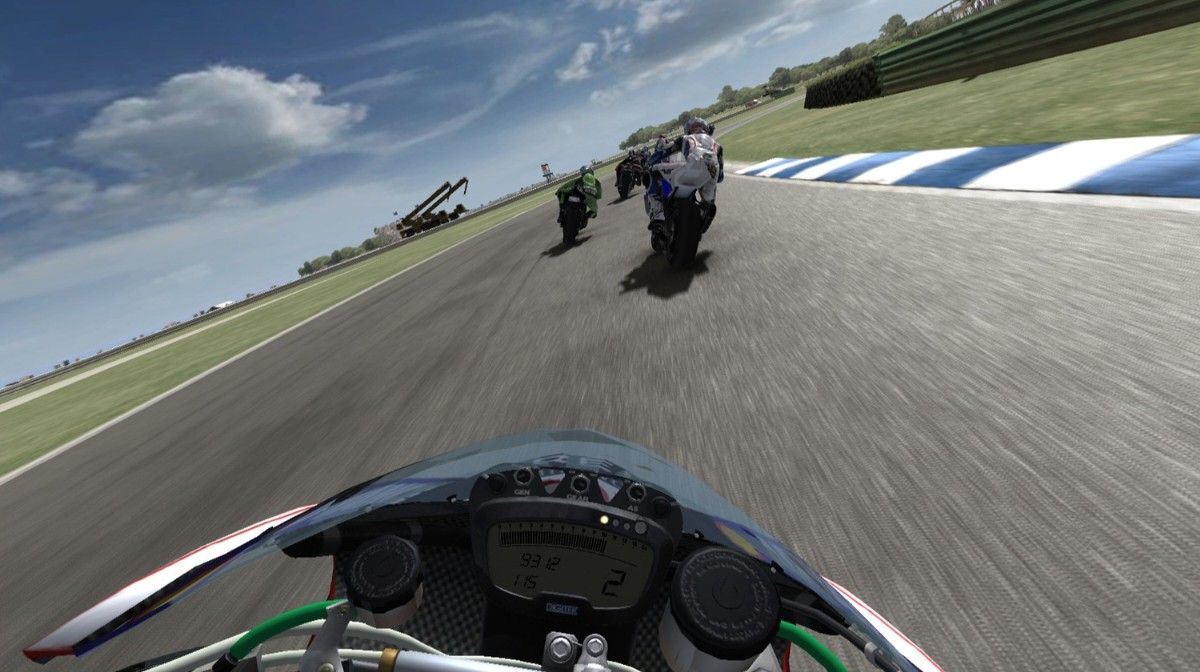 The hardest part of Motorbike simulators is getting the 4 wheeled fan interested, the dynamics of the two sports are completely different. SBK 09 has used a simple engine and it has a very lenient learning curve and is blissfully easy to pickup. After a few laps and once the braking-accelerating system is mastered you can move onto the bike tuning options which have a great effect on the performance of your machine. Again though, for those who aren't really across the running of a bike but still would like to tinker, you can refer to a Team engineer who will make recommended changes based on some selections you make.
All in all, SBK 09 is the total package for Motorbike and racing fans alike. It has left its previous incarnation for dead and has also overtaken MotoGP as the dominating Moto Title. A very worthy purchase.