Multiplatform (tested PC version and Xbox360 Version)
The Hot Call Of Duty Franchise hits boots on the ground running head long into a more modern era with spectacular results. Players follow their actual into more action than you can shake a gaggle of grunts at. The jump by Infinity Ward to Modern Warfare is very welcome and superbly done. Though sorrowfully short, the game keeps up the pace with some of the coolest visuals and action any gamer can want. Better yet, it seems that regardless of the platform, no gamer will be short changed like in so many other games.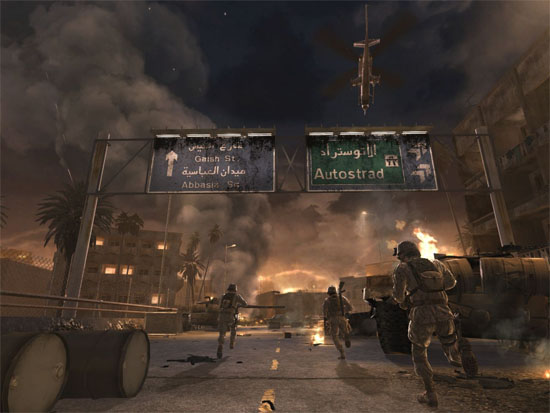 Combat is fast and at times extremely chaotic, with some of the levels having that familiar pressure to move forward as an all encompassing sense of urgency fills the player to get the mission done or all is lost! As with the other Call of Duty Games, this time around in Call Of Duty 4 Modern Warfare, the player bounces back and forth in an intertwined story between U.S Forces and the British Spec Ops. Some times you're a soldier, and at times you get to play as a Sniper, just when you thought the experience could not get any more intense, you feel the pressure of being the gunner of a AC 130 Spectre Gun Ship.
The real pressure coming from viewing the battlefield with gun camera and IR image screens and providing close support for the troops on the ground. As the soldiers on the ground advance, your job is to give that support and not blast the wrong little green/white figures on your screen. The friendlies have a strobe while the enemies do not. With your troops so close to the enemy targets you have to be careful on what gun you decide to use. Too much fire power and your own soldiers can be caught in a blast.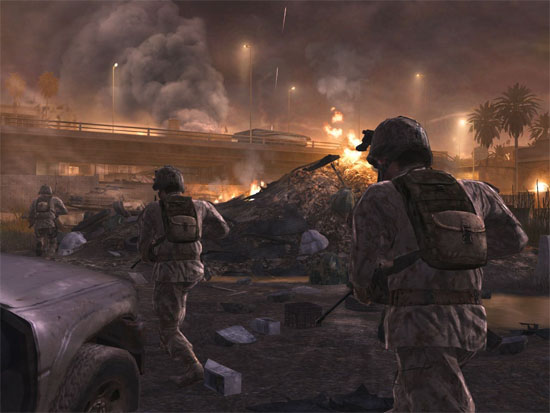 Multiple mission goals per map are pretty much the norm here. Success in one mission goal can open up other assets for success in other mission goals. Let me tell you, there is nothing like calling in a fixed wing craft to do a bomb drop on an enemy position, or watching as the Cobras chew up a building that a moment ago had enemy fire raining down on you.

One of the things that is rather cool about the game is that the environments are varied enough to keep interest up. From a cargo ship battle to some desert and urban combat, the pace stays pretty high and the action very intense. One of my main worries before playing the game was that it would be just another Ghost Recon. No worries there at all. While a lot of things are scripted, the story and the interaction with the story make this game no where near Ghost Recon. It stands on its own and far beyond. After Call Of Duty 3, I can say thank goodness Infinity Ward is back with Call Of Duty 4 Modern Warfare because they where sorely missed.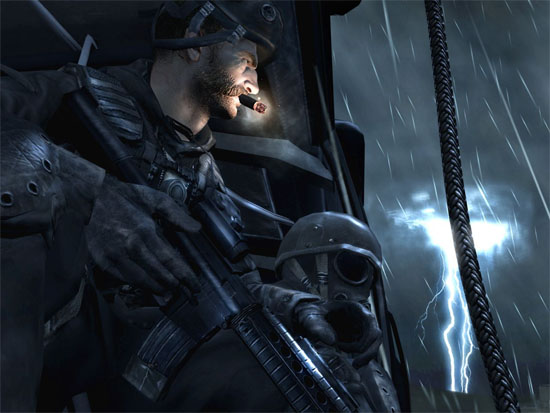 As stated, the single player game just seems a bit short. I would imagine that giving a player just enough and leaving them wanting more while not making them feel jipped is a delicate balance. The short game part can be balanced by playing at a higher game difficulty, though regardless of how far your stretch the game out, either way when you reach the end you will be wanting more of this gem of a game.

Graphics seem to look just as incredible across most of the platforms, the PC and Xbox 360 versions look just awe inspiring. At press time we could not make comment on a PS3 version. While the PC version does really need a high end graphic card and a solid system to run, we found that on the systems we had, at this time with out tweaking the Alienware system was the only system that ran the game with out a glitch on the PC front. We must point out that this is due to the other systems just don't have the hardware punch that the Alienware system does.

Of course the Xbox 360 version looked just as awesome as the PC version. Voice acting is done very well with combat chatter making things seem oh so real and in the moment. Music lends itself well also, helping the emotional punch along depending on what is happening in the game at any given moment. From moving on to a probing action for the enemy, to enemy engaged or the tense moments of belly crawling through an advancing column and hoping not to be seen, it's a true experience that you will just have to play to believe.
Of course the Call Of Duty line has always been very strong in its multi player support. No exception this time around. With the maps available players have plenty of cover and lots of areas to explore and fight in. I have a hard time enjoying most multiplayer games because it is very hard to find a team that actually fights as a team.

Combat classes in multi player have different bonuses as well as the expected different weapons. Though the nice thing about it is that, just because you start with a given weapon, your not stuck with it for the whole game session.
Call Of Duty 4 has the standard deathmatch, team deathmatch, domination modes. Plus a split screen style of play you can try out with a friend with out hitting Xbox live.

Get in the war you ImpulseGamer readers and pick up Call Of Duty 4 Modern Warfare. This multiplatform game is just the thing for you to pump up the action and have a blast.

Have fun, Play games.
Edwin Millheim