Mindscape have released another entertaining and educational children's game called "Farm Vet" which transforms young gamers into an apprentice Vet as they care and ensure that the variety animals under their care have their needs met. In its essence, Farm Vet could be considered a simulation as players must diagnose their farmyard animals and also treat their ailments through real-world vet tools.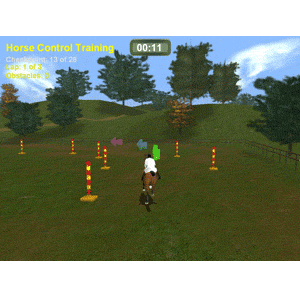 Best of all, the animals have this uncanny realism to them, so it's easy to understand why children will fall in love with their patients. The goal of Farm Vet is to become a fully pledged Vet but first, players must start with the basics and engage in a variety of entertaining mini-games which also teach children computer skills. Other farm activities such as shearing sheep, horse riding, milking cows or collecting eggs breaks up the gameplay of the main title and you can even explore the farm where you work at.
The mini-games are quite entertaining, although there were a couple which even our younger reviewer thought were a little boring but the majority of time, they were having a blast and with over 60 different medical problems and a variety of mini-games, there is little to complain about Farm Vet, especially it's price that comes at a recommended retail price of $29.95.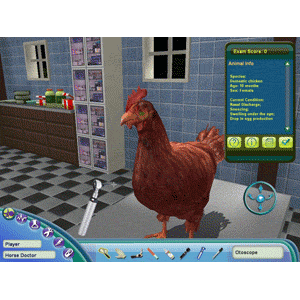 Features

- The only simulation game that combines veterinary care with farm management
- Real-Time 3D fun!
- Over 50 animals to treat including horses, cows, rabbits, sheep, ducks, pigs, chickens and dogs
- 60 medical problems all written by real life veterinarians
-30 realistic vet tools at your disposal
-3 levels of diffi culty
- 5 engaging mini-games to play

Graphically, Farm Vet is a visual treat and has this "Saturday Morning" cartoon feel to the game with colourful graphics and loveable characters. The sound effects of Farm Vet are great as is the ambient soundtrack which goes hand-in-hand with the gameplay.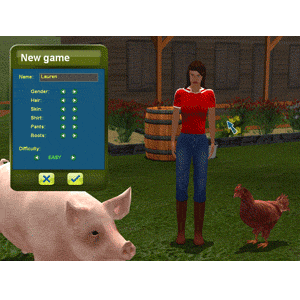 The installation of Farm Vet was a breeze and it auto-installed onto our computer with minimal prompting from the user. The system requirements of Farm Vet recommended a mid-range computer but users should check their systems first before purchasing the game.

In conclusion, Farm Vet teaches children how to care for animals and may even want them to become real vets. The games are quite entertaining and the title contains a variety of different animals that will easily make this game a favourite among younger gamers and will teach them informative computer skills.

System Requirements

- Windows® XP/VISTA
- 2GHz Pentium Processor
- 1GB RAM
- DirectX compatible video card
- Minimum 128MB RAM
- DirectX compatible sound card
- 16X CD-ROM drive