This week finally sees the release of NCSoft's much anticipated sequel to Guild Wars, boasting tons of content, a subscription-free (but not "free to play") business model, and exciting PvP and World vs. World combat. A top-grade MMORPG competing with the best and the rest of an ever-expanding field dominated by one title, Guild Wars has a lot to live up to – and a lot of narrowed eyes watching. With the dominant force in the genre turning 8 years old before long, Guild Wars 2 has a big, loyal market to compete with. The biggest question as this game enters the field – is Guild Wars 2 any good?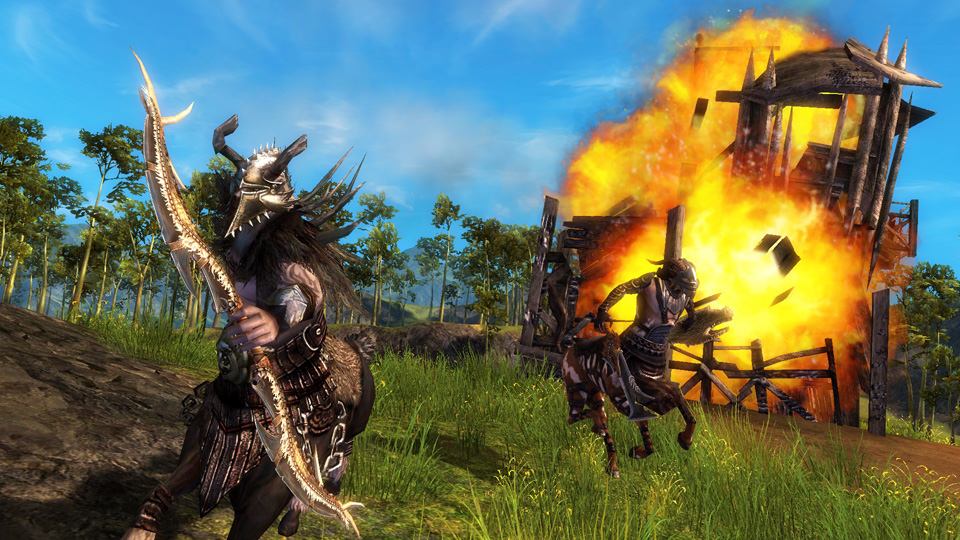 Boasting 8 classes playable by 5 races with no restrictions or race-based bonuses to spoil the mix n match fun, Guild Wars 2 is set in a world with beautiful lore, a true sequel to the original. Similar to Final Fantasy, the world of Tyria features certain aspects of technology that seem modern or futuristic, but by and large the setting is high fantasy. The game takes place long after the original Guild Wars, so despite the increased level cap in 2 (a level cap of 80 compared to the original 20), players are not able to import a character. Achievements and certain other statistics are able to be commemorated on the Hall of Monuments, however, which makes a cameo from Guild Wars' Eye of the North expansion.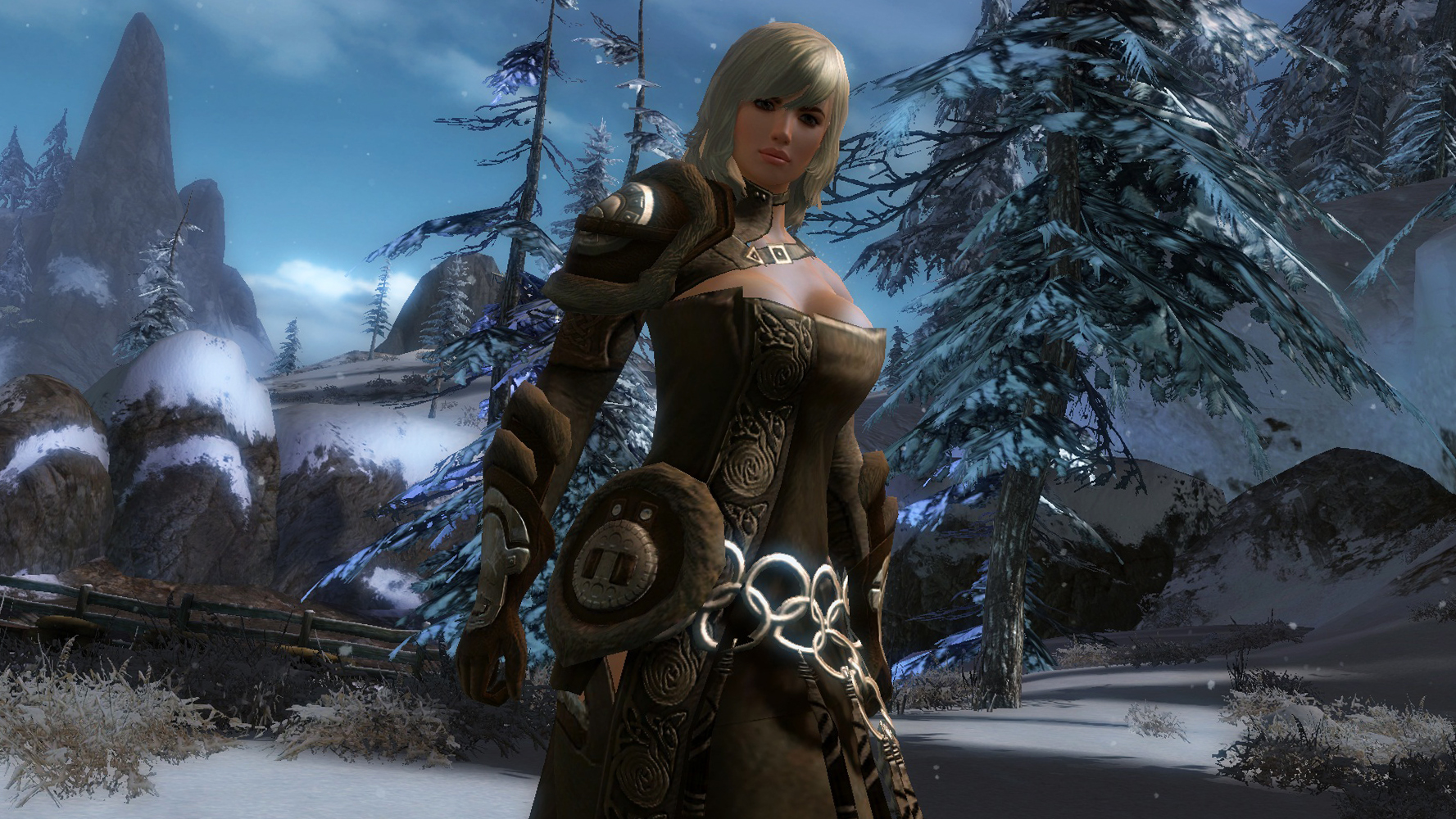 There are changes in Guild Wars 2 to make the game more streamlined and avoid some of the "grind house" blues that have come with most MMORPG games in the past – dynamic events, extra world interaction, and a focus on growth through means other than raw combat help to ensure that the game stays fresh. Don't get me wrong – this is a red-blooded MMORPG if I've ever seen one, but Guild Wars 2 and NCSoft have the artistry and competitiveness to try to move the genre forward with improvement over a lot of the typical game model. The game world is just as big as you'd expect, the content just as expansive (and how!), and the experience overall very memorable. This game has as much potential as any I've seen to latch onto your life and demand more of your time than you ever expected to give up.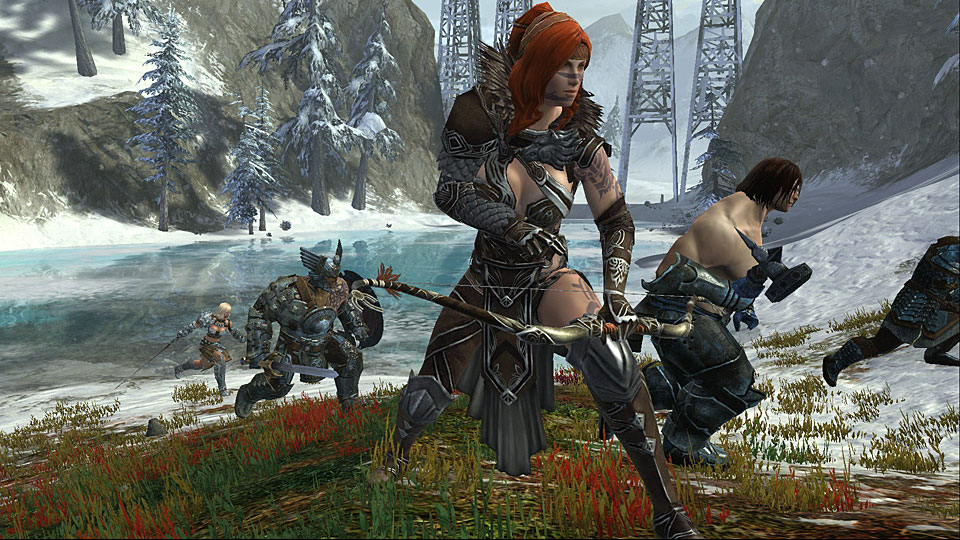 While some environments suffer from classic MMORPG "plain" looks, the detail level overall is pretty high and in certain areas and cities, the beautiful design and massive scale is especially apparent. Exploring Lion's Arch during the day and checking out all of the vistas is an early pleasure of the game that really shows off the attention that has been paid to detail. The game world practically crawls with life and interaction, thanks in part to the ability to gain XP in everything you do whether or not you belong to a nearby group. Touches like this and the ability to fight for your life upon death in order to rally yourself back to the living world add an organic flavor that give Guild Wars 2 character without added complexity.
With a development period of 5 years, Guild Wars 2 is a new breed of MMORPG that arrives just in time to evolve the genre and refresh its flagging numbers. Without subscription fees, it seems unlikely that a game could single-handedly revive the market, but Guild Wars 2 is an unlikely game. Offering everything that most players want in a multiplayer online dungeon crawler experience, gorgeous visuals and bold steps forward in gaming ideas, Guild Wars 2 is a true blockbuster given all of the tools it needs for success. If you want to do more with your time – like spend it in vast quantities while increasing your reputation as an adventurer online – There are few options that can compete with Guild Wars 2.
- Josh Waters
Game play – 9.5 - Classic MMORPG fare with decent simplification of skills and a camera that only goes haywire sometimes.
Graphics – 9 – Like all games in this genre, the world of Guild Wars occasionally seems dull at its worst, but at its best it blows away the competition.
Sound – 8 – Atmospheric and appropriate audio that doesn't quite reach the level of groundbreaking, but excels regardless.
Value – 9.5 – No subscription rate, a vigorous community and a buy-in price that's the same as non-multiplayer console experiences? Competitive.
Overall – 9 – A awesome experience that may not do everything perfect, but when you do it better than the competition, that's all that matters.