This is one hardcore game that should have those of you who dig strategy titles drooling in anticipation. Spanning 300 plus years, Europa III is packed to the gills with options and nations to control and fight with an interface that I personally found extremely user friendly and easy enough to get into. This is a refreshing change from needing a degree in order to even starting some of these titles.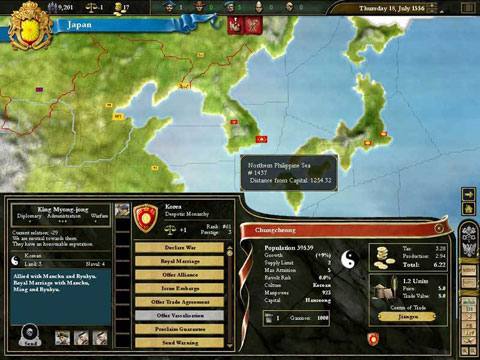 Taking place in real time, the game takes time to get into however is very rewarding as you start to see how everything fits into place. The amount of choices when you start the game is your first notice of how good this is gonna be as you can choose any nation that was in existence during the period of time that the game covers being 1453 and 1792. So no matter how large or small you want to start out, the game is here that supports just that.
For those who have not played before, the cool thing about the game is that you donít have to destroy the galaxy to win the game. Europa takes you where you want it to go. If you want to just look after a small part of the world and make that your gameplay experience, that is fine. If you want to go kick major butt, you can do that too. Planning is essential for any offensive that you are planning though so be sure you are ready for war if that is your bag baby.
Decisions you make during the game will affect your standing with other nations as well so diplomacy is key to getting through everything in one piece. Your citizens will support you as long as you are doing the right thing by them and other nations; doing the wrong thing can actually spark internal civil strife that will upset your external campaigns dealing with an unhappy populace.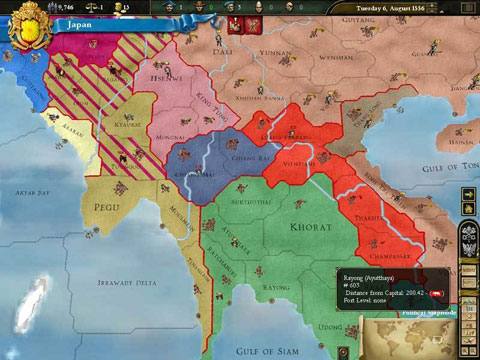 The look of the game is detailed and plays very well. The user interface makes it possible to look after a lot all at once without detriment to concentration as you struggle to find out who is doing what and where. The way you can control things quickly is with a set of sliders that you can toggle after a prescribed period of time. These affect your policies both internally and externally, potentially angering your people or of course, making them happy with the decisions that you make.
If you take the time to explore all your options, this is a game that is going to continually reward you for doing so. Learn how to use your diplomats to either provoke or stop a war. Send spies in to cause chaos in neighbouring nations, just make sure they donít get caught as then everything backfires on you big time.
Add to all this gameplay which comprises many many hours of fun, the game also supports quite a robust online experience as well, with the ability to also take on your mates on a local network, thus boosting the life of the game extensively.
Included on this collectors edition is a whole swag of stuff including guides, soundtracks and everything else to make this one compelling purchase so get off your butt and grab a copy of this awesome game.