Spellforce 2: Shadow Wars
The saga of Spellforce continues in Spell Force 2: Shadow Wars that once again combines elements of real-time strategy and role-playing to give the gamer a true medieval fantasy experience that is a kin to classic sword and sorcery. Unlike the previous incarnation, this current version focuses a little more of RPG with improved graphics and gameplay that will have RPG gamers craving for more. With that said, the game still contains a healthy dose of RTS elements that has the player creating and building units by collecting resources in order to partake in large scale battles with the denizens of hell.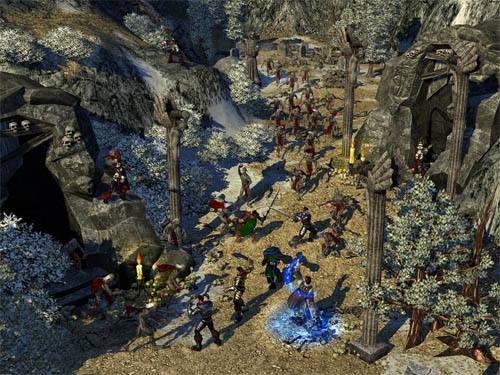 The story revolves around the beautiful yet deadly dark elves whose country was thrown into turmoil by the Shadows which flamed the spread of civil war. Unfortunately for this race of noble elves, a new threat rises in Eo that has Craig Un'Shallach, the Dark Elf General turning to his original enemy to turn the tide of war.

Unable to stop this new menace that threatens the very planet, the daughter of Craig Un'Shallach, Nightsong, flees into the borderlands to warn the humans of the Shadows influence on her father. Unable to find the assistance she needs, Nightsong travels to the legendary dragon warriors, a race of beings feared by both light and darkness alike to discover a legacy lost that must reunite the world.

Features
Innovative new Role-Playing-Strategy Genre

Click'n'Fight and Quick-Action-Buttons: The revolutionary control system
guarantees instant action, and a wealth of unique tactical possibilities at
your fingertips

Master an epic quest with a gripping storyline and 60+ hours of game-play and a wealth of sub-quests!

Take your pick from a rich variety of skills and spells offering endless
combinations for your character

Avatar and heroes

Choose from over 100 original Avatar skills

Easy Skill tree system that allows you individual character development
Form your band of customizable heroes with their own motives and goals - from powerful elemental mages to necromancer, healers or archers

Living World

Enjoy a highly detailed and living fantasy world that adapts to the actions of
the player: Fight monsters, gather items, adventure, trade and collect mighty
artifacts to use for your battles

Experience spectacular landscapes with striking environmental effects, from
third person to isometric view

Fractions and Races
Lead The Realm, The Clans or The Pact to victory, with 12 very different units
consisting of infantry, cavalry and flyers

Command 9 different races: humans, elves, dwarves, trolls, orcs, barbarians,
dark elves, gargoyles and shadows

Special unit characteristics like camouflage or berserk

Fight against even more AI controlled races such as the dreadful Undead or
wild Beastmen

Unleash the mighty masters of the battlefield: the powerful Titans
Multiplayer

Extensive co-operative campaigns for up to three players online or via LAN

Experience spectacular mass battles in breath-taking 3D graphics together with your friends

Throw yourself into hot multiplayer battles on action-packed maps with up to
six players or against the adaptive enemy AI
The interface of Spellforce 2 is much the same as all traditional RTS games that allows gamers to give their units various orders such as gather, build or patrol with an easy to use interface that will take most gamers only a short time to master. There is also a mini-map that highlights various items and areas on the map that make the job of micro-management a pleasure not a pain. Whereas the role playing aspect of the title is more akin to games such as Diablo that has the player engaging in a variety of subquests to bring order to their realm.

Spellforce 2 offers gamers a variety of gameplay modes that includes your addictive yet time consuming campaign mode, skirmish mode and also various multiplayer modes such as skirmish or co-operative campaign which is definitely a welcomed site to the world of RTS games. There are also a variety of different races that the player has access to, whether it's the humans, the white elves, the dark elves or the dwarves, they'll need to combine their resources to take on this new peril that threatens their very existence.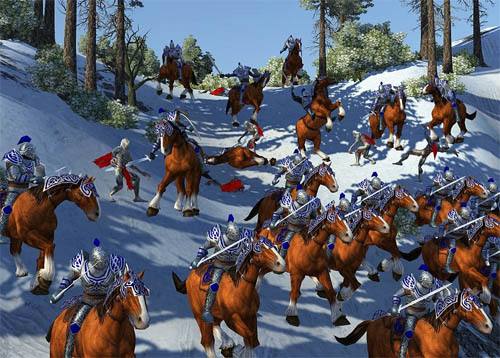 Graphically, SpellForce 2 is a visual treat that contains some high resolution backgrounds, characters and environments with an awesome amount of attention to detail such as characters drinking ale outside taverns or the blood stained grass of the battlefields, it's these small touches that really make you appreciate the world you are playing in. The characters have also been professionally designed that contain an extraordinary amount of polygons and texture details that move with a human-like grace that is the real star of the game. Match this with a plethora of special effects from the powerful spells to the realistic lighting that melds nicely with the genre.

The musical score of Spellforce 2 feature a majestic yet mellow soundtrack that truly immerses you into its mythical universe and add some entertaining and sometimes over the top voice acting and one can be mistaken in thinking that watching some "B" grade sword and sorcery movie.

In conclusion, Spellforce 2 is a rather sturdy, entertaining and extremely playable title that features state of the art graphics with some great replay value. In its basic essence, Spellforce 2 could be considered Diablo meets Warcraft with its RPG and RTS elements of gameplay that have successfully merged the two genres into one great game.