Puzzle adventure games are almost a dying breed on the PC, however there are still some developers that cater for this market and Mystery P.I. the Lottery Ticket is just one of those titles which transforms gamers into a detective as they attempt to solve the mystery of a lost lottery ticket.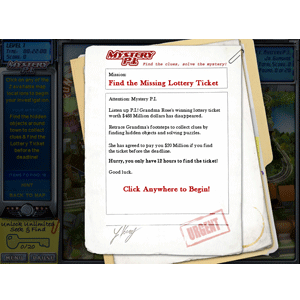 Features
Find over 2100 cleverly hidden objects

Investigate 20 intriguing scenes to Find the Ticket

20 unique Make-A-Match memory puzzles to solve

Find the Ticket by collecting clues and solving the riddle

Locate the secret keys to unlock Unlimited Seek & Find game mode and a secret location

Never the same game twice, every time you play you find new hidden objects

Go for a Perfect Investigation and Speed Bonuses to become a Master PI
The story revolves around Grandma Rose, a lady who has won the lottery, however for this lucky lady, her ticket has gone missing and to compound the situation, she only has 12 hours to claim the prize.
This is where the gamer comes into play as Grandma Rose has hired you to find her winning lottery ticket and should you uncover its whereabouts and return the ticket, you will be financially awarded by Grandma Rose.

The gameplay of Mystery P.I. the Lottery Ticket is a little simplistic at best and is aimed at the younger gamer as they must find a variety of items in the gaming environment to link these clues together.
To add some difficulty to the player, there is also a timer that you are competing against and you must find a variety of these items in the allocated time limit. It can be quite challenging at times.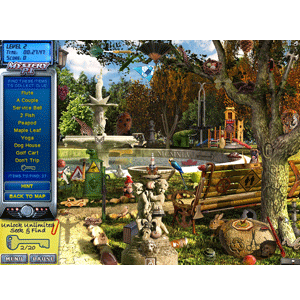 Some of the items are quite well hidden on some levels or the clues are a little mundane at times which makes it tricky to find but at the end of the day, the title is a puzzle adventure game so it does make you think.
There are also a few mini-games in the game does spruce up the gameplay through memory games, however the unfortunate aspect of Mystery P.I. the Lottery Ticket is that the areas you visit are too repetitive as is the gameplay and at times a little unchallenging.

Graphically, the title uses real-world images to immerse the gamer into this gaming world that actually suits the premise and match that with some background ambience such as a good soundtrack (although a little repetitive) and some sound effects and you have nicely rounded at this game. Unfortunately when compared to the world of the console games, this game is truly lacking in this department.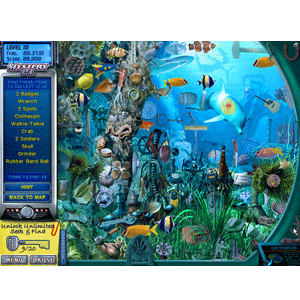 In conclusion, Mystery P.I. the Lottery Ticket is not a bad game but is unfortunately too repetitive and the graphics seems a little dated when compared to more modern games. However for the price, it's definitely one for the budget conscious gamer.
Interesting at the very least!