Heroes of Might and Magic V
Heroes of Might & Magic V was one of those games that I was actually quite antsy about playing. Heroes 1,2 and 3 were enjoyable affairs and then we got number IV, which more or less made me think that the game was winding down. Publisher 3DO, most likely known for the shambling Army Men franchise went down the tubes and the game was then resurrected by Ubisoft and developer Nival. Fans of the series are going to be very pleased with the new game and especially its transition to 3D.
This is a great looking game and the third dimension shift is a good looking one to say the least. The title for those who are unaware is a type of travelling RPG, where your character has skills that are upgradeable. This has been significantly updated from the previous versions of the game where this time around, your avatar is capable of six skills that can be expanded upon along the line of your adventure.
The emphasis on the word Heroes is apt due to the fact that there are heroes all over the gameworld and they are vital to amassing and leading armies across the game. Through their abilities, they can confer power to their troops, encourage others to join their armies, and bring other skills and tricks to the game that enhances the tactical chances of winning battles.
As you go through the title, you will find that you can develop more heroes that are placed around the world. These also will gather their own groups that you will then have to keep an eye on, making this a major task in itself. Heroes also have limited slots that can be filled with skills, so be sure that at the end of a level that you choose them wisely. Not all heroes make it through to the next level so donít waste too much time building up the wrong ones.
Other things that are being developed during the game involve cities and the buildings that are in them. Your heroes rely on the development of new technologies and upgrades for your troops and are quite expensive to build. Once they are fully underway however, gamers will certainly reap the benefits of research and the cities appear on the gameís map, acting as a great point of reference.
Progress through the game is made in a turn based fashion which allows for the gamer to take control of the different units in a somewhat controlled fashion. With the move to 3D, I found that it was actually easier to find troops and heroes. Movement pathways for each sector are easy to navigate with a kind of grid like layout determining each area. Battles are handled in a strategic kind of way, similar to a gameboard in terms of layout. Army strengths are shown by numbers underneath a particular group. As fighting commences, unit numbers grow smaller, indicating damage done to that area. Itís all really easy to follow and keep track of how you are doing.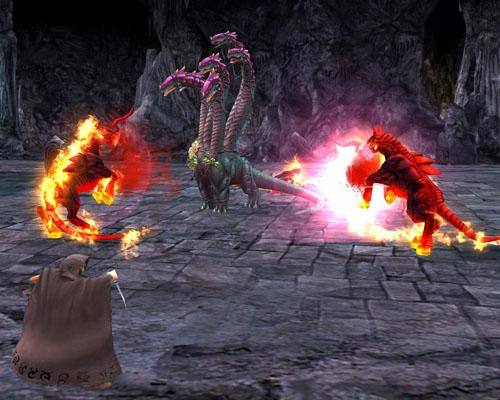 The visuals in this game are gorgeous and if you are a disenfranchised player of the series, take heart. Spectacular scenery, coupled with the ability to zoom in and out of areas. I think most players will find the time to really check out the gameworld and use the enhanced camera to check out the imagery. Castles and other structures come to life under the gaze of the camera and create a living breathing world.
Punters are going to be very happy with this game for many reasons. Updated visuals, better skill upgrade system, and a massive amount of time to get through the game all add up to a great title that is value for money. If you were worried about HOMM after IV, then rest assured itís back on track.