There are a handful of games which have made an everlasting and even more so, addictive mark on the PC Gaming world such as Sim City and Civilization. Considering the repetitive market of the industry at the moment, it's refreshing when a games developers creates something unique and is not just another first person shooter.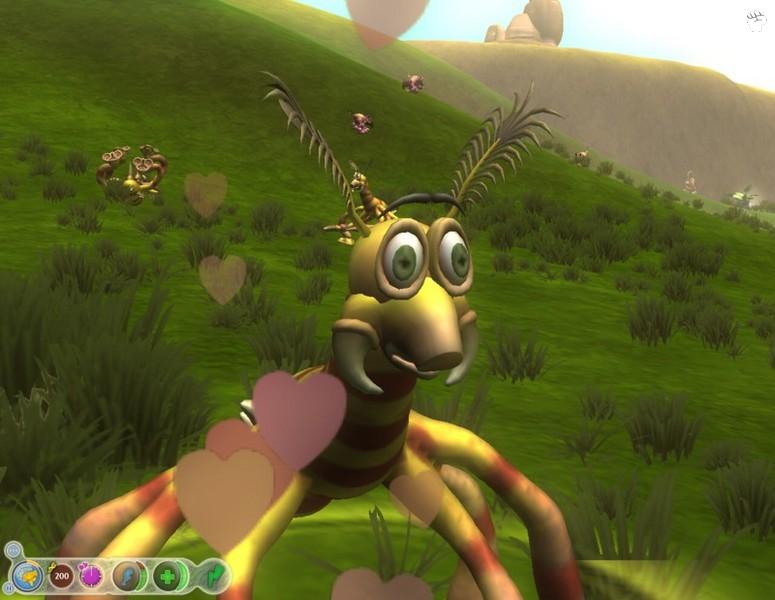 Thankfully for the PC gaming world, Spore from the creator of the Sims has arrived and lets the gamer play an almost mad scientist as they take a single cell organism and transform them into a living and breathing entity that as you progress becomes more and more intelligent and aware of the world around them. Still a little confused? It's basically the birth of man or alien from a single celled organism to what we are today and beyond, however in Spore, the outcome is only limited to your imagination and how well of course, you manipulate the environment.
Features:
Take complete control of your creature's fate in SPORE as you guide it through the following six evolutionary phases:

Tidepool phase: Fight with other creatures and consume them to adjust the form and abilities of your creature. It's survival of the fittest at the most microscopic level.

Creature phase: Venture onto dry land and help your creature learn and evolve with forays away from your safe haven. Carnivore or Herbivore? Social or Independent? The choice is yours.

Tribal phase: Instead of controlling an individual creature, you are now caring for an entire tribe of your genetic craftwork. Give them tools and guide their interactions as you slowly upgrade their state of existence.

City phase: Bring your creatures' race into a new golden era by building up the technology, architecture, and infrastructure of their city.

Civilization phase: Once your city in SPORE is established, your creatures begin seeking out and interacting with other cultures. You can have them do so with an olive branch or a war cry-either way, the goal for your creatures is to unify the planet.

Space phase: The time has come to move on to other worlds in your solar system. Make first-contact, colonize, or terraform, then venture further to find other solar systems scattered throughout a magnificently rendered galaxy. A 'mission' structure provides new goals and paths to follow as you begin to spread through the universe.

A suite of flexible, intuitive creation tools leverages the creative imagination of the player. Creating an entire universe of creatures, plants, buildings, vehicles and planets has never been so easy or so fun. An infinite variety of design choices is just the beginning.

The world you explore is populated with creatures, plants, buildings and vehicles developed by other gamers and downloaded from a central database. The server chooses creatures and civilizations that best match your chosen environment, your experience level, and your creature's ability. In turn, your creatures are uploaded to the server to be shared with other gamers.

With procedural animation, your creatures and vehicles move based on how you construct them. They behave and interact based on your input and by their in-game encounters. That means there's no pre-determined path you must follow-the game evolves based on your decisions.

Wonder what another gamer was thinking when they created and evolved a creature in SPORE? Uncover information about each creature's origin in the Sporepedia, yet another way to explore the truly endless universe of creative expression that is SPORE.
EA Games have been quite clever in their marketing for Spore that through the media, they have been able to release certain key elements of the game in order to get the gaming world excited. They even released a Creature Creator which gave the player a snapshot of things to come as they created their own little alien creatures that was only limited by your own ideas and needless to say, this is probably the most anticipated game of 2008.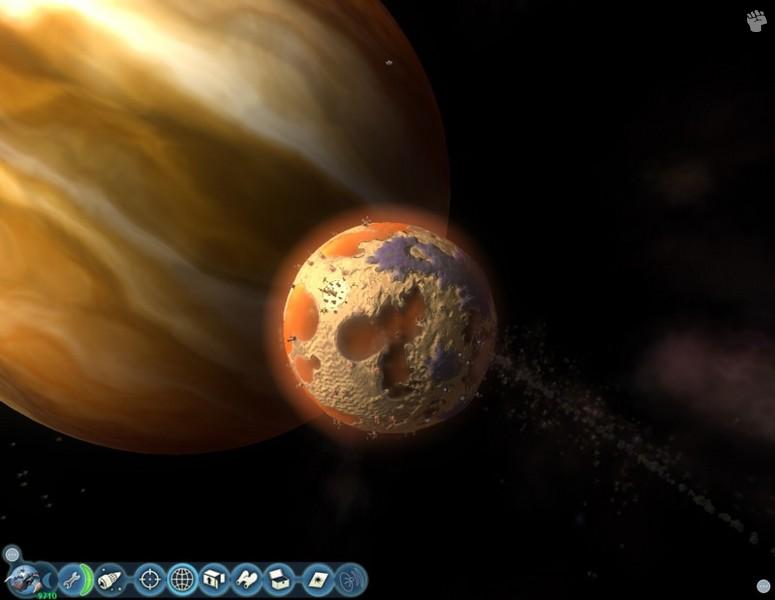 Another impressive aspect of Spore is that the developers have truly given the player some ownership over their creations which creates a bond between the gamer and the virtual entities of their creation and actually makes it a little more exciting.

EA have created a great online community for Spore where you can share ideas and innovations with other players. Even better, your creations eventually become part of the online Sporepedia database that will showcase your characters and the items that they have created which is truly revolutionary.

Before you create your virtual species, you must first start with your single cell organism which although this is quite limiting, it teaches you some of the basics of the game and there is a total of five different levels in the title. As you progress, your creatures eventually climb out of the primeval swamp, seeking resources for their existence such as food, even choices such as herbivore or carnivore for their dietary needs.
You also need to ensure that your creatures are kept away from more dangerous species which is quite fun and of course, sex plays a role in Spore as you need to improve your creatures gene pool and ensure that your species procreates.
Although Spore features a variety of different gaming genres in one, the creation aspect is almost strategic, however as your creature becomes more and more adaptable and they yearn for more such as exploration, the title takes on a more RPG approach as you make allies, attack others and build your creatures role in the world that they live.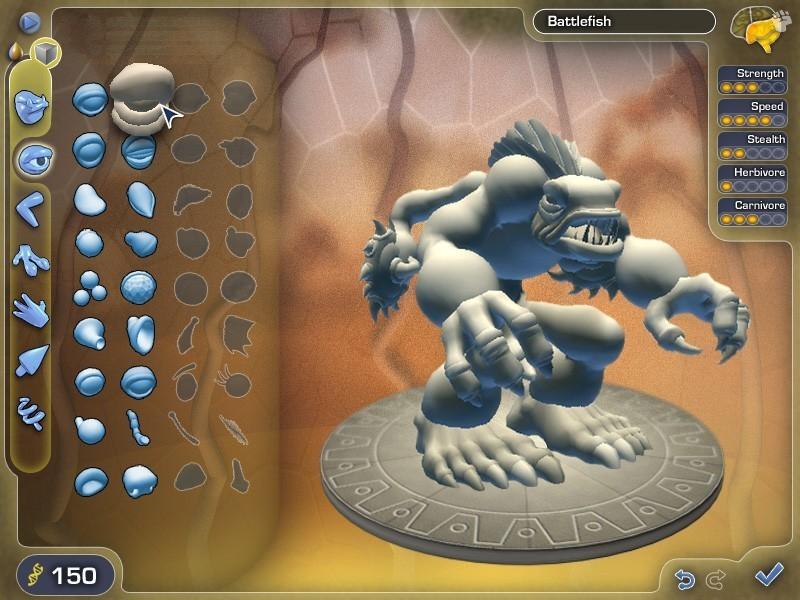 I must admit that it's kind of cute seeing your little Spore making new friends by singing and dancing or ripping them apart with their deadly claws, provided you have given your creatures weapons.
The title changes genres again when you reach the Tribal Stage as you now need to control a tribe of Spores and feels like a real-time strategy as you ensure that they continue to evolve. Elements of Civilization comes into play as you create a variety of "buildings" from military to happiness and once you are at this stage, you would have just realised that you have spent hours upon hours playing this addictive title and there's still more to achieve.
Like Age of Empires, once there are other races around, you can send in religious zealots to convert the city or just march your armies through their territories, either way, you are not just limited to two options as Spore features a variety of different roads to your intended or sometimes unintended destination.
The last stage of Spore is Space... the final frontier as you explore the unknown and attempt to make allies and conquer the stars which is a nice finish to the title, however the space exploration stage still allows for some quite entertaining gameplay such as UFO tactics like abductions which you may implore.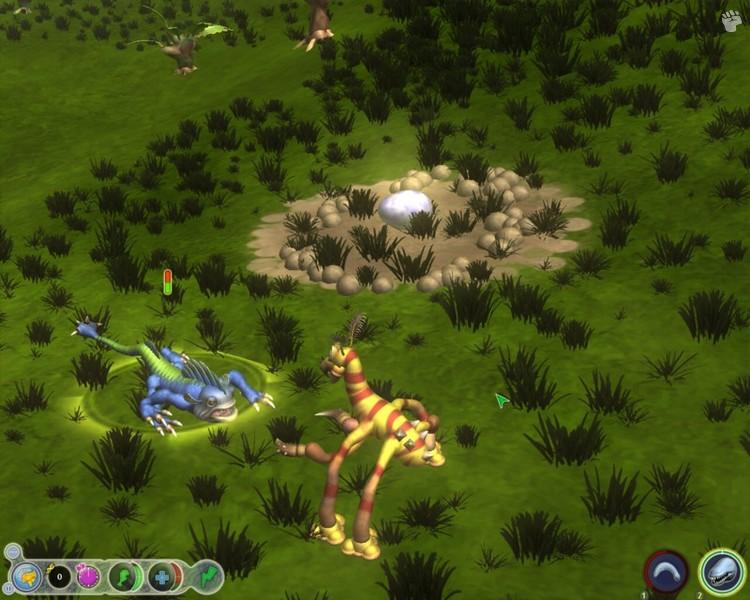 By now, your species have evolved into quite sentient life forms as they attempt to colonise planets, use terraform technology to make a planet suitable for life or defending your space empire from enemies. At the end of the day Spore is definitely the most original game to come out this year due to its varied gameplay and attempts at linking a wide variety of gaming genres into one successful game.

Graphically, the title is quite "cartoony" which actually suits the game perfectly, however the star of the title are the Spores themselves which are extremely well animated and can be quite detailed at times.
The gaming environments are brilliantly and graphically well designed, whether its the single celled organisms attempting to feed or procreate or the space exploration, the different eras, settings and gameplay modes flawless interlink together. Match that with some great Spore sound effects and a deeply engaging yet ambient soundtrack and Spore is an extremely well made game from start to finish which cannot be faulted one way or another.

In conclusion, Spore is definitely an exciting game in this time of repetitive ideas in an over crowded gaming market. It's not quite an RTS nor an RPG nor a strategy game but one that successfully combines all three genres into an exciting game that works quite well and is complimented with good graphics and a great premise. Brilliant!