Magic the Gathering Duels of the Planeswalkers 2013
Well, another year has passed and another edition of Magic's Duels of the Planeswalkers franchise has appeared – a less tongue-twisting title is not among the updates and new additions. So what is new, you might ask? Well, the big news is the Sealed Mode... but we'll get to that. First, a rundown of Duels of the Planeswalkers (DotP from here on, to appease the gods of brevity) itself, and how it relates to the card game.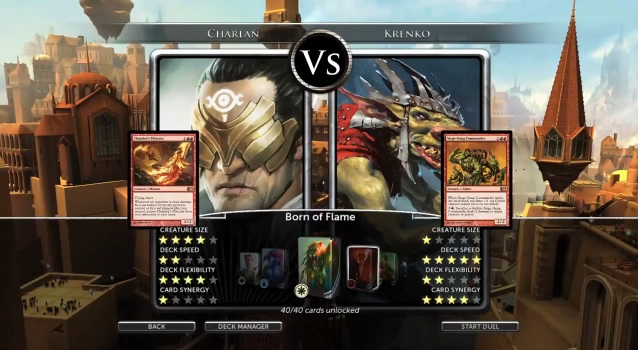 For the uninitiated, Magic: The Gathering is a popular trading card game where players assume the role of a "planeswalker " (essentially wizards who travel across dimensions) and battle one another using spells that are represented by trading cards. DotP is among the numerous video-game adaptations of this long-running game (No joke, Magic's been around since the early 90's) and among the most successful. Though technically not as deep as the real thing, and certainly not featuring the many thousands of different cards from throughout the 20 years of new card sets, DotP does offer a beautiful interface with simple user-friendly controls and nice effects. This is not a hardcore digital representation of the game. Neither is it bare bones, offering respectable deck customization complete with filters.
This year's edition has an increased production value. Gorgeous cut scenes with full voice acting are sprinkled throughout the campaign, and are the most noticeable upgrade. There's a bit more challenge to the single player battles as well. Players will also be excited by the ability to fully customize decks, including alteration of land counts. These little changes represent a steady expansion of the game's scope for Magic players – not just making it a better game in general, but in a way legitimizing it.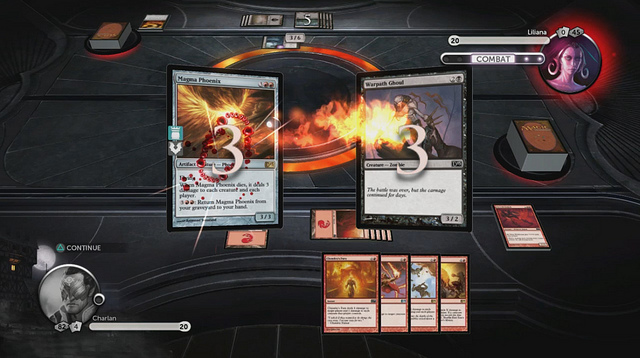 DotP is really aimed at those who are relatively new to Magic, and as such it is a great way to learn the game. Unlike in a real match, you won't be at the mercy of a sweaty, overzealous card shop regular as you attempt to learn the rules, constantly chastised for making stupid mistakes. When playing against the computer there are no arguments - if you can do it, the game allows it. If you can't, it doesn't. Trial and error is all you have to add to the recipe in order to gain a decent understanding of Magic.
The new Sealed Mode is an exciting addition to the franchise, as it allows the long-awaited ability to fully create and customize decks which can then be played online. This is not quite Magic Online, however - booster packs are few in the short Sealed Mode campaign, and only 2 deck slots are provided for free. Up to 3 additional deck slots can be bought as DLC, but you cannot buy or earn more booster packs for your sealed deck. This limits players' freedom enough to be irritating, but it keeps the playing field relatively fair - while there are a few players who may get very lucky and unwrap some amazing finds and build an incredible deck with them, by and large most people will get generally the same level of power out of their pool and will have to rely on skill to win.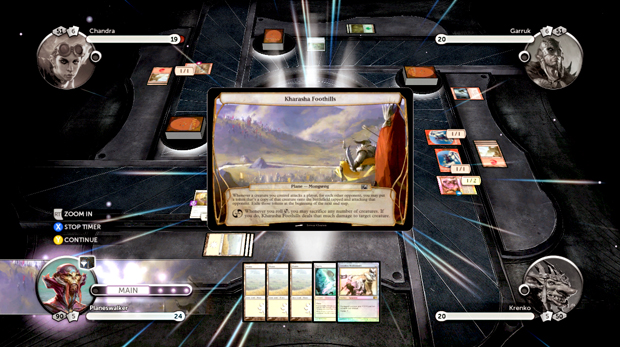 Magic 2014 doesn't exactly offer a wealth of content - the campaign modes are short and the Sealed Mode is especially limited - but the 2014 card set seems to be well represented and Stainless continues to hone the interface and game modes with each annual release. With the excellent multiplayer mode included, Magic 2014 offers a great way to learn the game, practice the game, and (most importantly) play the game competitively with others - all for less than the price of a deck of real Magic cards. If you're a fan of the game or have an interest in learning, there's not much more you could ask for.
- Josh Waters
Gameplay: 8. Good controls and a great interface, the limited content is the only downside.
Graphics: 7. Cool new cut scenes and the usual effects.
Sound: 6. Good sound effects, but repetitive tunes and mediocre voice acting.
Value: 9. You get a lot for your money here, and DLC is very reasonably priced.
Overall: 7.5