Football Manager 2012
FM 2012 is a long running sport's management simulation concentrating on the running of a soccer club, rather than the actual playing the role of a player in games such as Pro Evo or FIFA. The history of this game stretches way back to the early 1980s and is a big seller in Europe, in particular Great Britain where the concept originated from.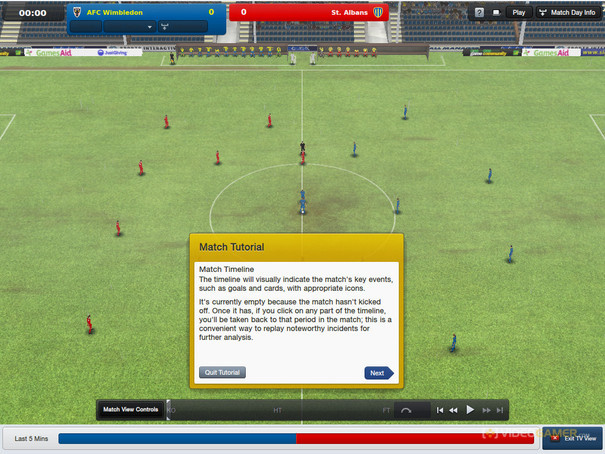 As for this year's annual release of Football Manager, there has been more incremental improvements since the previous year's edition. And now the game has evolved to the point of being complex and incredibly detailed. The level of information on all players and leagues is so intricate, professional clubs, such as Everton, employ people to use the extensive database in Football Manager to scout potential future talent. This database is compiled by numerous persons employed through the developer of FM. The game is licensed by all the major and a lot of obscure leagues throughout the world, including our Australian A-League.
A good starting point is to go through the tutorials to learn the overall controls of the game. Within this section of the game you have the options of The interface. There is a basic explanation of how to get around the FM interface. Making a transfer offer teaches you how to make a bid for a player from another club that you would like to join your squad. Contract negotiations shows you how to negotiate contract terms in order to keep members of your line up and not moving to the next club on a free transfer when their current agreement with your team expires. Creating and developing tactics teaches you the basics on building your own customized tactics. Match tutorial gives you the knowledge of all you need to know about how to run through a match.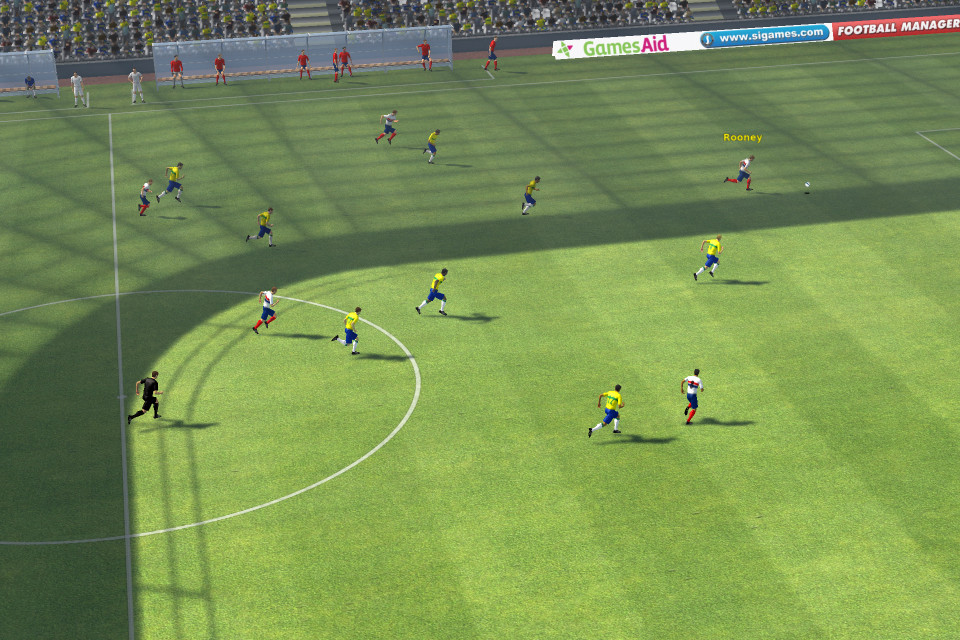 For the most part, the game tends to revolve around a main information screen. There is a main overview option which gives you a summary of everything that is going on within your outfit. This shows you what matches are scheduled, the board's confidence in your performance, squad's status indicating their morale, injured players etc.., a salary and finance section and inbox messages. You sometimes will be required to respond to messages. For example when entering a new season you have to allocate squad numbers to players in your team and submit these. In other cases you receive notes on international matches coming up, t.v. deals that have been signed for individual matches and many other assorted messages.
There is a search panel where you can look for players or staff to acquire. There is an ability to scout these players to find the most appropriate fit. There are thousands of people within this database so it may well be prudent to use the filters provided to find men. It must be noted that some players may simply never be interested in playing for you, as in the real thing because your club is not prestigious enough, so you have the ability to filter out those who would not be interested in the first place. Your scout do hunt about throughout the leagues of the world looking for players that meet your specifications, and they trickle reports back regularly on who may be available.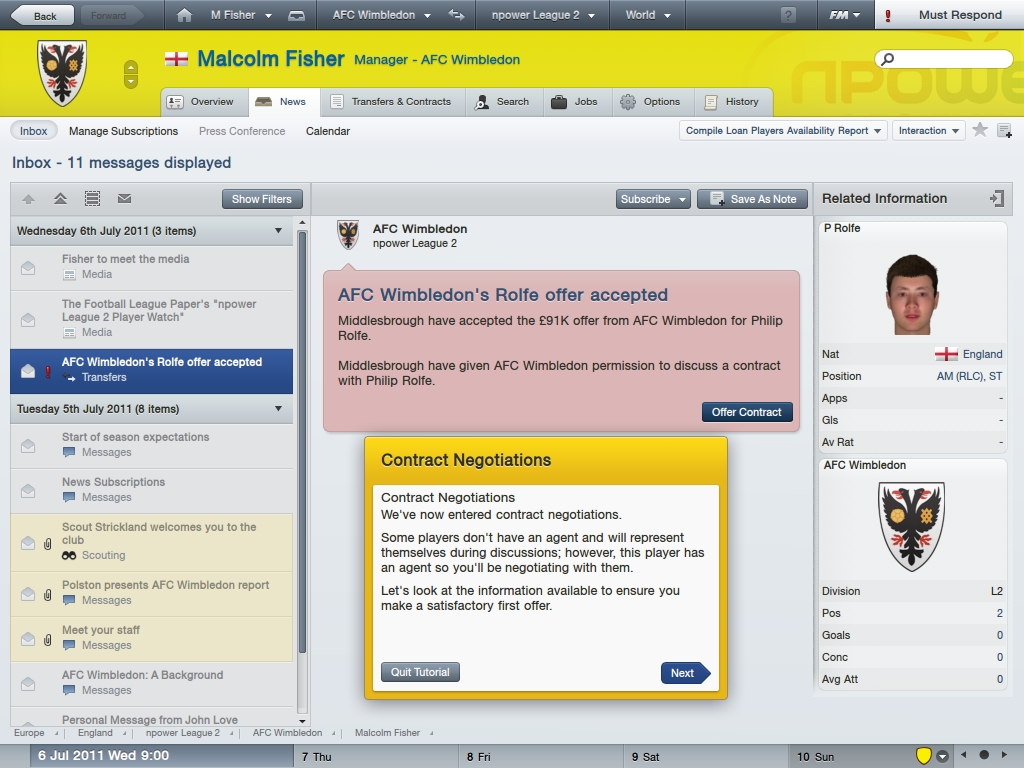 When purchasing players, you must be conscious of what your finances are and what you can actually afford. If you would like to purchase a player outside of your budgetary constraints, you will need to approach your club's board to ask permission for more funds.
Come match day you will need to select a squad and employ a tactic. With squads, you can either manually go through and pick the squad yourself or get one of your staff, who have differing attributes to go about picking your team. I found it simpler to get one of my head coaches to pick the team for me, to save me time working out which player slotted into the relevant position correctly. This was in order to avoid picking players out of position, upsetting them and the team balance. Team tactics is important, such as the formation. It is important that you team needs to learn how to play correctly in these configurations. It does take time for your team to learn how to play these systems and it is a good idea to pick a few backup systems in case you need to change mid game.
It seems that the team talks and individual team discussions you have with your players affect their morale and how they play. Some player's see to be self motivated, others lethargic and in need of extra encouragement. What you say to the media in press conferences also has an effect on your own team's morale. You can use psychology to charge up your men or to placate them I found, which is very useful in keeping their spirits high and averting internal dissent.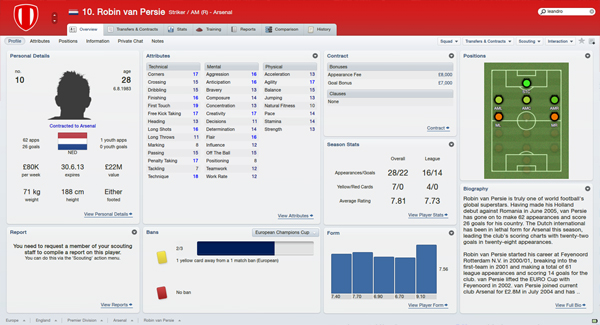 Graphically, FM, is very sharp, clear and detailed mainly textual simulation to incredible levels that will confuse the casual soccer buff. It can even become somewhat overwhelming. The matches themselves do cross to a match that you can see players running around a pitch in quite an attractive format. You have the ability to shorten these match viewings to key moments and to speed up the time as the emphasis of this game is more over seasons than individual games.
All up, Football Manager 2012 is a superb and realistic soccer management simulation. It is complex and intricately detailed. This is definitely a specialized game which will appeal to a certain type of gamer who is interested in the business of running a team. Most of all what must be noted is that this game needs time to play, it is a large time commitment especially if you intend to lead a team from the fourth tier into a continental competition such as the Champions League.