The game is proof that a big name tacked onto a game does not necessarily guarantee a great game. It just seems like a game trying to ride on name recognition alone. Maybe Railroad or Sid Meier fans are all a gush and may actually enjoy the game. Maybe I am just tired of seeing yet another game that has the creators name in the title. The game is a remake of Mr. Sid Meier's well loved railroad game from the early 90's. Looking at it, I had a feeling of dread. So ok, it's a game about running a railroad. For the life of me I just could not understand what the big deal is.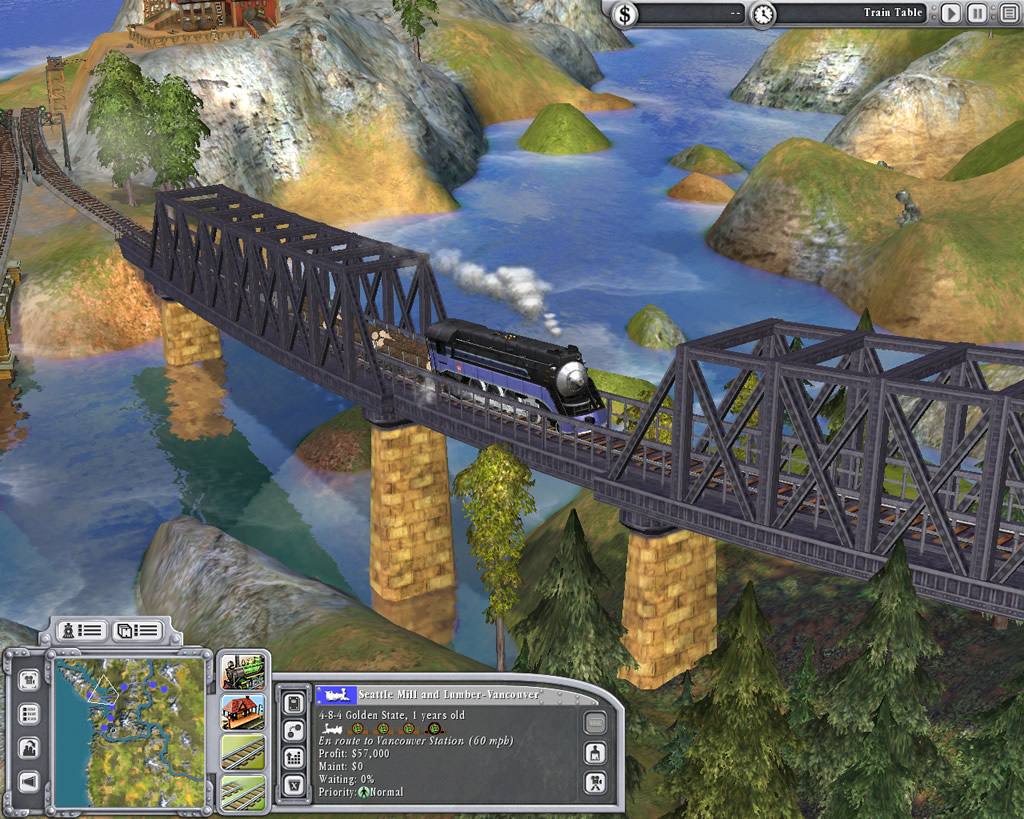 Until I played the tutorial. There is something very oddly addictive to this game. For lack of better terms I'll call it rail crack, and it strangely makes you want to continue and beat the game. becoming the most powerful rail baron ever known. Mwaaa ha ha ha ha. umm pardon me. that slipped out.

The game has a bit of depth to it none the less for those gamers into these kinds of games. Managing a Railroad apparently can be rather cut throat and becoming a big Railroad baron can be a bit of a juggle. From purchasing new trains, to laying tracks and even managing industry supply and demand for several cities, all the little things that make up a company can effect the players progress. One can even purchase and sell stock in the Railroad.

The over head maps remind me a lot of other games such as the total war series, gamers use to navigating the big world maps in those games will have no problem getting around the map in Sid Meier's Railroads. Still to get the full appreciation for the game and what little nuances it offers I would suggest playing the tutorial. Now normally I am not a big fan of tutorials. I am a guilty jump in and let's see what this button does. In this case, I suggest the tutorial to grasp what the games strategies and goals are. While the tutorial can be a bit of a bore for some, you will be glad you ran through it.

The game has a lot to master to be sure, but for those that just want to jump on in and not worry about the cost of running the railroad, or the cost of building track and industry, there is thankfully a Train table mode. The player can mess around with the very basics of the game, without worry for impact on the money or any of the artificial intelligence.
Playing it in any other modes, finds the player in a cut throat world of economics. Building an empire that can soon over run and even buy out the competition is the name of the game. Building rails to link cities and contend with supply and demand is a constant balance. Mess up the train schedule and a city can shrink into poverty and then that is that.

Railroads! Uses the same graphic engine as Civilization IV, so as you can imagine, the graphics are pretty pleasing to the eye. Everything looks as you would expect. The cities are pretty close together which makes things get pretty busy as trains pull into stations, people boarding and de boarding, lumber and other goods being placed on and in train cars. Once the game gets moving it can be pretty interesting. While it can look very intimidating, laying down track is pretty easy, a drag and drop kind of interface makes it a snap. Rally at my age, I have nothing to compare the game too in terms of being the best Railroad building game ever, but it is sure one that has earned it's place as an instant classic that others will be comparing for years to come.

There are over 20 different goods to harvest, produce, and sell, and 30 unique industries, from lumber mills to war factories, each with detailed, unique animations. All of this serves to keep the world of Railroads! Alive and vibrant.
Scenario and map editor support enables user-created maps and scenarios. A feature that will no doubt find a lot of use for any one that gets this game.

Building your own train layout in train table mode is more of a blast than you would expect. Top this off with some really nifty single player scenarios where you can challenge historical giants like Cornelius Vanderbilt, J.P. Morgan, and others.well that's just tips the cool factor. This was a sinful indulgence. I know this is such a small thing but having some control in some customization has always been a favorite of mine. So using the Locobuilder to customize trains and color schemes and even logos got my attention, no if ands or buts. So when you get done playing with the multitude of trains, (Over 30 of these suckers) just start playing with some customization of your own.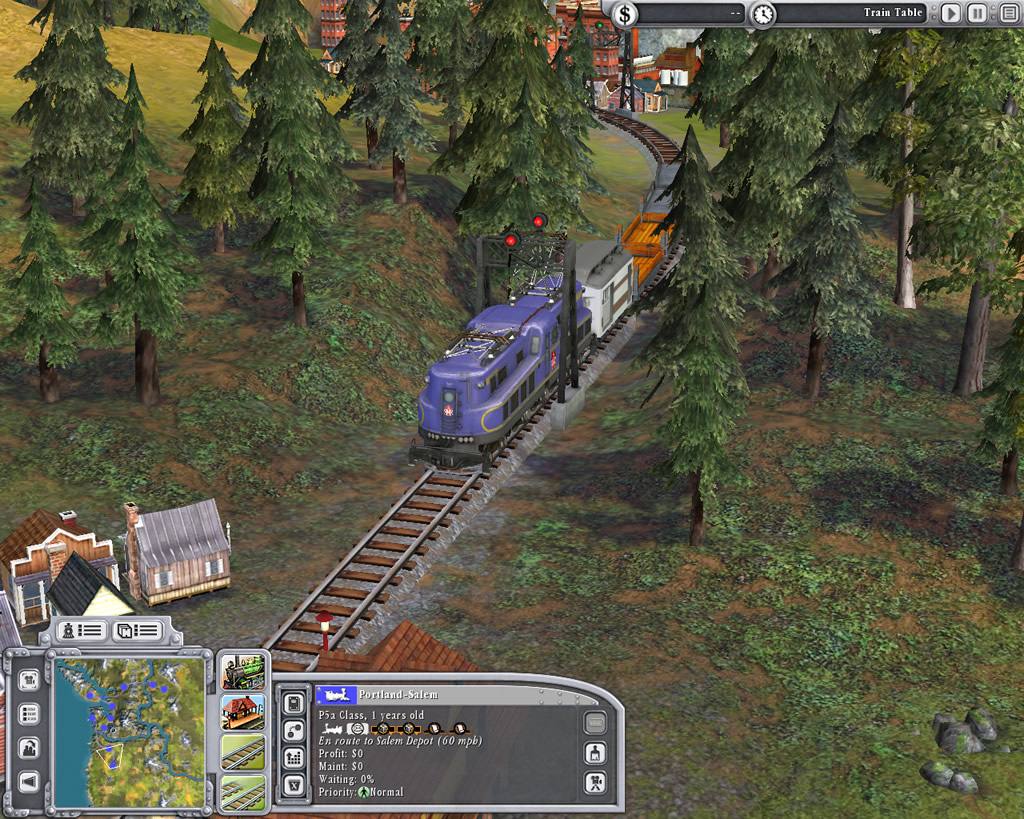 Multiplayer is almost a standard these days and if there was no multiplayer, there had better be a pretty good game on its own. Happily there is real-time LAN and Internet play. Players can go at it in economic warfare and buy out their rivals. At its core the game does teach a few things about supply and demand and also about moving up in the economic world.

You can visit the Official Web Site - To see the game in action, stop by the official Sid Meier's Railroads! site. Check out the demo of this rather surprisingly engaging game.

Here is what you will need at a minimum to run Railroads!

Minimum System Requirements
Operating System: Windows® 2000/XP
Processor: Pentium 4® 1.4 GHz or AMD Athlon® equivalent
Memory: 512 MB RAM
Hard Disk Space: 2 GB Free
Video: DirectX 9.0c-compatible 64 MB video card with hardware pixel & vertex shaders
Sound: DirectX 7-compatible sound card or higher
DirectX®: DirectX® version 9.0c (included) or higher

And last but not least, there is a patch out for the game that does some tweaks and improvements, so make sure to shoot on over to http://www.firaxis.com and pick up the patch if you have the full retail version of Sid Meier's Railroads!

Kick back, relax.let's play
Shael Millheim