Flo once again returns on the PC and Mac in "Diner Dash Flo on the Go" that offers the younger gamer a variety of interesting and entertaining mini-games with puzzles and challenges to keep them entertained as Flo attempts to enjoy an overdue vacation.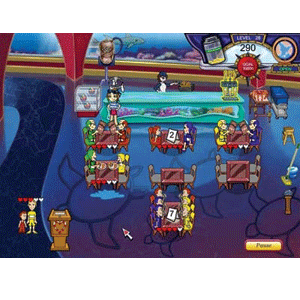 Unfortunately for Flo, she has lost all her luggage and money and once again Flo must engage in the restaurant field as she serves customers and delivers food as Flo attempts to get back onto her feet. In good old fashioned Flo spirit, she refuses to cancel her holiday and she and her friend Darla become waitresses again.

This is the third title in this popular click and point gaming series as Flo and Darla attempt to run a restaurant as they ensure to keep their customers are happy and more importantly have a full stomach as they serve them their orders and hopefully keep this "flowing" in order to make certain that no customers are disappointed.
The interface is great as the game contains a isometric type view which makes it easy for players to serve customers and also clean up the mess that they leave. What makes the game so challenging is the different type of customers that you face which makes it tricky as each customer has a colour and they need to be seated with similar colours.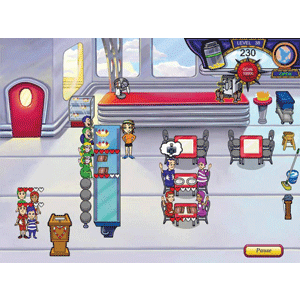 As you progress, you are awarded money which can also be used to upgrade your restaurant and even purchase new clothes for our favourite waitress, Flo. Although it doesn't have an impact on the gameplay, it's still quite fun for the younger gamer.

Graphically, the title is quite simple with colourful graphics and cartoon inspired characters that goes nicely with the sound effects and music. With a recommended retail price of $19.95, Diner Dash Flo on the Go can be played by children of all ages and is not only for fans of the series as you do not need any prior knowledge of previous games.
Great stuff!