Wargame: AirLand Battle
Wargame: AirLand Battle is an RTS set in 1985, towards the end of the Cold War. If you are expecting something akin to the Command and Conquer series, you might be better off looking elsewhere. This RTS has a pretty steep learning curve and can be quite unforgiving if you donít keep an eye on your units.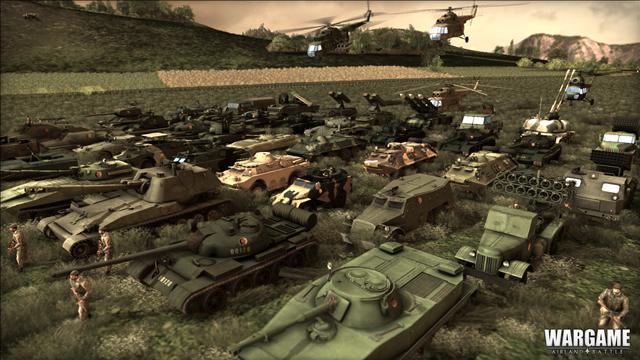 Even the tutorials donít seem to prepare you for the battles that you are about to undertake, giving you almost a bare minimum of understanding of the units and their relevant strengths and weaknesses. The devil is definitely in the detail with this title though, with weapon classifications, armour profiles and fuel economy management at the forefront of all of your in-game decisions.
The amount of detail in this game is phenomenal Ė calling it a game almost doesnít do it justice, maybe war simulator would be more appropriate. Boasting an impressive array of over 800 different types of units Ė from infantry, through to tanks, APCs, helicopters and jet fighters Ė it certainly gives you plenty of options to get your teeth into.
The single player game contains five tutorial missions, four campaigns and a skirmish mode. Multiplayer also allows you to play the four campaigns versus another player and will allow you to play regular multiplayer matches with up to 20 participants in a 10 vs 10 game.
The campaign scenarios are turn based with each turn generating political points depending on the areas that you control with special events also appearing randomly to give you a much needed boost to the actions that you can perform during your turn.
Graphically the game is wonderful, from your zoomed out view of the battle arena to zooming right in to see the action right behind your units. Sound wise, there is not a lot going on which could well be designed to leave your concentration in the gameplay where itís most needed.
Final Thoughts?
Wargame: AirLand Battle is a great game for those that enjoy realism in the planning and execution of skirmishes and battles. It will certainly present a challenge to those used to diving straight in and getting to grips with the nuances of the games with little effort. This is definitely a game that requires your full attention from the get-go and will provide lasting fun through the campaigns and into the multiplayer component.
Wargame: AirLand Battle is available on Steam for $39.99 USD.