Chrome Specforce
Once again fans of the Chrome series get to play as Bolt Logan as he takes the Specforce to Estrella to work out what is going on down on the troubled planet's surface. Whilst this game is not very heavy on the story, it does move itself along via text at the start of each level.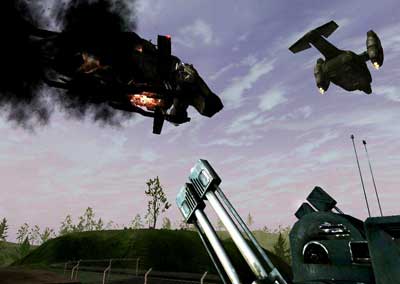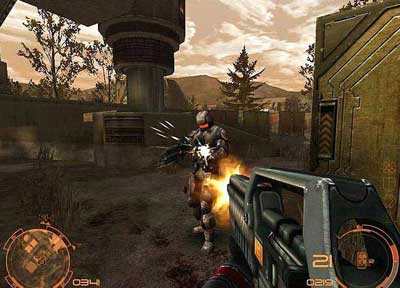 Specforce feels a bit odd to play to be honest. It's pretty enough to look at in some stages of the game, however the entire process feels a bit rushed to be honest. The game plays out the way most first person shooters do, run around, kill the bag guys, run around some more and shoot some more.
During the course of the title, the running around is broken up by some vehicle based levels that work fairly well. The physics don't hurt the title too much and the only thing that really gets annoying through the game is that the combination of your guns and the stupidity of the enemy make this a pretty simple and unsatisfying affair.
I also got quickly annoyed at the stowage system on the game as there was no quick storage of new weapons. A grid comes up on the screen and you allocate space to what you can carry. It just slows up the game and makes what should be a quick shooting title slow down dramatically. This method is a hangover from the original Chrome.
Another thing that makes the game a little annoying is that your foe can see you regardless of where you are hiding and even on occasion shot through impenetrable items so you could not return fire. It just makes you feel a little cheated about the whole matter.
Overall this game is OK, it certainly does not set any benchmarks and at the end of the day becomes "just another shooter". Weakened by the AI of the title and other factors that I have mentioned, Specforce simply doesn't hold up in this day and age of hi tech shooters.