Dangerous Waters
What happens when the Hollywood blockbuster Hunt for Red October crashes and a plethora of other war movies onto the PC? You get Dangerous Waters that is a warfare simulator that gives gamers control over multiple air, surface and submarine platforms.
Gamers will also focus their attention on taking direct control of individual crew stations, from sonar and radar rooms to weapon control and navigation consoles. Missions are interconnected, with all consequences from previous missions affecting the next. In the campaign, gamers can play as the U.S., Russian, or Chinese forces.
Features
Gives control over 10 of the world's most potent naval platforms. Some of which include: Oliver Hazard Perry Class guided-missile frigates, MH-60R Seahawk helicopters and Kilo class 636/877 diesel submarines

Cooperative and head-to-head multiplayer modes allow controllable submarine, surface, and air platforms to battle it out in a definitive naval combat experience

Innovative AI allows players to tailor the game's difficulty level and Autocrew functionality allows the player to customise the level of micro-management they desire

Includes a handy Quick Mission generator composed of an infinite combination of mission goals, enemy forces and random locations
Dangerous Waters is not just a submarine game but far from it actually as it features all aspects of naval warfare that include battleships, submarines, helicopters and planes that battle each other across these (pun intended) dangerous waters.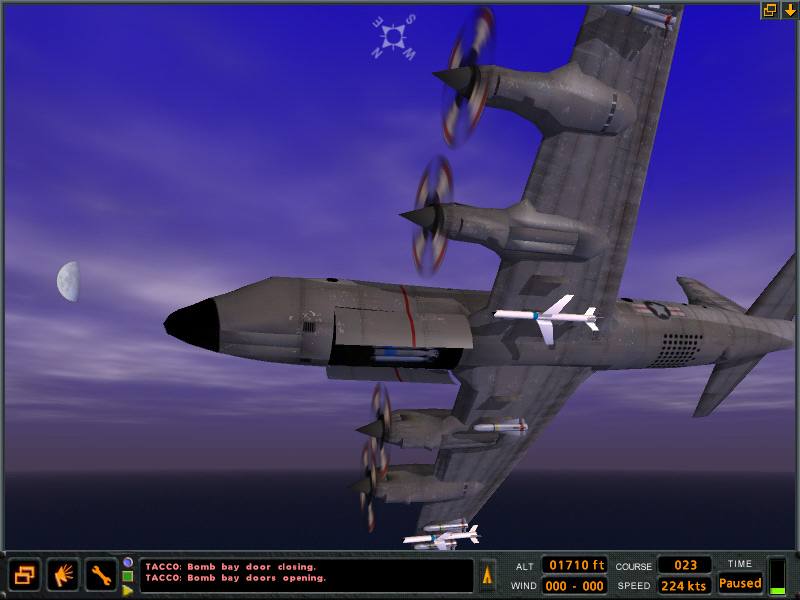 *Apart from the realistic strategic gameplay of this title, Dangerous Waters features a real printed manual that is filled with a wide gamut of information from this extraordinary game. This is a godsend for a game like Dangerous Waters because nothing is worse then reading an online manual when you actually want to play the game at the same time.
The installation of Dangerous Waters on the PC was a breeze but once the game was installed, it offers the player an in-depth tutorial which features hours upon hours of footage to help master the title. Not only does it shoe the main aspects of the title but also the small things that goes a long way in playability. Needless to say, I recommend the tutorial to all players, even if they think they are naval warfare masters.
Dangerous Waters offers the player a variety of gameplay modes that include campaign, single mission and even custom missions. The main gameplay is of course campaign that involves a situation whereby the Russians have to contend with a political crisis, opening an opportunity to get involved into what escalates from a cold war stand-off into something more deadly.

The basics behind Dangerous Waters is the gamer is command of a naval warship that has a plethora of vehicles at their disposal such as submarines and helicopters. Through using these vehicles, the player must basically plot their victory through the seven seas in order to avert or cause whatever disasters your military is behind. Fortunately all these vehicles are controlled the A.I. that really does help lessen the pressure behind the game. Although there are huge battles between the warring parties, the strategies behind the game is what make this title.
In laymen's' terms, you basically command an entire naval fleet and engage in a variety of battles and missions to ensure your military super power world domination. The title also offers some entertaining multiplayer modes that naval fans will simply adore.
Graphically, Dangerous Waters is a little dated on the PC but fans of strategy games will probably ignore this aspect of the title as they will be too involved in the gameplay but for more modern gamers, this is a huge let down and does not go into recruiting new players. Fortunately, there are enough 3D graphics and special effects to almost immerse you into the gaming world.

In conclusion, Dangerous Waters will probably not win too many awards as it is a little left of center field but if you're into naval strategy games then you probably won't go wrong with this title. Great gameplay, entertaining sound effects but unfortunately dated graphics makes this title a hit and miss affair.