Runaway 2: The Dream of the Turtle is the latest adventure epic from Pendulo Studios that allows players to explore over 100 different locations from a variety of islands and continents from around the globe that include the cold mountains of Alaska to the glorious beaches of Hawaii.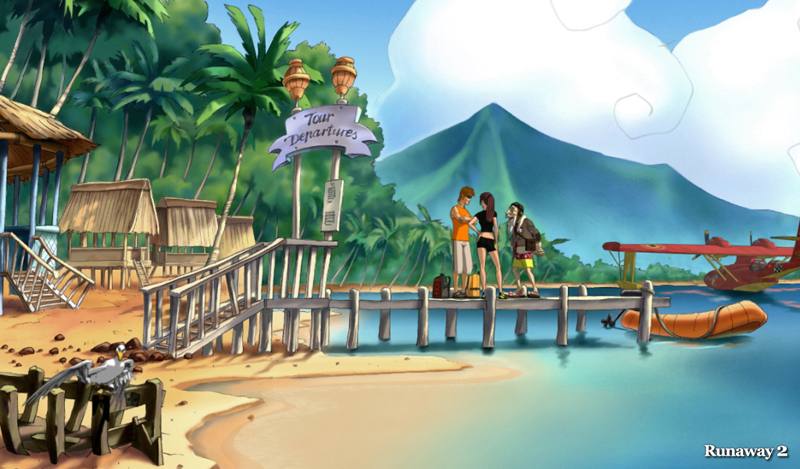 This game features your traditional point and click adventure game genre that features a variety of different puzzles and challenges for the gamer to complete or get frustratingly stuck on. With that said, the point and click adventure genre has been in remission for the last decade and fortunately Pendulo Studios have come to the rescue with its quirky story telling and addictive gameplay to truly give the market a much needed boost.

Before commencing the game, the title features an entertaining opening sequence that has our hero Brian and his lovely girlfriend Gina on an Island in Hawaii who are debating on whether they should fly to a secluded island. When the decision is made, both Brian and Gina board their plane, only to start their holiday nightmare.

When the elderly pilot loses consciousness during the flight, Brian is forced to say goodbye to his girlfriend as he forces a parachute onto her as he has the task of landing this doomed flight. Although Brian manages to successfully land the plane, he is soon thrown into a world of conspiracies and strangeness that not only involve the military but also travellers from another world or so it seems. Classic storytelling at its best!
Features
With Runaway 2, Pendulo Studios succeeds once again in offering a detailed and polished universe without spoiling the game's cartoon style which gives the game its unquestionable charm, offering many technical improvements thanks to its evolved engine and special effects.

Humour will abound in this adventure filled with allusions and references to movies, comics and video games. Runaway is a true comedy with a hilarious tone, plenty of jokes and some quite fantastic puzzles to solve.
The beauty of Runaway 2: The Dream of the Turtle is that the title manages to juggle both seriousness and humour into the storyline without making it too camp and I must admit that the developers have done a great job at incorporating Brian's one liners into the dialogue of those he meets. Some of it is extremely amusing.

The gameplay of Runaway 2 is your traditional point and click interface that features a rather strong game engine that contains colourful graphics, an in-depth and entertaining storyline with a variety of puzzles to challenge even the most battle scarred gamer. As mentioned earlier, some of the puzzles are infuriating and without "cheating", I would have found myself unable to complete. However, this also depends on how good you are at noticing clues.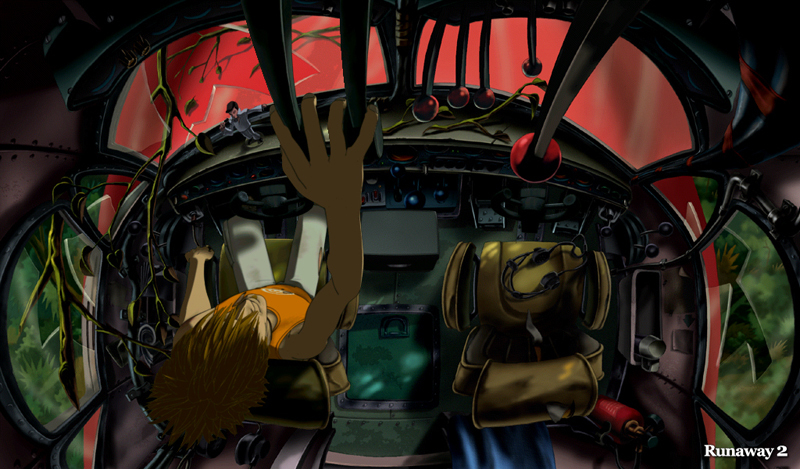 Graphically, Runaway 2: The Dream of the Turtle features cartoon-stlye graphics with some phenomenal detail but I must admit that I was a little disappointed that the title had a maximum resolution of 1024x768. Although this will make no difference to the majority of gamers, those with bigger screens will see more pixelisation than those with smaller screens. Apart from this, all the characters have been professionally designed that move with 3D realism in a 2D gaming environment that matches quite well. Add in a few special effects and you have a game that could easily be the next Hollywood comedy/adventure blockbuster.

As with the graphics, the musical score of Runaway 2 is great and features a dynamic soundtrack that changes with the gameplay. There are also a variety of sound effects in the game and also the developers have ensured that the voice acting is professional and entertaining without it sound too cheesy.

In conclusion, Runaway 2: The Dream of the Turtle is a blast down memory lane that features your traditional point and click genre which seems to be lost in today's gaming world. With an oddball storyline filled with interesting characters, subplots and a variety of challenging and sometimes frustrating puzzles, this game is definitely aimed at the gamer that wants a challenge and who misses the adventure genre. Great stuff!