Shadowgrounds
Shadowgrounds transformers gamers into the heroic role of Wesley Tyler, a former soldier turned mechanic who has been stationed on the cold and heartless Ganymede, a moon of Jupiter. Unfortunately for our hero, his memories of the military still haunt his dreams and the accident that he was blamed for was never his fault. In despair, Tyler's soul searching soon begins when things go from bad to worse, the hero once again shows his true colours. When the power is mysteriously disabled on their moon base, Tyler discovers that they have been invaded and its up for him and his crew to liberate their freedom.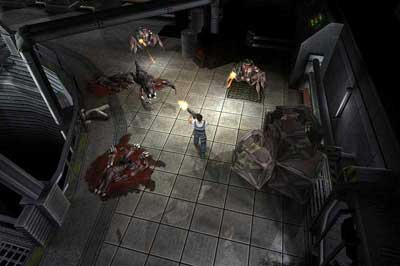 With these notes, Shadowgrounds is your classic RPG style sci-fi shooter that is similar to games such as Diablo, Gauntlet, Fall Out or Space hack which has the player battling his way through a plethora of deadly futuristic scenarios.
Grabbing whatever weapons are available, Shadowgrounds is an action packed ride through a world… or moon gone mad of aliens and amazing technology. The control system of Shadowgrounds is relatively straight forward with the player using the mouse and keyboard to navigate the gaming environment and use a plethora of objects and weaponry, whether it's your trust torch or a laser rifle, this game will appeal to anyone who loves the sci-fi genre.
Apart from battling your way through the game solo, Tyler also has access to a variety of different non-player characters (NPC's) who will assist you on different missions. The missions in the are varied and diverse that contain the main storyline and a variety of different sub quests. The cutscenes in Shadowgrounds assist with the storyline of the game and nicely break up the gameplay and the story.
The combat of Shadowgrounds, although simplistic is rather addictive and straightforward that doesn't push the limits of the genre but is still great fun. You basically run around, solve quests and shoot your way through just about every nasty to have ever crawled into the Sol system which is just like a classic 1980's or 90's Hollywood science fiction movie with aliens and high tech weaponry.
Graphically, Shadowgrounds still holds its own against many of the newer titles on the market at the moment and contains some wonderful detailed background environments and a wide gamut of various NPC's and enemies that you encounter which have been professionally designed. The developers have also added a variety of special effects from realistic lighting, fire effects and some Hollywood style explosions that really immerse you into the gaming environment.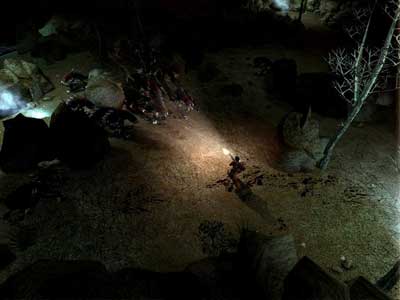 As with the graphics, both the music and sound have been professionally implemented into the game that contains exceptional voice acting, realistic weapon effects and a variety of spooky background ambience that will have the player thinking that they are in one of the Alien movies.
In conclusion, Shadowgrounds is an entertaining title that truly gives another spin on the traditional gauntlet style of game that although set in the distant future, I would recommend to all lovers of the genre, especially for those that love Star Wars, Aliens or Predator. With a great affordable price, most gamers will probably only play this title once but it's still a great journey through one mans search for his soul.