Crime & Thriller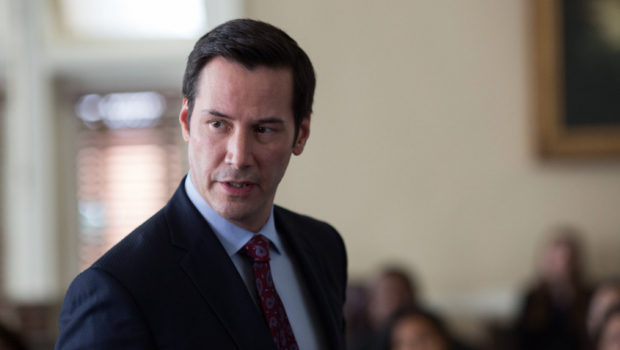 Published on March 8th, 2017 | by Natalie Salvo
The Whole Truth DVD Review
Summary: This straight-to-video courtroom drama has its moments of suspense but you do get the sense that things could have been so much better.
"The Whole Truth" is a courtroom drama and thriller that spends its entire runtime getting to the truth of a matter. The film is one that – for the most part – keeps the audience guessing in much the same way as "Doubt" did. This ultimately makes for a story that is not a bad one to watch, even if there are areas needing improvement and the ending is a tad predictable.
Keanu Reeves stars as a hard-drinking, defence lawyer named Richard Ramsey. He also narrates the story but his delivery is so detached and flat and the content adds so little to the film that for the most part it seems like these are obtrusive elements are like a fly that you'd love to swat away. Reeves' performance is also rather uneven and unconvincing as he attempts to play a guy trying to defend an open-and-shut case on behalf of a family friend.
A wealthy personal injury lawyer named Boone Lassiter (Jim Belushi in a rare dramatic role) is found dead. He was stabbed and has a knife protruding from his chest. His son Mike (a poker-faced, Gabriel Basso) kneels above his estranged, old man's body and mutters, "Should have done this a long time ago." The police take this as a confession and it is Ramsey's job to try to defend the boy and possibly get him acquitted of murder.
The main problem is that Mike won't talk, not even to his lawyer. So Ramsey adopts a strategy of making it look like the prosecution is winning the case until some extra, crucial pieces of information are revealed. But are some of these red herrings that have been planted or are they the actual truth?
Boone is painted as a philanderer and a tyrant who assaulted his wife (a troubled, Renée Zellweger). The information is revealed via a series of flashbacks with director, Courtney Hunt ("Frozen River") attempting to keep the audience on their toes until the very end.
Gugu Mbatha-Raw ("Concussion") also appears in this film. She plays Janelle and is brought in as a young, eager-to-prove herself co-counsel to assist Ramsey. Mbatha-Raw's role is a largely thankless one. Janelle attempts to suss out the truth and discovers that there could be more to this story than meets the eye. The only thing that seems certain here is that there are many shades of grey and at least a few people are telling secrets and lies.
"The Whole Truth" is a drab-looking film. It's shot mostly in-doors in the grey courtroom and is rather dull in depicting the events leading up to it so it's really an unnecessary one to view on Blu-ray. It also tries to weave together a bunch of different subplots while forcing the audience to question just who Boone's killer was and what was their motive. For a straight-to-video film it certainly has its movements but you also get the sense that with a few adjustments it could have been so much better.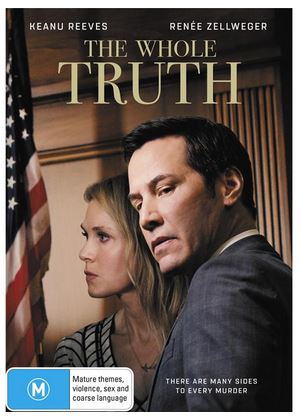 DVD Details
Director – Courtney Hunt
Actors – Keanu Reeves, Renée Zellweger, Gugu Mbatha-Raw, Gabriel Basso, Jim Belushi
Film Genre – Drama
Label – Roadshow
Audio – English (Dolby Digital 5.1)
Running Time – 89
Aspect Ratio – 2.40:1
Region Coding – 4
TV Standard – PAL
Rating – M
Consumer Advice – Mature themes, violence, sex and coarse language
Year of Release – 2016
Primary Format – Movies/TV – DVD