Crime & Thriller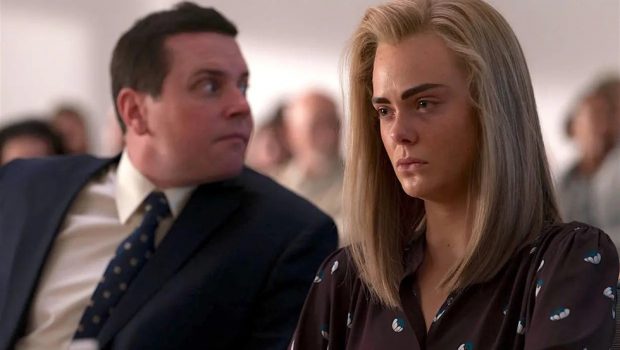 Published on June 26th, 2023 | by Natalie Salvo
The Girl from Plainville DVD Review
Summary: The Girl from Plainville is a tragic, true crime miniseries. It looks at a devastating case that resulted in an involuntary manslaughter charge.
4.25
Co-dependent defendant
The court case involving Michelle Carter made international headlines. She was a teenager who was convicted of the involuntary manslaughter of her former boyfriend, Conrad Roy III. The events were previously depicted in a documentary and now they have been turned into a miniseries called "The Girl from Plainville."
Liz Hannah and Patrick Macmanus ("Dear Evan Hansen") offer a script that was inspired by true events. It does take poetic license with the truth at times. There is no doubt that there were some moments where it had to fall back on ambiguity, as there will always be some unknowns involving this case. The original inspiration for the series came from an article that was written by Jesse Baron with the same name.
Elle Fanning is incredible in this series. She plays Carter who is ultimately an incredibly complex character. This film does not hold back in showing Carter's mental health struggles with: depression, anxiety, loneliness, and an eating disorder. It certainly humanises her and shows a different facet to her personality. It is so much more than the mere manipulative narcissist who was depicted in the headlines during the trial.
Another incredible performance here is from Chloë Sevigny who plays Conrad's (Colton Ryan) mother Lynn. She has to depict a wide array of different emotions: not just a mother grieving her son but the emotions at what transpires in the aftermath. She learns that Carter – a girl that had ingratiated herself into the Roy family – actually encouraged the unimaginable.
There are moments where this series tends to feel voyeuristic. Like so many true crime films, it is important that audiences realise that there is an actual grieving family there behind these scenes. It is a hard line that this film traverses. There are certainly moments where it takes almost a sympathetic view of Carter, leaving behind the sensationalist black widow story to shed some light into her fractured personality and being.
It is tragic that Carter and Roy had such a co-dependent relationship. The pair are both individuals who had some deep-seated mental health issues. Initially they found solace in each other, including the other's many text messages. But the fact that this evolved into something more sinister is what makes it really tragic.
"The Girl from Plainville" is a searing character study about a complicated, text-based suicide case. It injects a lot of humanity and subtlety into the characters. There are also moments where it leaves things up to the viewer's imagination and leaves it cloaked in mystery. In the end, this series is all about tragedy and an epic loss, in more ways than just one.