Crime & Thriller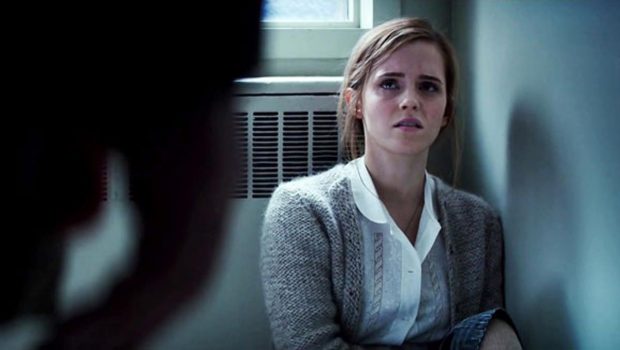 Published on July 24th, 2016 | by Natalie Salvo
Regression DVD Review
Summary: "Regression" is a far-fetched story based on real life events with weak performances and underdeveloped characters. There is more horror, suspense and tension in a wet blanket.
"Regression" is a film that lives up to its name because for you to recall any of it you'd have to go back and watch it again and again. The film is a dark one set in 1990 in rural Minnesota. It's also one that is based on real-life events. But the story and characters are ultimately too weak and underdeveloped to lift this beyond the realm of a mediocre thriller.
The film is written and directed by Alejandro Amenábar ("The Others"). It seems that Amenábar was a bit too close to the subject matter. The majority of the characters feel as light-weight as holograms. "Regression" also often has as much horror, suspense and tension as a wet blanket.
Emma Watson stars as a troubled, 17 year-old girl who accuses her alcoholic father, John Gray (David Dencik) of rape. The Dad spends a lot of time reassuring the investigators that his daughter is nice girl who would never make this up, despite his having no recollection of the crime. The police officer investigating the case (Ethan Hawke) is initially sceptical but he begins to change his tune after he witnesses some regression therapy sessions between a psychologist (David Thewlis) and the accused. These basically culminate in memories being planted.
At times it feels like the investigator has flipped a switch. He becomes so doggedly assured that the allegations are true and that Gray's family must be involved in a ritualistic cult. Never mind if this implicates one of his fellow officers. The dark acts involve lots of sex, rape, human sacrifice and even the consumption of human flesh, yuck! The subject matter is provocative but the film is so formulaic and far-fetched that you can't take it very seriously (even if the film itself tries to do so!)
This story is ultimately quite dubious, especially as the therapy is pure charlatanism. This flat film tries to be raw and mysterious but in many instances it seems quite predictable, ridiculous and forgettable. Some underwhelming performances (from quality actors doing the best they can with the turgid source material) make this regression session too dull and boring for its own good. Yawn.
DVD Details
Director – Alejandro Amenábar
Actors – Ethan Hawke, Emma Watson, David Thewlis
Film Genre – Drama
Label – Roadshow
Audio – English (Dolby Digital 5.1)
Running Time – 102
Region Coding – 4
TV Standard – PAL
Rating – MA15+
Year of Release – 2015
Primary Format – Movies/TV – DVD