Drama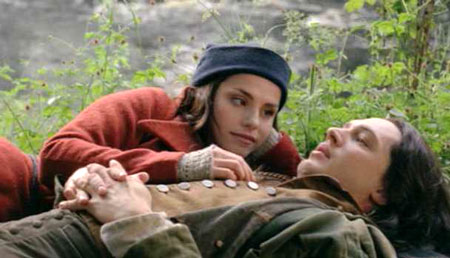 Published on December 28th, 2020 | by Natalie Salvo
Wuthering Heights DVD Review
Summary: This is a handsome TV adaptation of a classic love story. A few liberties are taken but they don't detract from this emotional and atmospheric piece.
With so many adaptations of Emily Brontë's classic, "Wuthering Heights," you could be forgiven for thinking another was unnecessary. But the TV series directed by Coky Giedroyc is certainly a handsome, gothic one. The purists may bemoan the diversions this two-part series takes (from the original text) but this rendering is so emotional, it rises above these minor aberrations.
Tom Hardy ("The Dark Knight Rises") stars here as the adult Heathcliff. He is a brooding and jealous man who is hell-bent on exacting revenge on just about everyone. While his personality leaves much to be desired, many viewers will find this intense darkness quite intoxicating.
Starring opposite Hardy is Charlotte Riley playing Cathy. The two actors share a very passionate on-screen chemistry so it's no surprise that they are in fact, a real-life couple. Poor Cathy shows Heathcliff much love and affection when he is adopted by her father, Mr Earnshaw (Kevin McNally) when they were young children. Although there are incest-like undertones, the pair fall madly in love and are free spirits rambling the moors. But in spite of this, Cathy marries the more refined and wealthy Edgar Linton (an understated Andrew Lincoln ("The Walking Dead") because he can provide financial security.
Heathcliff's revenge knows no bounds. He punishes his step-brother, Hindley (a tortured, Burn Gorman). The latter had treated Heathcliff like a stableboy after Earnshaw's death. Heathcliff also reprimands the next generation, Catherine (a spirited, Rebecca Night) and her cousins, Hareton (Andrew Hawley) and the sickly Linton (Tom Payne).
Nelly (Sarah Lancashire) the kindly housekeeper serves as the thread drawing together this story. The character, Mr Lockwood is missing here, so she tells the story through a series of flashbacks. It is a deviation from the original text but it still works from an artistic perspective. The audience meet the youngsters and witness the depth of the mad obsession that they each develop for the other.
The production's cinematography is both atmospheric and sumptuous. We learn in the single bonus material – a featurette – that they filmed on the moors in Yorkshire. You get a sense of the rugged weather and the terrain, and this works well as a backdrop against all the emotions on display here. This may be a period romance but the love is so forbidden and naughty that you are lured in.
"Wuthering Heights" is a melodramatic story about two ill-fated lovers. It is an epic romance that captures the essence of Brontë's incredible handiwork. While it is not always faithful to the original title, it is close. This is a dark, beautiful and highly charged affair, which will rip your heart out and leave it high on those sweeping moors.
DVD Details
Film Genre Drama
Label Via Vision
Audio English (Dolby Stereo)
Running Time 142
Region Coding 4
TV Standard PAL
Rating M
Consumer Advice Mature themes, violence and sex scene
Year of Release 2009
Primary Format – Movies/TV DVD