Cosplay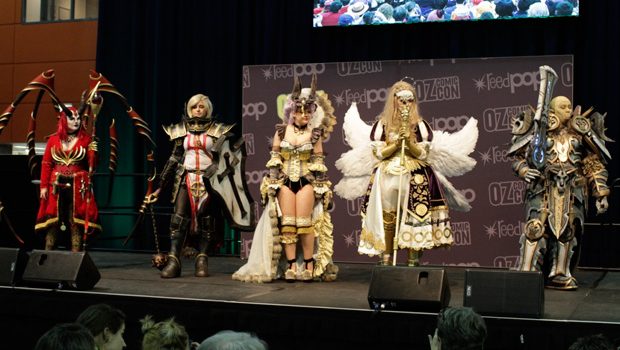 Published on September 18th, 2016 | by admin
And the winner is….Sydney! Oz Comic-Con Crowns the 2016 Australian Champion of Cosplay
Australia has a new cosplay champion, and her name is Henchwench. Beating out hopefuls from Western Australia, South Australia, Victoria and Queensland, the New South Wales native won the national title at the Australian Championships of Cosplay this afternoon during Oz Comic-Con Brisbane. 

Photo Credit: Volk Photography
Henchwench, who politely declined to reveal her real name, was dressed as a female Death Orc from World of Warcraft: Legion, a costume that was almost entirely handcrafted. Incorporating e-cigarettes as smoke machines and LED lighting, Henchwench's experience as a costumier in the film industry helped provide her with the skills needed to create her winning cosplay.
Henchwench will go on to compete against the best cosplayers from around the world at the Crown Championships of Cosplay at C2E2 in Chicago early next year. She will be defending Australia's title in the championships, after the 2015 Oz Comic-Con Champion of Cosplay Major Sam took home the global title earlier this year.
Cosplay has been the winner all weekend at Oz Comic-Con Brisbane, with enthusiasts of all ages, interests and genres descending upon the Brisbane Convention and Exhibition Centre.
Sunday afternoon also allowed costumed kids to shine as they took to the stage for the Kids Cosplay Parade. Showcasing characters from across the pop culture sphere, the parade displayed burgeoning cosplay talent, and could very well have featured a future Australian champion.
Sunday sees the Oz Comic-Con 2016 tour draw to a close. Highlights of the weekend included the unveiling of the Death Troopers from Rogue One: A Star Wars Story, the opportunity to meet celebrities including Robert Englund (A Nightmare on Elm Street), Karl Urban (Star Trek), Daniel Portman (Game of Thrones) and Devon Murray (Harry Potter), as well as comics, collectables, anime and gaming zones.
Oz Comic-Con will return for another five amazing shows in 2017.
For more information please visit www.ozcomiccon.com.