Events
Published on October 9th, 2022 | by Daniel
PAX AUS DAY THREE @PAXAus
Ah day three at PAX Aus 2022, the last day of the weekend and the dreaded close to what has been a great weekend. Today is Indie Day! I always use the last day of the even to check out all the Indie games on show since Sunday is usually the quietest day of the whole event. This way I don't spend hours waiting and I don't have to worry too much about holding anyone up, this also makes it easier to talk with each respective developer for some information about their game!
First up though was one last quick tour of the expo and traders hall to soak in the last day's atmosphere while it was still busy. The halls tend to quieten down towards the mid-afternoon as the hall itself closes its doors for the final time this weekend. With our last tour of the hall done, it was off to the PAX Rising Indie games showcase to sample some of Australia's best and most talent Indie developers to see what kind of games were on show this year. Normally I attend the Indie showcase panels over the course of the weekend, but this time I was so busy with everything else, I didn't have time. Luckily my yearly ritual (as mentioned above and thanks in part to the quieter numbers on Sunday) is to visit as many of the Indie stalls on Sunday.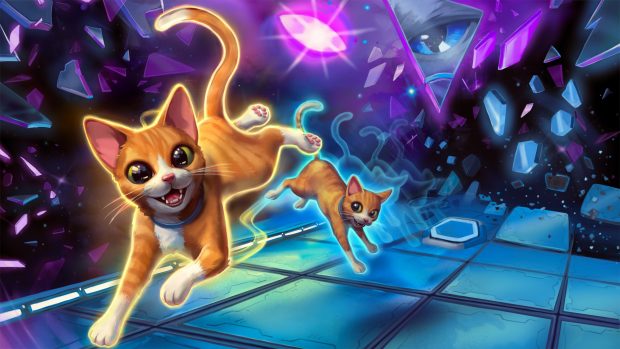 In order to make things nice and streamlined and for your reading pleasure, please see my top picks from the PAX Rising Indie Showcase:
Schrodinger's Cat Burglar:
Schrodinger's Cat Burglar is a puzzle heist adventure with a quantum flavour. The player controls Mittens the cat as she infiltrates a secret research facility. Aided by Lazy Susan the hedgehog who keeps in radio contact from home base, Mittens stumbles into a quantum experiment and gains incredible new powers – the ability to be in two places at once. This quantum superstate obeys the uncertainty principle – while no one is looking, she could be in either location. Introduce an observer and things get theoretical…
As the description above suggests, the game is about a cat burglar, who gets tangled up in an experiment of quantum proportions. The game starts with a simple enough infiltration, initially feeling something Stray. It behaves very similarly right up until the experiment happens. Once Mitten's acquires their ability to split into two separate beings, the game opens up and the puzzles begin. The majority of the demo provided has easy enough puzzles to solve be the answers are still not super obvious, giving the player a small sense of difficulty. I definitely hope that the devs make much more difficult puzzles.
All in all, the graphics and art style of the game are great and the idea is an interesting concept. I really like the mechanics around using the security cameras as an added feature. I won't go into detail for those that didn't get the chance to see or play the game but it's a solid foundation with which to build on and is definitely a game I could see myself picking up once it releases. I wish the team all the best and look forward to hearing updates from them! I'd give it a solid 4/5 on the Dan PAX approval ratings.
Spirit Mancer:
Spirit Mancer is an action hack and slash deck-building.
Adventure as Sebastian a modern-day demon hunter trapped in the colorful and vibrant inferno in this fantasy Hack and slash, Deck-building. Slash, Shoot and Break demons, Capture their spirits and summon them out into your battle in the beautiful yet dangerous world of Inferno, Fight against hordes of demons from Ars Goetia and stop the evil queen with the power of the spirit mancer.
Spirit Mancer is a fun, side-scrolling hack and slash game with elements of deck building, demon capturing, summons and more. It looks and feels like the classic arcade side scrolling action games, it reminds me of a lesser known game called Little Fighters. Like little fighters the game has a few unique characters, the ability to capture and summon captured foes in battle for special moves, buffs or affects, a slew of melee and ranged weapons to find and defeat your enemies with, I also really like the fact there are different damage types and that certain enemies will be weak to one or more of these elements, allowing for some degree of strategy and planning. All culminating in a fun, easy to get lost in game, I feel like it the kind of relaxing and chill game I could sink a few hours into after a long day of work. It's not an easy game, but it's far from difficult too, very user friendly.
If I had any advice for the team is that I feel the combat could become its weakest point by suffering from repetition. In its current build, once you've experienced all the cards you can find at least once, the games' fun would probably drop. If they gave more incentive to the deck building aspect, maybe and upgrade system to power up cards, maybe it the cards stack with the weapons you carry for massive damage. Just a few simple quality of life changes that would bring a bit more flair to the finished product. *Spirit Mancer* is available on Kickstarter, if the game interests you, consider supporting the devs! This once gets another solid 4/5 on Dan's PAX approval ratings.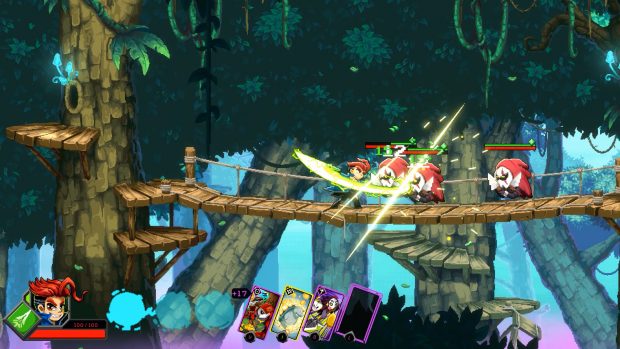 Skiers Landing:
Skiers Landing, a fast paced but casual downhill skiing game where it's just you, some skis and a really tall mountain, where the aim is to get down the mountain quickly and as fast as you can. Though be prepared for spectacular crashes, picturesque views, that single damn rock that is always in the way, and the skiing time of your life.
A very simple, yet challenging task. Get to the bottom the fastest with as little number of mistakes and crashes as possible, seems easy right? Wrong, the game, like real life, features many hazards; rocks, trees, big jumps etc. This makes the seemingly simple task of being the fastest to reach the base of the mountain suddenly a whole lot harder. It's a game that I personally wouldn't play, as I'm not hugely into games like these that are essentially elaborate time trials and by what I saw when my photographer played the game in my stead as that this was another game that will likely suffer from repetition issues.
My best suggestion to the team would be introducing another aim into the game. Perhaps challenges to complete, maybe daily rotating ones at that. Maybe introduce unlockable skins or even different kinds of Skis or maybe some Snowboards with different perks to change up how the game plays! I wish the team all the best and I will be reaching out to you guys soon to get a hold of a demo build for our writers to check out when one becomes available! A middle 3/5 on Dan's PAX approval ratings.
Dark Light:
As a Dark Hunter you were dropped into a wreaked world. To survive, you need to equip yourself, fight through your way, collecting 'shards' from killing super nature creatures to reinforce your energy. Through surviving, you will explore the mysterious dark zones of the apocalypse world. With cinematic quality graphics, detailed characters and environment design, vivid animation with lush visual effect. Packed with challenging combat, souls-like combat system. You must time your attacks, use your dodge and parry the enemy for maximum damage.
Think Abe's: Soulstorm meets Dark Souls, merged with some Call of Duty: Zombies for good measure and you pretty much have a good idea of what Dark Light is about and how it plays. Another side scrolling style, sci-fi, action zombie apocalypse game. I didn't get a great deal of time on this one, but the concept is interesting. The difficulty is solid, not impossible and yet challenging all the same. The graphics are very solid and sound design isn't too bad either, nothing particularly standing out as good or bad, but maybe that's just because I didn't get a lot of time on it. It definitely felt like the most complete game if that makes sense. It is currently out on Steam early access so if you're interested, do check it out! This one gets another solid 3/5 on Dan's PAX approval ratings.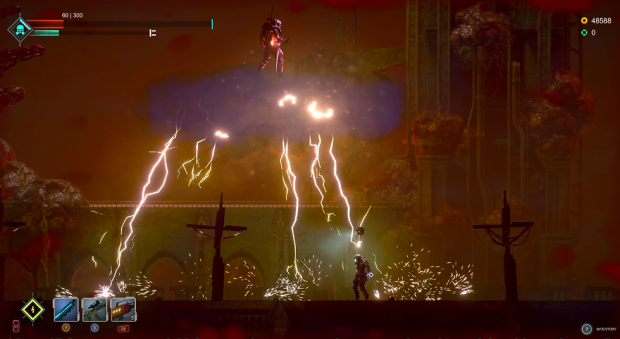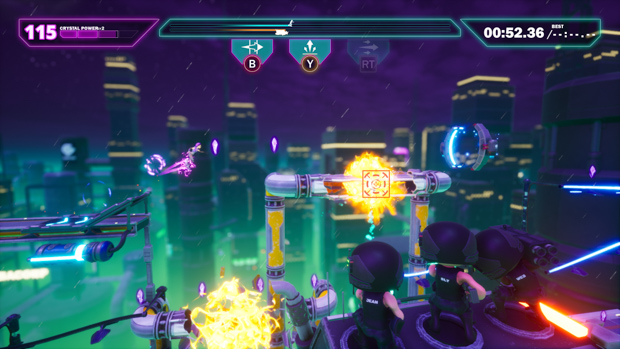 Honourable Mentions
Darkweb Streamer
"Become the #1 ranked Streamer or die" by the games' own tagline, this is a unique, psychological thriller/horror where the player has invited supernatural beings into their home and their computer and they have to interact with this entity in the hopes of becoming the #1 ranked streamer worldwide. Or die in the process. It has an interesting premise, but isn't wholly my cup of tea, but definitely something I'd watch a streamer play to see what it's like. Heh, streamer, see what I did there?
I'll be interested to see more about this game in future and the concept is a really cool idea that I don't think has quite been done in this way before. I didn't get the chance to play this game so it doesn't get a rating, if you'd like to check it out further, keep reading till the end of the article for pictures and links to all the games listed in this piece!
Rooftop Renegade
ROOFTOP RENEGADE puts you in the Chrono-Kicks of Svetlana, a hoverblading outlaw with the ability to portal through time. Take on the evil Globacorp by stealing scattered time crystals before they catch you! Fast & smooth platforming using powerful hoverblades with dynamic abilities and precise control. Unlock powerful loadouts each giving the renegade distinct looks and abilities to blaze through new challenges! Evade nasty Globacorp goons through distinct worlds and challenging levels then take on renegades in asymmetric local multiplayer!
Straight from the website, the game presents itself as a speedrunner friendly time-trial game, with obstacles and goons to evade as you collect these aforementioned time crystals. From the looks of it, the game is mostly non-combat except when playing local multiplayer where the other players attempt to slow you down or defeat you outright. Another game that probably won't be on my radar, but I know a few friends who love this sort of style and the graphics and style of the game are very good. The game maybe felt a little too focused on a younger market, but then I thought the same, still do think the same about Splatoon and look how wrong I was there. I give this game an almost solid 2.5/5 on Dan's approval ratings. Not quite enough to make the cut of the main games in today's list, but then again, it's not really my thing. Rooftop Renegade will be releasing on Steam in Q1, 2023.
I wish the devs of this and all of today's featured games all the best in the future and hope they're able to get their games out there to us hungry players!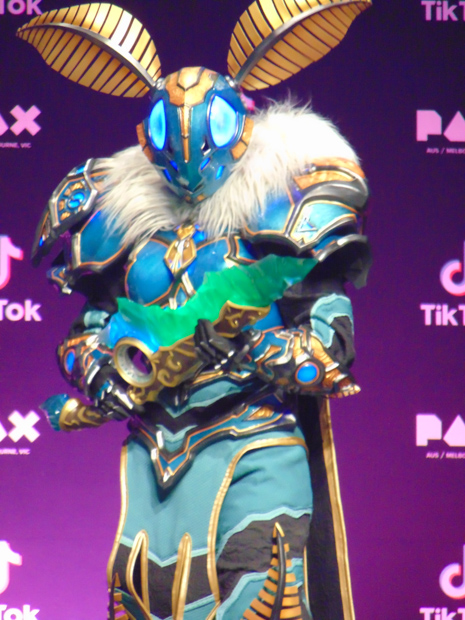 PAX Aus comes to an end for 2022
We've reached the end! After a full weekend of activities the last few hours was spent going to the Cosplay Championships, A massive congratulations to Alt-F4 cosplay on winning first place in the cosplay championship and all the best luck as you compete in Chicago! After that, I chased down yet more amazing cosplay while the event wound down the clock to the close. Before the Expo Hall closed it's doors for the final time in 2022, I headed back to the XIV booth to check in with the team there, congratulate them on a weekend well done and of course, to see if there were any shirts left over. They had done a massive job for the weekend and with the massive attendance over the course of all three days, I was actually surprised that they managed to have just enough prizes to cover all the challenge winners.
After a brief chat with them, it was off to dinner with some friends to close out the weekend with some good food, good company and a few well earned beers. I want to give a shoutout to all the PAX Aus team for organising a great event, though it was smaller than previous years, I don't fault anything but covid for ruining schedules for the last few years. Thanks to all the enforcers for keeping most of the even running as smoothly as possible! And here's to many more years of PAX and conventions alike!