Drama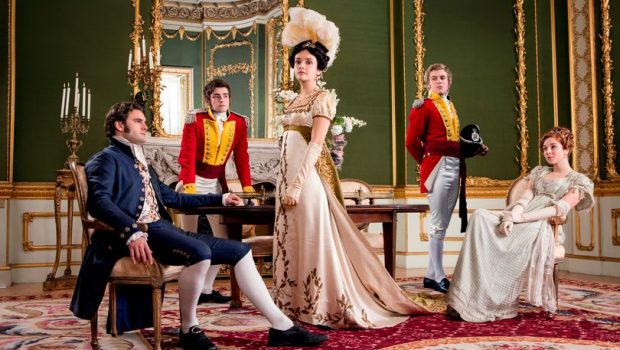 Published on December 13th, 2018 | by Natalie Salvo
Vanity Fair DVD Review
Summary: This is a beautifully-shot period drama and classic story where there is more than meets the eye. In short, a seductive game of love and money.
Shakespeare may have said that all the world's a stage. In William Thackeray's case it was all a game, at least for his character, Becky Sharp. The story has been adapted many times over the years and the latest mini-series is another fabulous romp through the classes. Think of "The Great Gatsby" in Regency England i.e. with a stricter class structure and a lot less wealth.
You get the sense that this series written by Gwyneth Hughes wants to straddle the lines between the traditional and modern. The plot is mostly faithful to Thackeray's original story. But there have obviously been some conscious decisions to appeal to contemporary audiences through the use of some pop music covers and the story's approach. The sticklers may say it's not always true to the time period, but it was very enjoyable to watch.
One of the big reasons why this series is so wonderful is Olivia Cooke. She carries the weight of this serial as the charismatic and manipulative Becky Sharp. This character was born a penniless orphan girl. She attended Miss Pinkerton's finishing school and was expected to lead a servient life as a governess. Sharp however, had bigger and brighter plans.
Sharp charms and seduces just about everyone she meets, including the audience when she breaks down the fourth wall from time to time. She becomes the wife of Rawdon Crawley (the gorgeous, Tom Bateman), a nursemaid to Lady Matilda (Frances de la Tour) and is proposed to by the boss (Martin Clunes). Sharp's school friend, Amelia (Claudia Jessie) leads a quieter life, marrying childhood love, George Osbourne (Charlie Rowe) who passes away during the Napoleonic wars. By contrast, Sharp is depicted here as a self-made woman kicking goals in a man's world.
Thackeray's tale is a human one. Like Jane Austen's "Pride & Prejudice" it examines class, manners and whether one marries for love or money. It's a world where a single man in possession of a good fortune must be in want of a wife. In "Vanity Fair" that single guy is the incredibly patient, William Dobbin (Johnny Flynn).
Michael Palin adds a dash of fun as the ring-leading narrator AKA Thackeray himself at the start of each episode. The ensemble cast have great chemistry and put in convincing performances. The costumes are luscious and the settings include some fetching scenes of Baroque architecture from Budapest. This serial is made by the producers of "Poldark" and fans won't be disappointed by this story of a woman rising above her station. The bonus material on the DVD is adequate and includes a handful of featurettes.
"Vanity Fair" is a classic novel and this adaptation is a sumptuous period drama. The characters aren't always likeable because they scheme and worship money and status, even though they are undeniably human and complex. "Vanity Fair" may be set in Regency England, but this social satire could have been set in the jungle amongst the most cunning members of the animal kingdom. Sit back and watch this feisty and beautifully-presented game.
DVD Details
Actors – Olivia Cooke, Tom Bateman, Johnny Flynn, Michael Palin
Film Genre – TV Drama
Label – Roadshow
Aspect ratio – 1.78:1
Region Coding – 4
TV Standard – PAL
Rating – M
Consumer Advice – Mature themes and battle violence
Year of Release – 2018
Primary Format – Movies/TV – DVD