Romance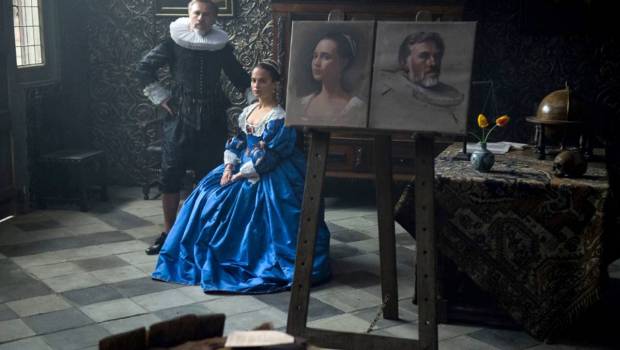 Published on March 15th, 2018 | by Natalie Salvo
Tulip Fever DVD Review
Summary: "Tulip Fever" is an uneven historic drama overstuffed with too many elements. It makes for a handsome bouquet that is ultimately very poorly arranged.
2.5
Tiptoe through tulips?
In "The Light Between Oceans" Alicia Vikander starred in a period romance that posed some questions about maternity. There are some parallels with "Tulip Fever" because here is another lush period-piece adapted from a novel grappling with a similar problem. "Tulip Fever" is a well-intentioned film that certainly held a lot of promise but the result is like looking at an old bouquet of flowers, from far-enough away it may seem pretty and fragrant but up close there is no hiding where certain things have died.
The film is directed by Justin Chadwick ("The Other Boleyn Girl"). It is based on a best-selling novel by Deborah Moggach ("The Best Exotic Marigold Hotel") who serves as a co-writer of the film along with revered playwright, Tom Stoppard. "Tulip Fever" has quite a noteworthy pedigree with its production crew and star-studded cast, but this doesn't save the proceedings from being a little too messy, convoluted and contrived for its own good.
Vikander is one pretty young thing in real-life and similarly her character here, Sophia is a beautiful, orphan girl. The abbess in charge of her orphanage (an underutilised Judi Dench) promises Sophia in marriage to a wealthy widow and pompous old windbag named Cornelis Sandvoort (Christoph Waltz). Sandvoort's first wife had died during childbirth and he is obsessed with having an heir with his new young wife. A few years into the marriage and the pair have engaged in lots of soulless sex sessions but Sophia has failed to become pregnant. So Sandvoort decides that one way to preserve his legacy is to commission a painting of himself and his sad-sack wife.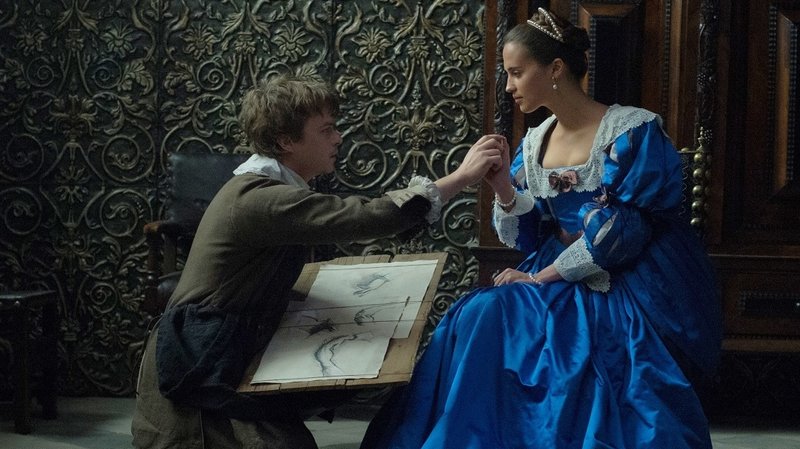 Sandvoort enlists the painting talents of a penniless but talented artist called Jan van Loos (Dane DeHaan who looks like a young, Leonardo DiCaprio.) This is one big mistake because Sophia and Jan fall swiftly in love (but perhaps this is a little too hastily because these two actors fail to have much on-screen chemistry so some audience members will be left questioning the veracity of this romance.)
Sandvoort's housekeeper Maria (Holliday Grainger) – who doubles as the film's intrusive narrator – is also busy. She has a passionate romance with the cheeky, local fishmonger, Willem Brok (an unrecognisable Jack O'Connell) and falls pregnant. Willem is robbed of his newly-acquired fortune by an opportunistic prostitute (Cara Delevingne) and is shipped off to the navy. Sophia's solution to Maria's predicament is to pretend that she's pregnant with her husband's child and take Maria's baby. Sophia also plans to fake her death in childbirth so she can run away with her true love, van Loos. Ridiculous, much?
In addition to this rather uneven and busy plot, van Loos attempts to make his fortune by gambling on the tulip market. This plan is misguided because he follows the cliché of placing all of his eggs in one basket and relying on the help of a hapless, drunkard friend (Zach Galifianakis). There are many layers to "Tulip Fever" but it is really let down by its own lack of self-awareness because it isn't sure whether it wants to be a comical farce, an erotic historical drama, a black comedy or a thrilling series of power plays and lies or a weird combination of all of these things.
The special features here are merely adequate. They include three short featurettes on topics like Alicia Vikander, the cast and the story. This film had actually been delayed multiple times over the years and was reportedly edited and re-edited. With so much labouring over the film one would expect more from the main feature as well as the bonus material on the DVD.
"Tulip Fever" is an overstuffed, historic piece and tale of blackmail and lust. It's a film that looks handsome and shows great attention to detail with respect to the sets and costumes but the same cannot be said of the overall story because this fails to fully come together. This forbidden romance could have been so much more but in the end this is one bouquet that is sweet enough in theory but poorly arranged in practice.
DVD Details
Director – Justin Chadwick
Actors – Alicia Vikander, Dane DeHaan, Zach Galifianakis, Judi Dench, Christoph Waltz, Jack O'Connell, Cara Delevingne
Film Genre – Drama
Label – Roadshow
Audio – English (Dolby Digital 5.1)
Subtitles – English
Running Time – 100
Aspect Ratio – 2.40:1
Region Coding – 4
TV Standard – PAL
Rating – MA15+
Consumer Advice – Strong sex scenes
Year of Release – 2017
Primary Format – Movies/TV – DVD