Comedy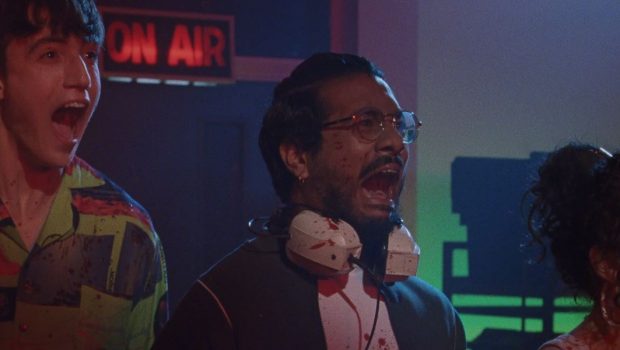 Published on August 10th, 2022 | by Tim Chuma
MIFF 2022: WTF Shorts Review
Summary: A variety of different "out there" shorts that you would not expect to work together as they are all doing their own thing but the do manage to.
5
What is says on the tin
I had to miss the animation shorts program this year due to it being on too early on the same day but was glad I was able to make it to this as there was some animation in it and I always try to either make it to this one or the animation program during the festival.
Film list:
Horse Brothers (2022)
Two brothers have their differences that leads to bloodshed but "Anton the Horse" (voiced by Guy Maddin) has one-up on the both of them.
This did not really make a whole lot of sense, but then again given the tile of this programming stream I did not expect it to. That was quite a lot of broken iPads they used in this.
Stand-out performance was Anton the Horse and Guy Maddin voicing it even though it did not do that much it still stole the show.
Film details:
Directors: Fabian Velasco, Milos Mitrovic
Screenwriters: Fabian Velasco, Milos Mitrovic
Starring: Guy Maddin, Milos Mitrovic, Sam Singer
Cinematographer: Markus Henkel
Origin: Canada (2022)
Language: English
Length: 8 mins
Genre: Comedy, Drama, Experimental, Horror, Thriller
====
Mom's Cat (2021)
The director Annabella Schnabel introduced this film after flying out from Europe just from the premiere. I had forgotten people used to do that pre-pandemic for the festival.
This film is about a furry who struggles to find a job and also his mean and controlling mother who constantly gaslights him and lets the cat into his room to shit on his stuff. He is a gentle soul, but can only take so much.
I do not have an opinion one way or the other on furries. If they are enjoying it and not hurting anyone it is fine by me. I did once see two of them meet up in an empty shopping centre food court on Good Friday (even I did not know it was open) and take off their heads. Yes, even furries can get a girlfriend, don't believe the lies.
The film overall was funny and cute and also gross when the mum was involved as she is really mean. A fun little short and hopefully the director gets to do more stuff.
Film details:
Director: Annabella Schnabel
Key Cast: Attila Fritz, Györgyné Czeiter, Henrik Nagy, Judit Csoma, Kati Andai, Krisztina Urbanovits, Lili Erdős, Mihály Csernai, Ági Máhr
Producers: Csaba Pék, Miklós Bosnyák
Screenwriter: Annabella Schnabel
Cinematographer: Gergely Balázs Vajda
Composer: Ferenc Sándor Korbeli
Origin: Hungary (2021)
Length: 18 mins
Language: Hungarian with English subtitles
Genre: Comedy, Drama, Experimental, Horror
Trailer
====
Fury (2021)
A snarling face finally loses it and lashes out on everyone who is annoying it. This movie was super tense and hard to watch, even closing your eyes was not a release due to the sound design.
The animation is very organic and fleshy with a lot of disturbing things shown on screen. I did laugh at the sneer on the face wrapping around the head it was so mean.
This reminded me of some of the move avant-garde Eastern European animation of the communist era that didn't tend to make a lot of sense, but was enjoyable to watch none the less. How much you get out if this will depend on how much you liked seeing the face get revenge on the things that annoyed it.
Film details:
Director: Julia Siuda
Producer: Robert Sowa
Origin: Poland (2021)
Length: 6 mins
Language: No Dialogue
Genre: Animation, Experimental, Horror
Trailer
====
Moshari (2022)
Two sisters are the only survivors of their family after a global apocalypse. They have to retreat under the mosquito net at night as that keeps the monsters out. Unfortunately, the young girl will not do what she is told and is taken from one of the monsters and her big sister has to rescue her.
You do not often get to see the perspective of the apocalypse from a country that is regarded as "third world", if anything life in those countries would get better as everyone would be living the same now. There is some refence to the western countries "mocking our poverty" in the announcements over the loudspeaker.
This film was very tense but I thought it did not really need the jump-scare as it was just cheap. It sure did get everyone to take notice though.
Great use of the settings and lighting and it also proves you can make a monster movie with just a single room and a mosquito net.
Film details:
Director: Nuhash Humayun
Key Cast: Nairah Onora Saif, Sunerah Binte Kamal
Producers: Bushra Afreen, Nuhash Humayun
Screenwriter: Nuhash Humayun
Cinematographer: Ejaz Mehedi
Composer: Dameer Khan
Origin: Bangladesh (2022)
Length: 22 mins
Language: Bengali with English subtitles
Genre: Drama , Horror
Trailer
====
Skin & Bone (2022)
A drifter takes some work on a remote farm with only a single woman farmer and no other men. He is haunted at night by strange dreams of men who claim to have been turned into beasts. Things go weird when the dreams continue into waking hours and the animals speak into his mind asking them to end their torment and a confrontation with the woman looms.
This certainly was the short with the biggest star in it and also in the folk horror genre which has gained in popularity at the moment. Leaving beside those two things I thought it worked well on its own if you just looked at the story and it was very unnerving and you really didn't know what was going on.
If you are an animal lover then I would recommend you skip this one, it's not a pretty picture even though they don't actually show anything it is heavily implied.
Film details:
Director: Eli Powers
Key Cast: Amanda Seyfried, Thomas Sadoski
Producers: Aidan Sheldon, Holly Victoria Furman, Thaddeus Bouska
Screenwriter: Eli Powers
Cinematographer: Aidan Sheldon
Composer: Ruby Wolf
Origin: USA (2022)
Length: 17 mins
Language: English
Genre: Drama, Horror
====
Ding (2021)
A man is pursued by an imp who seems to have a taste for him, leading to desperate measures.
A very low-key style of animation that still manages to remain very weird in its own way, not the least that no one else seems to care what is going on.
I do like strange animations like this that seem to have dropped out of the sky and you don't usually get to see outside of a festival environment.
Film details:
Director: Malte Stein
Producer: Malte Stein
Screenwriter: Malte Stein
Cinematographer: Malte Stein
Composer: Malte Stein
Origin: Germany (2021)
Length: 5 mins
Language: No Dialogue
Genre: Animation , Comedy , Horror
Trailer
====
Phlegm (2021)
A man steps on a snail and in the process of trying to clean his shoe, steps on another. Soon he cannot move without stepping on snails and he has a mental break and ends up acting in a way you would not expect at all.
A bizarre live action film that seems to be very choreographed in that people seemed to walk in at the same angle each time which added to overall strangeness of the film.
Another short that I remember seeing a lot of the same style of back when shorts used to appear on TV a lot more in between shows but not as much these days.
Film details:
Director: Jan-David Bolt
Key Cast: Oliver Stärkle, Pascal Ulli, Patrice Gilly
Producer: Filippo Bonacci
Screenwriter: Jan-David Bolt
Cinematographer: Rokas Šydeikis
Composer: Markus Schmied
Origin: Switzerland (2021)
Length: 6 mins
Language: No Dialogue
Genre: Comedy , Fantasy , Horror , Thriller
====
Hideous (2022)
A featurette with the artist Oliver Sim showcasing three of his songs where he goes on a late night chat show and turns into a monster who kills everyone.
There used to be a lot more of these sort of promotional shorts back in the day with the big one being Thriller that everyone was influenced on including this artist.
I did enjoy the introduction by Bimini and the fake 1980s retro aesthetic used by the film.
Even though I had not heard of this artist before I thought he went quite well and I can understand why he would have made this promotional short as it is the perfect thing to introduce his work to new fans as there is also an interview built in to the film.
Well worth your time if you can find the full featurette to watch or even just watch the music videos as part of it.
Film details:
Director: Yann Gonzalez
Key Cast: Bimini, Fehinti Balogun, Jamie xx, Jimmy Somerville, Oliver Sim
Producer: Luke Tierney
Screenwriter: Yann Gonzalez
Cinematographer: Vincent Biron
Editor: Rafael Calderón Torres
Costume Designers: Celestine Cooney, Holly Wood
Production Designer: Jabez Bartlett
Origin: UK (2022)
Length: 22 mins
Language: English
Genre: Comedy , Drama , Fantasy , Horror , LGBTQIA+ , Music , Romance
Trailer