Comedy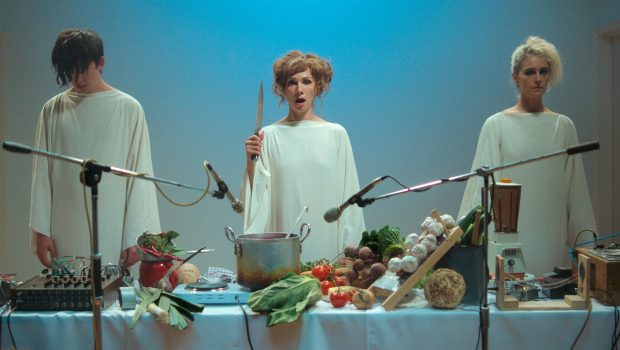 Published on August 17th, 2022 | by Tim Chuma
MIFF 2022: Flux Gourmet (2022) Review
Summary: Fun enough, but suffers from being a bit too into its own joke. Perfect for the accepting festival audience but may not do as well on general release.
Journalist Stones (Makis Papadimitriou) tells the story of a sonic catering group during their month long residency at the prestigious Sonic Culinary Institute and all the disasters that ensue from pretty much the start of it through to the end.
He is plagued by constant wind, the group is constantly bickering, a rival group that got rejected is making threats, there are on-stage medical procedures and the patron is making advances on one of the group's members amongst other things.
The group is led by Elle di Elle (Fatma Mohamed) who thinks her whole life is a performance art piece and refuses to comprise, Billy Rubin (Asa Butterfield) is the whizz-kid of the group and responsible for the equipment and Lamina Propria (Ariane Labed) is the innovator. They both want to leave the group but Elle is the one who does the funding applications and is good with words.
Patron of the institute Jan Stevens (Gwendoline Christie) has her own ideas of what an artistic performance should be and has an elaborate scheme involving a single piece of equipment she doesn't like them using at one point.
Special mention to the smart alec Dr. Glock (Richard Bremmer), always ready with a rebuttal or a glass of wine while doing an endoscopy and that Stones eventually gets annoyed with to the point of putting him in a headlock to get a diagnosis out of.
The story is based on the real band the Sonic Catering Band that the director was involved in and it is a story that seems to be in on its own joke, a bit too much at some points but it does help that a lot of the stories seem real or at least something that an arty type would make up to make themselves sound important and impress people.
As for the soundscapes themselves they are mostly unlistenable noise but that also seems to the be entire point to them. Again, this is a film that is 100% committed to its own joke no matter how unpleasant that may be (the fake poo scene comes to mind.)
Many of the laughs seemed to come from the absurdity of the situation and the willingness of people to put up with them for so long. In real life people would have stormed out long before things had gotten this bad.
While the film did seem to go down a treat with a festival audience who is up for this sort of thing, I am not sure how well it will go with a more general audience. Then again, that does not really seem to be the concern here, they had a particular thing in mind going into it and achieved those goals.
I did enjoy this film as it was the type of arthouse film with some laughs I did enjoy as opposed to something like Crimes of the Future that seemed very cold and obtuse. This is obtuse also but seems to be more approachable in the humour and content with the ever-suffering Stones being the audience's view into the world of high art performance, it is enough to give anyone wind.
Film details:
Director: Peter Strickland
Screenwriter: Peter Strickland
Cinematographer: Tim Sidell
Composer: Tim Harrison
Key Cast: Ariane Labed, Asa Butterfield, Fatma Mohamed, Gwendoline Christie, Leo Bill, Makis Papadimitriou, Richard Bremmer
Origin: Hungary, UK, USA (2022)
Language: English
Genre: Comedy, Drama, Horror
Trailer: