Sci-Fi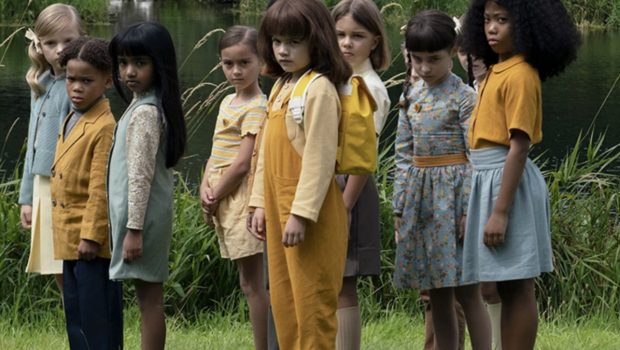 Published on June 26th, 2023 | by Tim Chuma
The Midwich Cuckoos Review
Summary: Evil children are pretty much a meme these days but this version of the story takes the idea seriously enough that it manages to pull it off with a sense of impending dread to keep you enthralled.
The evil children trope is so well-established these days it is a meme. This story is an adaptation of the original John Wyndham story that has already had several movies and radio plays made about it. There have been some updates to the story and setting which annoyed some people but it is entirely necessary to make it different from the other versions.
There is a large cast of supporting characters in this one but less of the alien children than the original novel. Also the book has the same thing happen in other parts of the world but they only mention one here. The children seem to look normal in this version except for their eyes when they are using their powers.
Everyone seems to be doing their best in a dramatic sense here but the standouts are definitely Max Beesley as DC Paul Haynes, Keeley Hawes as Dr Susannah Zellaby, Ukweli Roach as Sam Clyde and Aisling Loftus as Zoë Moran who are two of the parents to one of the children.
I ended up watching the entire mini-series in two screenings which is something for me as I watched about 4hrs in one go which I would normally not do. The whole thing has an impending sense of dread as you are just waiting for something to go wrong and even the best possible ending is doing to be a downer along with a lot of John Wyndham's other work.
This adaptation seems to be more on the side of the humans than the aliens as with a lot of these sorts of films. It is not really explained why the children feel they need to hurt people to stay safe or where they came from.
I would recommend this one if you are a fan of science fiction and other mystery type stories and it does seem to sit in a lot of the small town mystery stories that have been popular over the past few years.
Series details:
Director: Jennifer Perrott, Börkur Sigþórsson, Alice Troughton
Writer: David Farr, Sasha Hails, Namsi Khan, Laura Lomas
Based on the book by John Wyndham
Starring: Ukweli Roach, Keeley Hawes, Aisling Loftus, Synnove Karlsen, Max Beesley, Marianne Oldham, Lara Rossi, India Amarteifio, Amy Cudden, Cherrelle Skeete, Lewis Reeves, Mark Dexter, Hannah Tointon, Rebekah Staton, Samuel West, Dexter Sol Ansell, Laura Doddington
Genre: Science Fiction, Thriller
Length: 7 episodes, 50 min per episode
Language: English
Country: UK