Documentary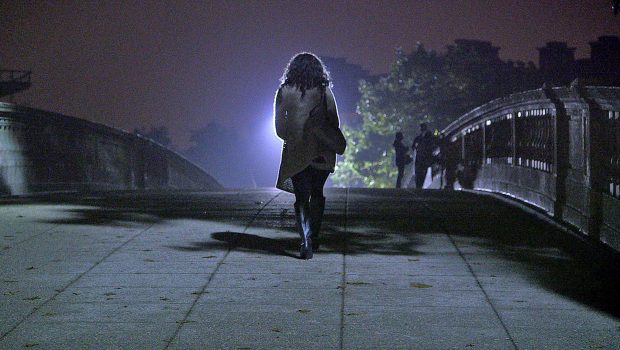 Published on July 24th, 2016 | by Natalie Salvo
The Hunting Ground DVD Review
Summary: "The Hunting Ground" is a raw, frightening and probing documentary about the epidemic of sexual violence on American college campuses. It's an important topic and essential viewing, giving voices to victims that have long been silenced.
"The Hunting Ground" is not an easy film to watch but it is an important one. The documentary looks at the epidemic of sexual assaults taking place on American university campuses. It also shows the victims that are silenced, ignored or discouraged to report the cases to the authorities. This film is ultimately a raw, frightening and probing one that will challenge your thinking.
This film is written and directed by Kirby Dick who was also responsible for "The Invisible War" about sexual violence in the military. "The Hunting Ground" includes lots of talking head interviews with clinical psychologists, academics, writers and victim advocates. But perhaps the most confronting interviews are with the rape survivors themselves. Often these are strong, young, eloquent women who had great dreams for their careers and studies as well as good grades.
The futures of these young women victims (and occasionally young men) are jeopardised by opportunistic thugs taking advantage of a broken system. This documentary proves that the institutions themselves are the most defective. Representatives at the intuitions often actively discourage victims from reporting the crimes and they also try to bury the true incidence rates of these assaults. They do so in order to ensure that they still get funding from private donors and to maintain an image that will result in an enthusiastic queue of new students lining up to study there.
This documentary also includes some re-enactments of the crimes and it begins with a group of students reacting to their college acceptance notices. It's a jubilant moment that's at odds with the information that is to come. This film also has a pop soundtrack featuring music by Ellie Goulding, Lady Gaga and Birdy. While it's commendable that the filmmaker has supported a group of female artists, some of the music was a tad unnecessary.
"The Hunting Ground" does interview a rapist but that discussion is not the most enlightening because we do not get a sense of his true motivation. Apart from this one interview, the movie does tend to side with the individuals that claim the sexual assault. This in itself is not necessarily a bad thing as this group have had enough of the odds stacked against them on their campuses and in their communities. But it does mean this documentary is not a balanced one, especially as the heads of various universities also declined to be interviewed.
If there is one hopeful message to take away from this film it is that there are around 100 colleges under investigation by the US government for their treatment of sexual assault cases. This film also shows some amazing women like Andrea Pino and Annie Clark who work tirelessly to assist other rape survivors. "The Hunting Ground" is ultimately a nightmare that shows that one in five women will be sexually assaulted at university. This is frustrating stuff that will break your heart and make you mad, but it's essential to watch in order to prevent it from being swept under the carpet any longer.
DVD Details
Director – Kirby Dick
Film Genre – Documentary
Label – Madman Entertainment
Audio – English (Dolby Digital 5.1)
Running Time – 99
Region Coding – 4
TV Standard – PAL
Rating – M
Consumer Advice Line – Themes of sexual violence and infrequent coarse language
Year of Release – 2015
Primary Format – Movies/TV – DVD