TV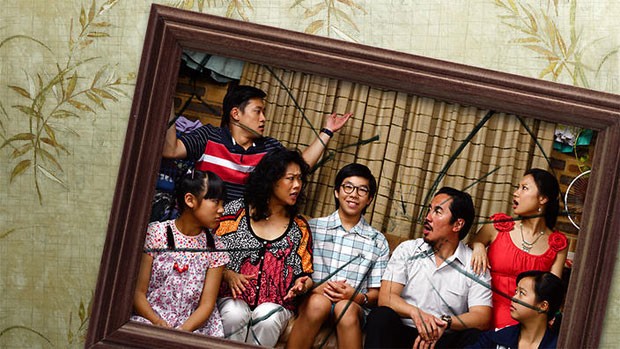 Published on March 5th, 2016 | by Natalie Salvo
The Family Law DVD Review
Summary: "The Family Law" is a fun dramedy about a dysfunctional Asian-Australian family that can be enjoyed by everyone thanks to its sublime mix of off-beat irreverence and colourful shenanigans.
For too long, Australian TV shows have been white-washed and white bread but a series like "The Family Law" looks poised to change all of that. The SBS dramedy feels authentic in its depiction of the Law family living in Queensland in the nineties. The show has real heart and it will make you laugh and it's no surprise that it has become a swift favourite among viewers.
The program is an adaption of writer, Benjamin Law's 2010 memoir of the same name. The TV series was also co-written with Marieke Hardy. It uses some of the vignettes from Law's memoir where he describes growing up as a gay, Asian kid in Australia. The TV show also fashions it all into a cohesive whole by making it seem like it all took place over one long, hot Australian summer.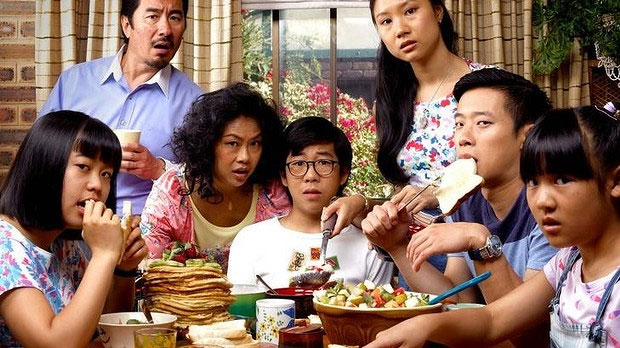 The six-part series is mostly told from Law's perspective. He is a creative, enthusiastic and well-meaning middle child who is close to his large family, especially his mother. Here, Law is played by the well-cast, Trystan Go, whose acting credits include the theatrical production, "The King & I". But one character's star shines the brightest out of the Law family and that is Ben's mother, Jenny (played by the wonderful, Fiona Choi). Jenny is the family matriarch and a rambunctious, eccentric and colourful character. Jenny can be inappropriate at times and a no-nonsense and kind woman at others. She also has no filter and has by far, some of the funniest lines.
The Law family also includes the hard-working father, Danny (Anthony Brandon Wong (who plays a villain in several Matrix films)). Danny is thrown-out of the Law house and is forced to sleep at the restaurant he owns. There are also Ben's four siblings- Candy (Shuang Hu), Andrew (George Zhao), Tammy (Karina Lee) and Michelle (Vivian Wei). The show is a warm, relatable and amiable one that focuses on Ben's teenage life- from aspirations of fame and entries into school talent quests, to his parent's wedding anniversary and marriage break-up to family Christmases, engagements and visits from friends.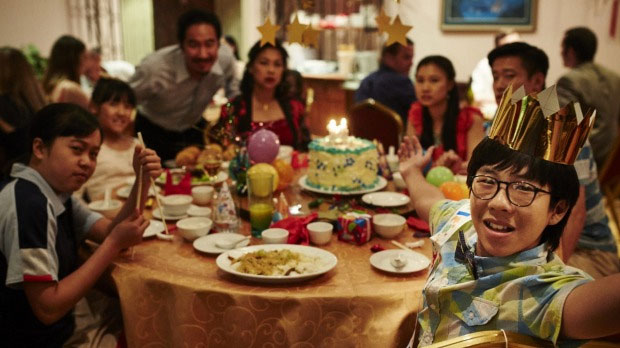 The special features are interesting and include a trailer as well as a series of featurettes where there are interviews with Law, the actors and director, Jonathan Brough  ("It's a Date", "Sammy J & Randy in Ricketts Lane"). It is fascinating to learn that the production team went to great lengths to make the setting feel like a cosy, lived-in family home. Law referred to it as a "lasagne of shit" and this is particularly obvious in the mountains of laundry and family bric-a-brac. It's also nice to see the real members of the Law family meeting their counterparts (they make a cameo in episode one which is lovely and rather funny).
"The Family Law" is a fun, Australian family show that expertly straddles the lines between drama and comedy. The show has some funny moments but it also doesn't shy away from depicting some real drama and emotion. In all, this is a long-overdue program about a dysfunctional Asian family that everyone can enjoy thanks to its rich tapestry and depiction of modern Australian life that is full of off-beat irreverence and colourful shenanigans aplenty.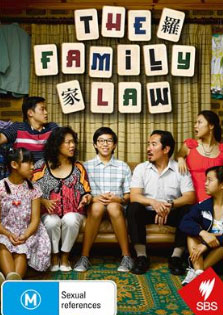 DVD Details
Film Genre – TV Comedy
Label – SBS
Audio – English (Dolby Digital 2.0)
Subtitles – English
Running Time – 125
Aspect Ratio – 1.78:1
Region Coding – 4
TV Standard – PAL
Rating – M
Year of Release – 2015
Primary Format – Movies/TV – DVD