Music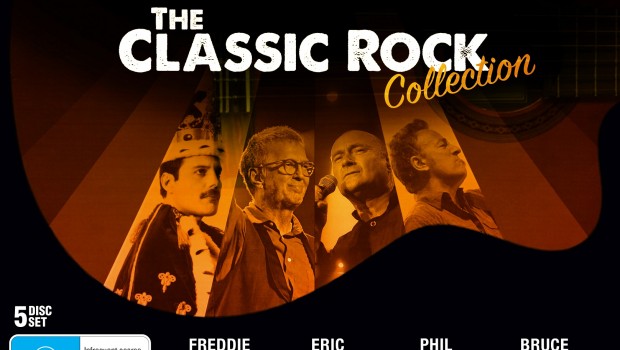 Published on January 24th, 2016 | by Tony Smith
The Classic Rock Collection DVD Review
Summary: The Classic Rock Collection boasts four amazing artists and bands!
The Classic Rock Collection is a must have for eclectic music lovers that comes on 5 discs and boasts 635 minutes of audio goodness. It also features four legendary artists of modern music that include Freddie Mercury, Bruce Springsteen, Eric Clapton and Phil Collins which includes rare interviews, unseen footage, concerts and interviews to give the viewer a true insight into not just their music but also their lives, including what makes them tick.
The first disc of collection is entitled Freddie Mercury: The Great Pretender which showcases the late great Mercury that also includes members of Queen such as Brian May and Roger Taylor. Besides the unforgettable music of Mercury, this DVD gives a touching and personal insight into the man who was actually quite a normal person off the stage. There's a great interview with comedian Matt Lucas (Little Britain) who discloses to the viewer his fandom for Mercury and how his music has touched his life. However the best part of this disc is the amazing music of Queen!
Next up we have Bruce Springsteen: Springsteen & I which contains unseen footage of various performances from Springsteen that include hit songs such as Born in the USA, Thunder Road and Dancing in the Dark. As always, it's wonderful seeing Springsteen on stage and highlights his amazing talent. This disc comes with some interesting bonuses as well with one being a segment about the fans of Springsteen. Following Springsteen & I is Eric Clapton: Planes, Trains and Eric that takes the viewer to his 2014 World Tour and features songs such as Pretending, Layla and Cocaine plus my favourite Cream. It even includes interviews, rehearsal footage plus a couple of bonuses tracks.
Last but not least is Phil Collins: Live at Montreux 2004 which is a 2-disc set from his tour of Montreux in 2004 and 1996. What I like about this release is that the first disc showcases his solo career with songs such as True Colors, Dance into the Light and Sussudio with the accompanying disc focusing more on the big band. Music from this disc includes hits such as Hand in Hand, The Los Endos Suit and Always. Even though some of the music crosses over, it's interesting to see the differences and parallels of his music throughout his career.
Video, Audio
Given that this is a classic rock collection, the video quality is a mixed bag but it does support an aspect ratio of 1:78. To complement the great content, this release boasts Dolby Digital 5.1 which really creates this almost concert-like experience. It should also be mentioned that this is a very well presented release from Screen Pop, especially the box packaging that will definitely find a place of music honour in anyone's collection.
Final Thoughts?
If you're a fan of Mercury, Clapton, Springsteen or Collins then The Classic Rock Collection will allow you to experience some of their greatest moments on stage, including some behind the scenes, particularly for Freddie Mercury that is not only quite touching but definitely shows a different person once off the stage. All in all a wonderful collection of music from Screen Pop!
DVD Details
Record Label: EAGLE VISION
Number of Discs: 4
Format: DVD
Region: 0
Classification: M
Release Date: 2nd December 2015
Aspect Ratio: 16:9
Running Time (Minutes): 635
Packaging: Box Set
Video Format: NTSC
Genres: ROCK