Documentary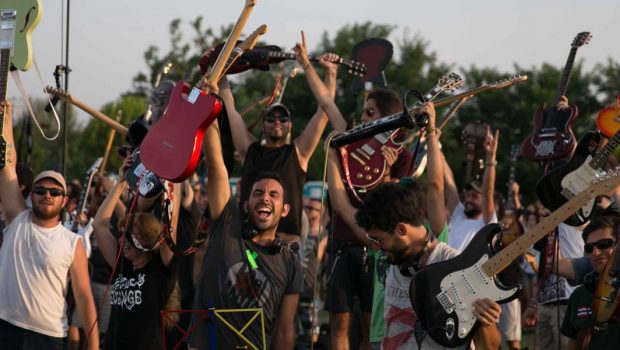 Published on August 7th, 2021 | by Tim Chuma
MIFF 2021: We Are the Thousand (2020) Review
Summary: An excellent way to cheer yourself up in these lockdown times and to look forward to going out to concerts and festivals in the future.
5
My mohawk made me lots of friends
For this one it is really best if you have seen the original music video that the documentary was based around first, so go watch that now. I'll wait. I had heard about it before and saw it getting posted but had never watched the whole thing.
What originally started as a crazy idea by Fabio Zaffagnini to try and get the Foo Fighters to play in his town of Cesena in the Emilia-Romagna of northern Italy became a year-long project and then a viral sensation once the video went live. This documentary follows it from the beginning through original filming on the day with all the people at the racecourse and eventual Foo Fighters concert, stopping just before the band now known as the Rockin' 1000 has their first proper gig in a stadium a year or so later.
We get to hear from some of the major players and a few of the more interesting participants like the drummer with the mohawk "my mohawk made me lots of friends" and the ship's captain guitarist. Some of the participants also reminded me of people I know, which was nice.
While most people would not have taken part in a mass project since probably primary school when it is cute to do so, it feels different once you are inside something doing it to watching. I can only speak from doing Thrill the World mass Thriller dance a couple of years in a row, but getting ready to do one dance took a months of warm up sessions where we did a bit of the dance at a time and then on the day we only did it twice.
Much like the musicians in the documentary there are people I have only met from doing this and from going to see live music so it does become something special. They do show this well here and how the participants grow and develop over the time and speak of it as a positive experience.
I have seen a few bands that have a lot of members like the Rebelles with 19 lead vocalists, the Sweethearts band with a rotating line-up and the special project If You See Her Say Hello which had 21 people on stage. Once you get over a certain number of people in a band it gets more difficult to do logistics of things such as practicing and even lining up everyone's schedules so they will all be in the same place at the same time. They do say most of the fundraising they did originally only really covered the support for the event and they did not pay anyone. The band is now doing special event performances and festivals so people do get something now.
It is different overseas at the moment, but it does feel strange in pandemic times to have so many people close together (the drummers were well spaced) and it would be something that would be harder to start doing these days with all the lockdowns and restrictions.
I would have thought that there would have been at least an interview with Dave Grohl in the documentary, but he is such a cool dude he would probably have not wanted to do as it was not really his story. They do meet the Foo Fighters and have the eventual concert quite early in proceedings, but this was shot over a number of years and a lot of things happened.
A great documentary for fans of not only the Foo Fighters but also live music and community spirit that comes from people gathering together in the pursuit of a common goal. Well worth a watch if you get the time.
Trailer:
Film details:
Director: Anita Rivaroli
Featuring: The Rockin' 1000, The Foo Fighters, Marcio Sabu
Country: Italy (2020)
Language: English, Italian with English subtitles
Genre: Documentary Music Themes: Famous Faces, Music, Performance
Length: 1hr 20min