Drama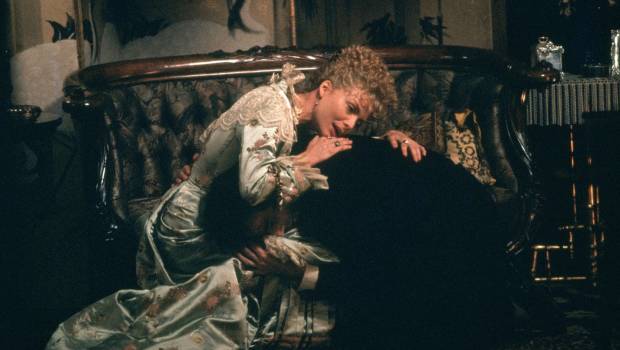 Published on June 16th, 2020 | by Natalie Salvo
The Age of Innocence DVD Review
Summary: An at times clinical examination of a love triangle in old New York society. It's a pity that audiences will be yearning as much as the broody leads.
Martin Scorsese is no one-trick pony. The famous director has made all kinds of films, from action-packed stories about gangs and mobs, to insightful music documentaries. "The Age of Innocence" shows another side to this filmic chameleon. It's a period drama and romance, which is a slow-burning and nuanced look at a posh love triangle.
The story comes courtesy of a 1920 novel by Edith Wharton, and a screenplay by Jay Cocks and Scorsese. You'd be forgiven for thinking that you had walked into American high society's answer to Jane Austen. There are social quirks and manners that are examined in great detail, to the point where it's sometimes too much…
Newland Archer (a brooding Daniel Day-Lewis) is a young lawyer who longs for more. He is engaged to the prim and proper May (a sweet Winona Ryder). He seeks more passion because while May is nice, she is boring. Even after Archer and May marry it's clear that the former is cold about his bride.
Enter May's rival- Ellen Olenskan (Michelle Pfeiffer). She is May's unconventional cousin. Olenskan is a fiery woman and Archer is hooked. Archer and Olenskan share lots of stolen glances and there is much yearning and pining (because this is set in 1870). At times though, this detachment can leave the viewer feeling rather cold. The romance lacks depth at so many crucial moments.
The supporting cast in this film is impressive. Miriam Margolyes and Richard E. Grant feature. The visuals are lush and the costumes are sumptuous. The proceedings certainly look like they're from that period. The film has a lot of great ingredients but unfortunately these fail to come together.
"The Age of Innocence" is a pleasant film. There is the feeling that something really heartfelt and emotional was buried in there but it is not actually realised. This film is certainly not one of Scorsese's finest. It traverses familiar beats about class and romance but – like the two main love interests – you will be left yearning for more.
Head over to the Via Vision Entertainment Facebook page for the latest releases, giveaways, great deals and more!
DVD Details
Directors Directors Martin Scorsese
Actors Daniel Day-Lewis, Michelle Pfeiffer, Winona Ryder
Film Genre Drama
Label Via Vision
Audio English (Dolby Digital 5.1)
Running Time 138
Aspect ratio 1.78:1
Region Coding 4
TV Standard PAL
Rating G
Consumer Advice The content is very mild in impact
Year of Release 1993
Primary Format – Movies/TV DVD