Drama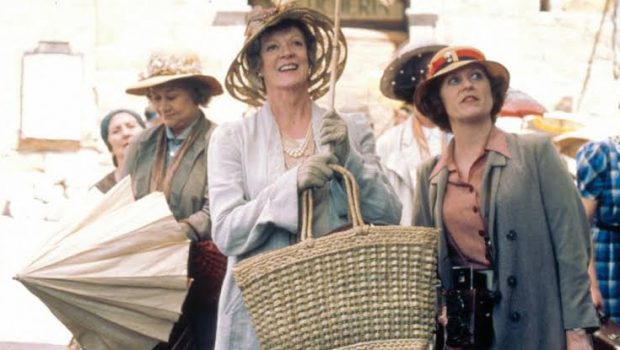 Published on December 25th, 2019 | by Natalie Salvo
Tea with Mussolini DVD Review
Summary: A drama based on real-life events that lacks narrative punch. It has some great ingredients but fails to come together as anything of substance.
You are forgiven for thinking that "Tea for Mussolini" may not be your cup of tea. This dramatic film set in the lead up and during World War II negotiates various plotlines but fails to make it a cohesive narrative arc. The result is something that often feels shallow and as weak as a watered down cup of tea.
Franco Zefferelli directs this film and it is clear that he is very close to the source material and this is often to its detriment. The plot is based on real-life events that occurred to him and a group of expatriates living in Florence. John Mortimer ("Rumpole of the Bailey") penned the screenplay and offers little in the way of characterisation. The most obvious example of this is Lily Tomlin's character, Georgie, an American archaeologist. This means that audiences may fail to fall for the sentimentality offered here.
This story focuses on Luca (AKA a young Zefferelli), the illegitimate son of a textile seller. When Luca's mother passes away his Dad leaves him at a local orphanage. Thankfully, Luca is saved by Mary, his father's secretary, a warm-hearted maternal-type. Mary has a large group of friends who help her in becoming the child's guardian and in raising the kid.
Mary's friends include a dippy and quirky artist played by Judi Dench who always has her loveable dog in tow, and Maggie Smith who plays another sourpuss character like her one in "Downton Abbey." The latter is Lady Hester, a widow who was married to a diplomat. She assumes that she and her friends will be safe thanks to her apparent ties to Mussolini (Claudio Spadaro).
What Lady Hester doesn't realise is that her fellow ladies are kept in comfort by a woman they dislike, a rich American named Elsa (Cher who is a great actress, singer and comedienne). As the war draws closer to the bubble occupied by these women, it threatens to jeopardise their daily ritual of afternoon tea. This is not an exaggeration. To say this is a rather sanitised version of the war and one that focuses on frivolity is an understatement.
This cast ensemble is a talented one. The performances are good but they have little to work with in terms of the source material. While things look handsome and appealing enough visually, and the score is pleasant, the whole thing seems to meander through a series of different episodes. What could have been heartfelt and meaningful feels quite weak and humdrum.
"Tea with Mussolini" is a film that lacks narrative punch. While it may have been based on real-life events, it seems rather implausible and trite. It is nice to see a group of strong, old women starring in a film and showing plucky behaviour (it likely paved the way for the likes of "Best Exotic Marigold Hotel"). But it is a shame that that same spirit doesn't shine through on screen. Anyone for lukewarm tea?
Head over to the Via Vision Entertainment Facebook page for the latest releases, giveaways, great deals and more!
DVD Details
Directors Franco Zefferelli
Actors Maggie Smith, Judi Dench, Lily Tomlin, Cher, Joan Plowright
Film Genre Drama
Label Via Vision
Running Time 117
Aspect ratio 1.78:1
Region Coding 4
TV Standard PAL
Rating PG
Consumer Advice Adult themes, Low level coarse language
Primary Format – Movies/TV DVD