Drama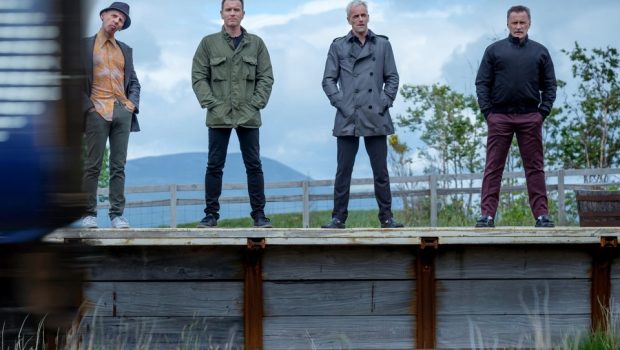 Published on July 2nd, 2017 | by Natalie Salvo
T2 Trainspotting DVD Review
Summary: The sequel to Trainspotting is like an episode of "Where are they now?" It's an energetic and rocking film that has those things you loved from the original but it's also far less shocking.
It was twenty years ago today that a band of brothers were junkies living it up in Edinburgh. Sort of. "T2 Trainspotting" is the sequel to the cult 1996 film. In "T2" the original cast are reunited and examining life and other stuff from an older perspective. This film is a worthy sequel and a good, rocking film in its own right, but don't expect it to be as subversive and shocking as the original.
The story is based on Irvine Welsh's book, "Porno" and the screenplay is once again written by John Hodge. Director, Danny Boyle is also once again at the helm. "T2" begins in much the same way as "Trainspotting" did with Mark Renton (Ewan McGregor) running. Except that this time around it's not from the cops but in a gym in a bid to remain fit in middle age. We soon learn that Renton chose a life of marriage, kids and respectability in Amsterdam.
This façade soon breaks and Renton goes home to Edinburgh. It's the first time in 20 years that he will see his old sparring mates or at least his fellow heroin addicts that he swindled out of 16,000 pounds at the end of the previous film (Spud did receive a small cut of this money, as you will remember). So what has become of those guys Renton once ran with? Well, Spud (Ewen Bremner) is still a disorganised junkie but he can now add "suicidal" to the list. There's no surprises that Begbie (Robert Carlyle) is still a violent, angry man and he seeks revenge whilst in prison. Sick Boy meanwhile, has graduated from heroin to coke and now uses the name Simon (Jonny Lee Miller).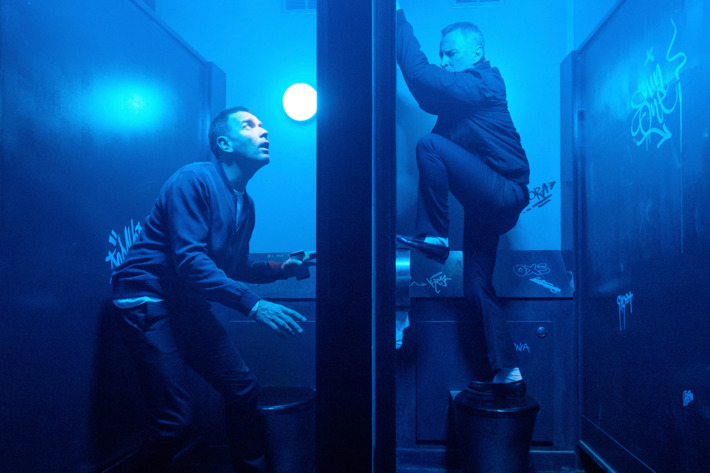 This film is energetic and rapid-fire in tone and it's also full of hijinks and mischief, just like the original. The editing is swift and the shots are intriguing and well-captured, and often like a rush of hedonistic joy. Diane (Kelly Macdonald) from the original is only given a very brief cameo but she shows that she is doing well for herself. The other women connected to these infamous men are under-utilised save for Veronika (Anjela Nedyalkova) who is Simon's girlfriend (at least according to him). She helps him blackmail rich men and with cooking up various other schemes.
The soundtrack of this film is excellent, just as the first one was. A remix of Iggy Pop's "Lust For Life" features prominently as do cuts from the likes of Blondie and Frankie Goes To Hollywood. There are lots of riffs and flashbacks to the previous film. In some cases there are similar shots or moods including one scene yet again set in a toilet (although the current one is much cleaner) and in Renton's boyhood bedroom decorated with the model train wallpaper. This film is nostalgic and considers the ghosts of the past including baby Dawn and the late Tommy. It helps if audiences have seen the original, but this is not mandatory.
The special features include some deleted scenes and an in-depth conversation with Boyle and actors: McGregor, Miller and Carlyle. There is also commentary with Boyle and writer, Hodge plus a short about a real-life football team comprised of recovering addicts. It would have been nice to have something about the vibrant soundtrack but alas, this was not meant to be.
"T2 Trainspotting" brings together the four wild men from the original film and makes them grow up and deal with life in the 21st century. It shows how they are grappling with new kinds of angst and anger as well as problems associated with middle age, particularly in the aftermath of a carefree, drug-spent youth. This sequel is another raucous and incendiary black comedy that reflects precisely what you would expect from this Scottish foursome in the next chapters of life. Choose Life. Choose wisely. 
DVD Details
Director – Danny Boyle
Actors – Ewen Bremner, Robert Carlyle, Jonny Miller, Ewan McGregor, Kelly Macdonald, Shirley Henderson, James Cosmo, Anjela Nedyalkova
Film Genre – Drama
Label – Universal Sony Pictures P/l
Audio – English (Dolby Digital 5.1)
Subtitles – English
Running Time – 113
Aspect Ratio – 1.85:1
Region Coding – 4
TV Standard – PAL
Rating – R18+
Consumer Advice – High impact themes, coarse language and drug use
Year of Release – 2017
Primary Format – Movies/TV – DVD