Documentary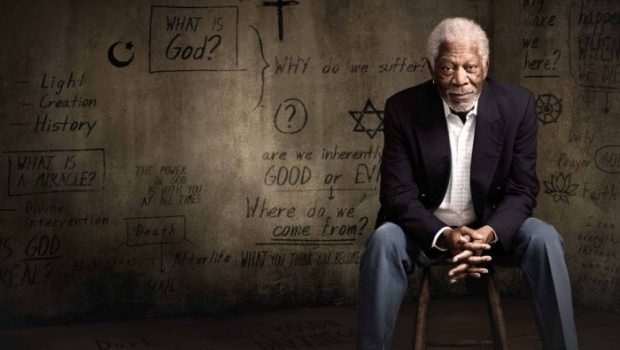 Published on July 12th, 2017 | by Natalie Salvo
The Story of God Season 2 DVD Review
Summary: The second series of "The Story of God" picks up where the first left off by offering an in-depth discussion of different religions and beliefs. Morgan Freeman is a charismatic, thoughtful and non-judgemental interviewer who presents this series.
"The Story of God Season 2" provides the next chapters in Morgan Freeman's documentary series about religion. The first season was so popular it was the most-viewed series for the National Geographic channel and this one looks poised to do the same. The follow-up touches on some similar elements that were presented in the first series and it also asks some additional, existential questions in a bid for Freeman and the audience to explore and find the answers.
The second season is divided into three parts. The first looks at "Chosen" ones. Its main focus is on Jalue Dorje, a nine-year-old boy from Minnesota who is believed by many to be a reincarnated lama known as Taksham Nueden Dorjee. The other segments look at an Evangelical Christian missionary and his work in North Korea and Husayn Ali who was the grandson of the Prophet Mohammed and an individual who took a stand against tyranny and died a martyr. In Thailand we also view some superhuman rituals, which are believed to cleanse and reinvigorate the community.
In episode two there is an examination of "Heaven and hell."  It looks at the beliefs of the Cherokee Indians and their idea of three levels of existence. We also watch some exorcisms in Ethiopia and take a trip to Angor Wat, the world's largest religious monument that was originally constructed as a Hindu temple for the God named Vishnu. A woman who had a near-death experience during childbirth is also interviewed about her spiritual encounter.
The final episode looks at establishing proof of God's existence. For one devout Christian, he believes he had a comforting visit from God on the morning of 9/11 because he became trapped in the World Trade Centre but survived the terrorist attack. For a Buddhist who is featured here, proof is in achieving an elevated state which means he can survive in sub-zero temperatures. A theoretical physicist is also interviewed and he says that his religious beliefs are affirmed as he discovers more complex and beautiful things in science.
Morgan Freeman once again is a charismatic, non-judgmental and enthusiastic interviewer. It is obvious that he is inquisitive and keen to learn more from his subjects. He presents the stories but he also allows the viewers to draw their own conclusions about the information being depicted. This is great because rather than highlight or focus on the way people differ, it actually shows how much we have in common.
"The Story of God" once again poses some big questions about religion, beliefs and faiths. It offers up a diverse range of voices and in doing so it opens up a dialogue, which should allow for a thought-provoking discussion or two. Through interviews with religious leaders, believers, faith healers, scientists, archaeologists and other experts it paints a rich tapestry of the world's different religious beliefs and it offers us some new revelations to consider and contemplate.
DVD Details
Actors – Morgan Freeman
Film Genre – TV Documentary
Label – National Geographic
Audio – English (Dolby Digital)
Running Time – 150
Aspect Ratio – 1.78:1
Region Coding – 4
TV Standard – PAL
Rating – M
Consumer Advice – Mature themes and violence
Year of Release – 2017
Primary Format – Movies/TV – DVD