Editor's Choice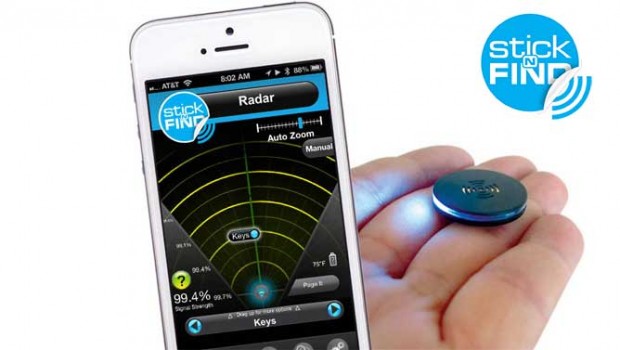 Published on November 20th, 2013 | by Admin
Stick-N-Find Review
Stick-N-Find Review
I recently sat down with Apple Australia in relation to their new iPad Mini and even they are amazed by what people have been creating for their iOS products. With that said, I've been reviewing technology at Impulse Gamer for over 10 years now and nothing during the last few years has blown me away until now.
When my editor asked if I wanted to review the Stick-N-Find, I jumped on the opportunity because this nifty little product basically allows you to "find your stuff" via an iOS device (e.g. iPhone, iPad) through its Bluetooth capabilities. By attaching the Stick-N-Find stickers (5mm x 25mm) to a device or even a pet, you can then use your iOS device to find where the item is located. This is ideal for car keys and wallets which I'm always guilty of misplacing.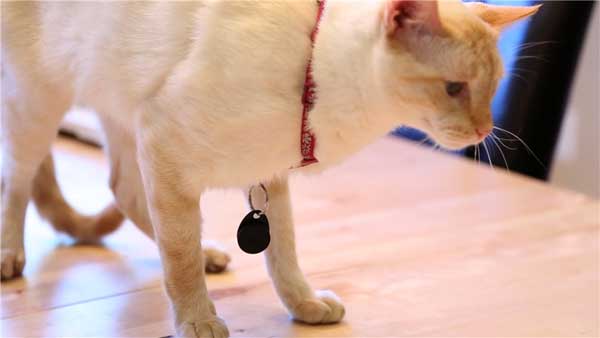 Stick-N-Find can be attached to almost everything… even pets
The Stick-N-Find comes with four Stick-N-Find stickers with a 3M adhesive back, four key rings and also an easy to read manual. The setup of the Stick-N-Find was pure ingenious which includes a three step process;
1. Download the Stick-N-Find app onto your iOS device
2. Enable Bluetooth on your iOS device &
3. Pair the Stick-N-Find sticker with the app
It's that easy!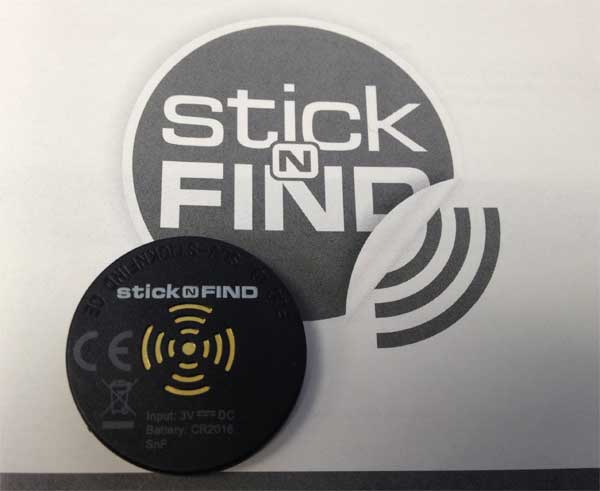 The Stick-N-Find technology is quite small
All four Stick-N-Find stickers ship in a deep sleep mode and in order to activate them, you need to tape them 5 times on a hard surface lightly. This will activate then Stick-N-Find sticker and it will also chime to inform you that it has been enabled.
Once powered, you then need to pair it with your app. In terms of battery life, the Stick-N-Find will last around 1-year with normal use and best of all, the battery can be easily replaced.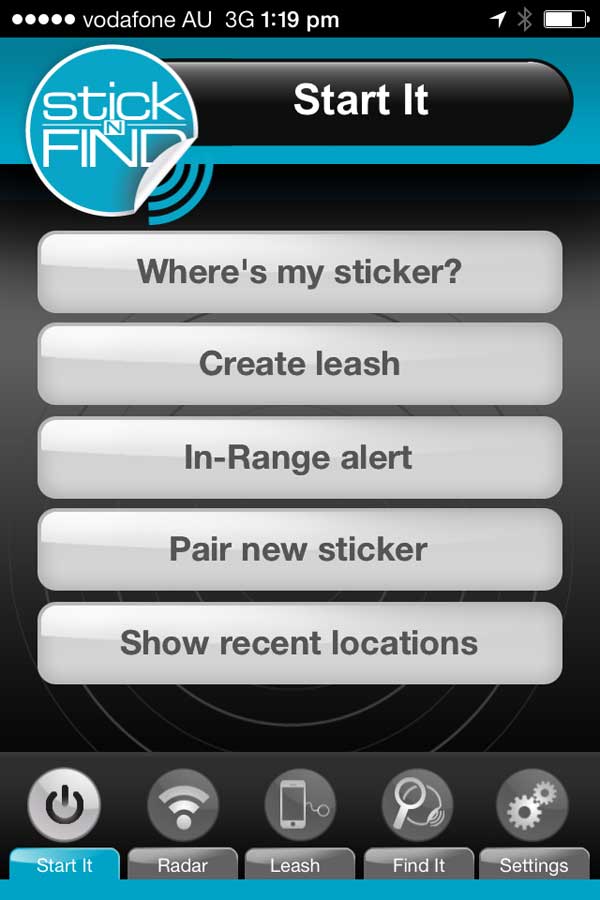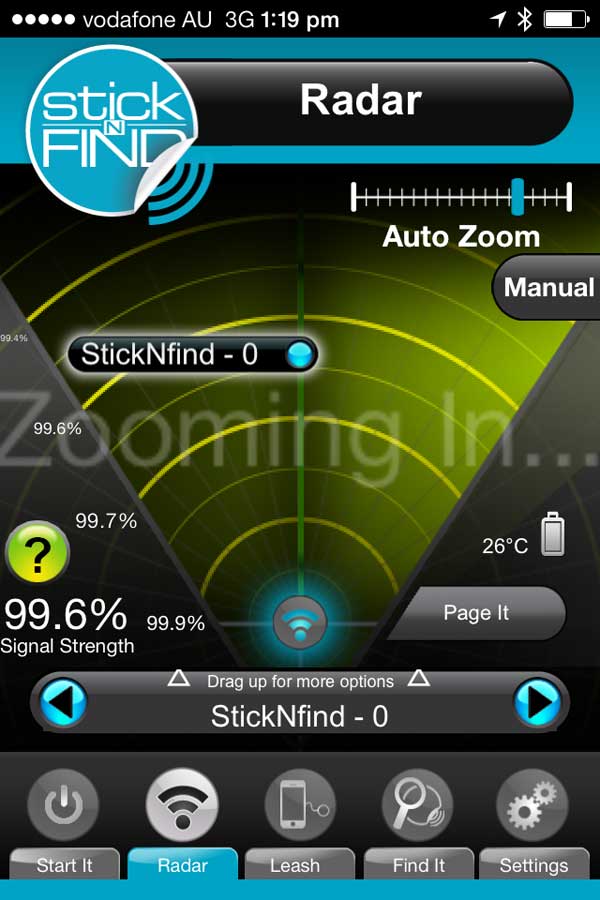 The Stick-N-Find comes with an easy to use app plus a great radar feature
The Stick-N-Find application offers the user five menu options that include Where's my sticker?, Create Leash, In-range alert, Pair new sticker and Show recent locations. On the bottom of the app are additional icons that include Start It (the main menu), radar, leash, find it and settings. The app is quite comprehensive and extremely easy to use, especially in locating your Stick-N-Find sticker or stickers.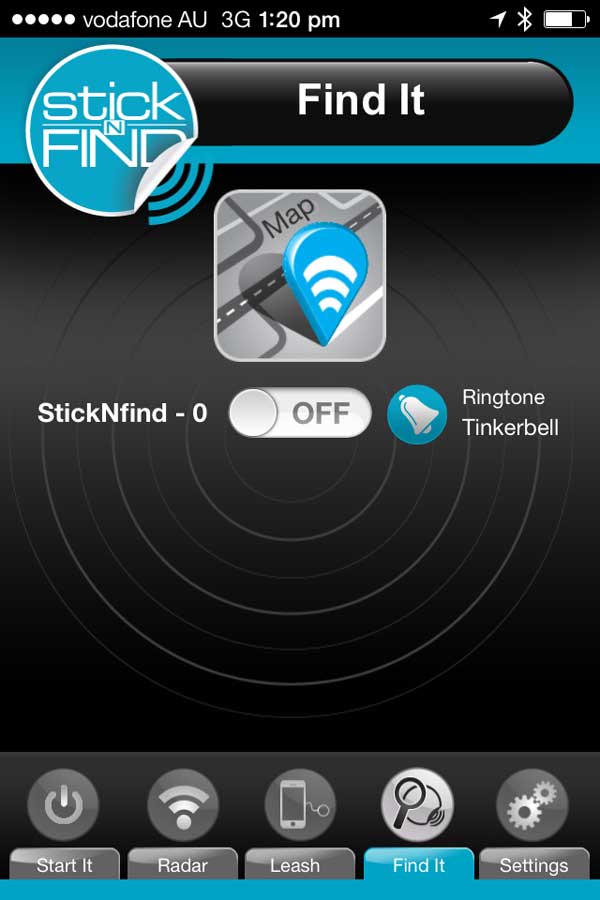 The app contains many features such as the virtual leash
The radar is the best feature of the app which displays the direction in where the sticker is located, signal strength, the ability to "page" the sticker and even the temperature. By paging the sticker, it forces it to play a chime which does assist in finding it.
Another great feature is the Virtual Leash. The Virual Leash will inform the user if the sticker has gone out of range. The range of the Stick-N-Find is around 15 metres or 50 feet. The developers state that in ideal situations, the range can be over 50 metres or 150 feet. With our testing, it does come close.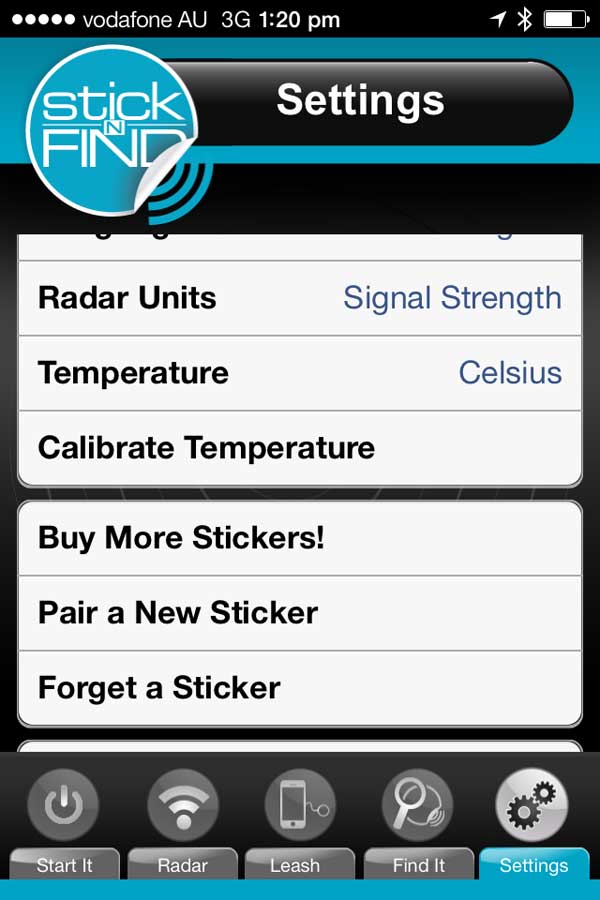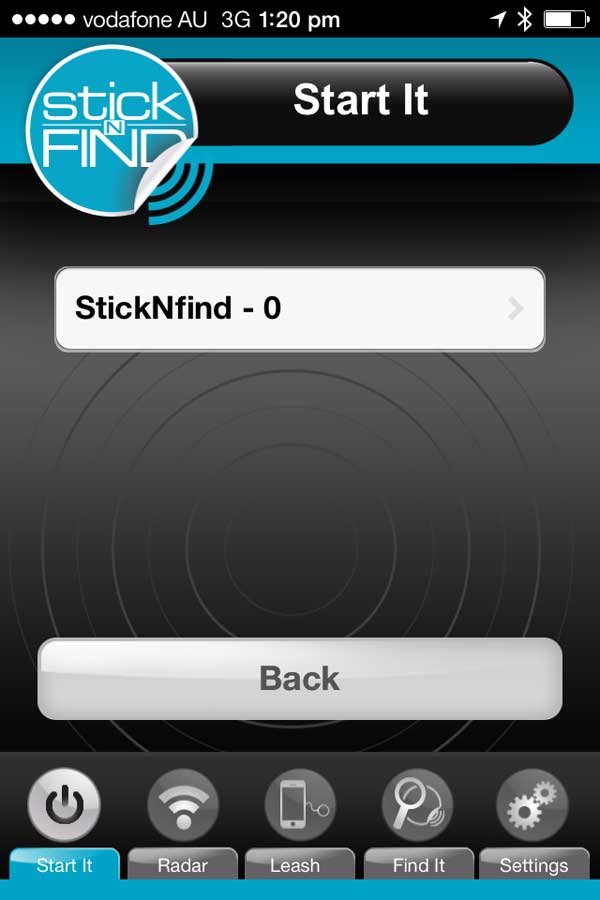 The app allows you to add a number of additional Stick-N-Find stickers
Final Thoughts?
The Stick-N-Find is a brilliant piece of technology that I could happily recommend to all users of iOS devices, especially those who have the habit of misplacing items such as keys, wallets or even pets. I did attach the Stick-N-Find to my dog's collar and seeing it run around the backyard on the radar was like something out of aliens. It's quite a funky and useful gadget, even when you're not having fun with it.
You're probably wondering what are the cons of this device? I actually couldn't find any issues with this product whatsoever and for the 2-pack, it is $56.49AUD or $98.49AUD for the 4-pack (November 2013) which is  quite affordably priced and best of all, it's future proof!
For more information, please visit – http://www.mobilezap.com.au/34173/apple/iphone-5s.htm
Highly Recommended!