Comics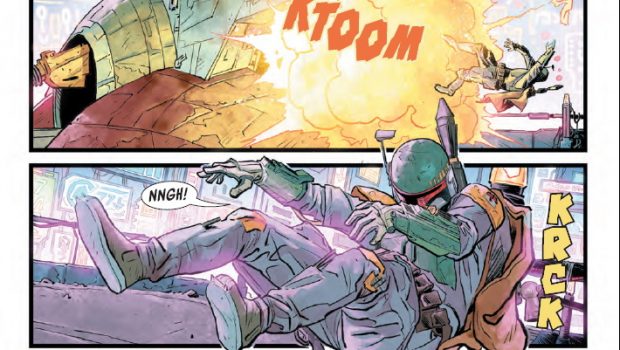 Published on June 4th, 2021 | by Tim Chuma
Star Wars: War of the Bounty Hunters #1 (2021) Review
Summary: If you can only get one of the War of the Bounty Hunters comics then get this one since it is the main storyline and the most accessible.
The War of the Bounty Hunters storyline begins proper with Boba Fett finding out he has a bounty on his head and going straight to the source of it to get some answers. Criminal organisation Crimson Dawn plays its hand in the theft of Han Solo trying to impress Jabba the Hutt and get everyone's attention. Boba Fett is not in the mood to play games and will take on anyone who gets in his way.
It is good to finally get into the main storyline proper with this. While there are the stories going on in Bounty Hunters, Darth Vader, Dr Aphra and Star Wars plus the minor character one-shots this is the main story and will be the one you can follow if you don't care as much for the other characters.
Crimson Dawn would be interesting to people who have followed the Clone Wars series and the extended adventures of Darth Maul post his being cut in half on Naboo. There are 8 series worth of storyline that happened in that show that was not in the movies.
There is some interesting art and character design in this and Boba Fett is sure to go to a lot of different planets to achieve his goal and clear his bounty.
With the popularity of the Mandalorian and the upcoming Book of Boba Fett this is an easy recommend for even casual fans of Star Wars.
Comic details:
Writer: Charles Soule
Penciler: Luke Ross
Cover Artist: Leinil Francis Yu, Steve Mcniven
Publisher: Marvel
Published: June 02, 2021