Comics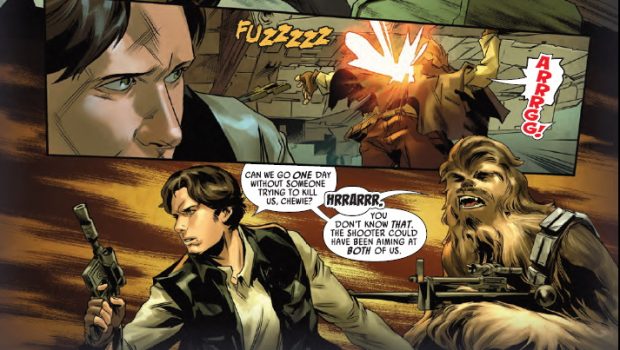 Published on May 25th, 2021 | by Tim Chuma
Star Wars: Bounty Hunters #12 (2020) Review
Summary: Bounty Hunters gets its "prelude" entry to the War of the Bounty Hunters storyline. Worth a look if you are already following this series. Everyone else maybe keep following the main Boba Fett story.
Valance and Dengar are on the way to try and get to Boba Fett before the other bounty hunters when two of the same who are looking for Valance catch up to them. Valance remembers a time he was in a hit squad to try and take out Han Solo and still has unfinished business with him. As a lot of the bounty hunters have a beef with Han Solo they use this to get rid of the bounty hunters and go off after him.
It seems a lot of the related issues are going to have at least one "prelude" issue of this storyline before they get into the war of the bounty hunters proper. Some of them are better than others like Boba Fett's and the main Star Wars story. This one seems a bit tame in comparison even though it does have more space dogfighting than is usually in these stories.
I recently found out Valance as a character is almost as old as the original trilogy Star Wars stories having first appeared in the comics in 1978. He has not appeared in any of the films or TV shows until now but hopefully he does at some point.
It is going to get a bit crowded if all the characters end up in the same stories.
Well worth a look if you are following this story, everyone else wait until the War of the Bounty Hunters starts proper or just get the main comic with Boba Fett in it.
Comic details:
Publisher: Marvel
Published: May 19, 2021
Writer: Ethan Sacks
Penciler: Paolo Villanelli
Cover Artist: Mattia De Iulis