Drama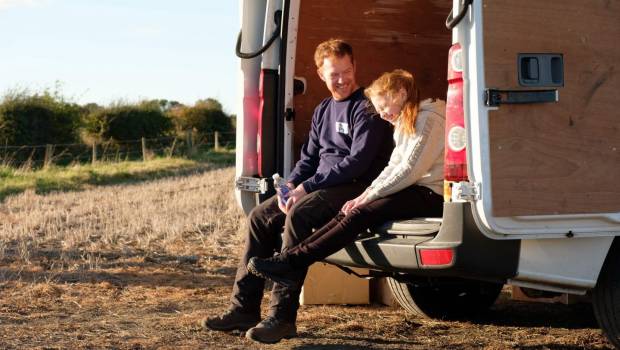 Published on April 25th, 2020 | by Natalie Salvo
Sorry We Missed You Digital Review
Summary: An emotional and thoughtful look at an everyman and woman working in the gig economy. It's a heart-wrenching situation, especially considering the real people experiencing this.
John Lennon sang that a "working class hero is something to be." But veteran filmmaker, Ken Loach's drama, "Sorry We Missed You," paints a sobering view. The story centres on a Northern-English family who are part of the working poor. They encounter some setbacks in a tale that feels so genuine, it's as if Loach strapped a camera to someone who was actually being exploited.
For this film, Loach once again paired up with his long-term collaborator, writer Paul Laverty. Many people are saying this film is a companion piece to "I, Daniel Blake." For "Sorry We Missed You," the script feels very real and like a slice of everyday life.
Newcomer, Kris Hitchen plays Ricky, a man who was hit hard during the global financial crisis. Still struggling his way out of a financial hole, he becomes a delivery driver because he thinks this will offer independence and safety. He is proven wrong. The film's title comes from the cards that are often left behind by these drivers.
Ricky is a contractor for a delivery firm and paid per job. He is exploited by his boss- there is no time for meals and toilet breaks are via a bottle. If he misses work he is heavily fined. Ricky is a stoic man and he presses on as the family breadwinner- but cracks form, especially with his children. His teenage son, Seb (Rhys Stone) becomes troubled, getting into fights and bunking off school to go tagging with his mates. Seb's sister, Liza Jae is an anxious tween.
Debbie Honeywood is a captivating surprise in this film. As Ricky's wife, Abbie, she is also an exploited, gig economy worker. Abbie is a carer who is given short stints to care for her clients. Honeywood plays her character with a warm and empathetic performance. It's clear that her clients and family mean the world to her and that makes their situation all the more heart wrenching. At times this film is not unlike reading a book of misery porn.
There is not much music in this film. This means the proceedings often feel like a documentary about real characters rather than a drama. The cinematography is understated, with the focus instead on the sublime performances by these talented, new actors. This is an intense character study and the actors really help fashion the proceedings into a slice of social realism.
Ken Loach delivers another emotive and thoughtful film in "Sorry We Missed You." His message is clear: behind casualised workforces are real people in precarious situations, struggling to make ends meet. Loach gives us a blistering look at those little men and women who keep countries going and are at the mercy of big business. This proves that the system is in dire need of change, or at least a major reboot.
Digital Details
Directors Ken Loach
Actors Kris Hitchen, Debbie Honeywood, Rhys Stone, Katie Proctor
Film Genre Drama
Label Madman Entertainment
Running Time 101
Rating MA15+
Consumer Advice Strong coarse language