Drama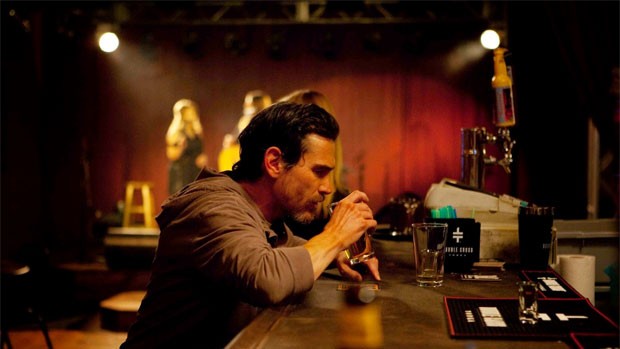 Published on November 9th, 2015 | by Natalie Salvo
Rudderless DVD Review
Summary: Rudderless" is buoyant, black and mostly pleasant but you will be left wishing they'd added a little more depth and meaning.
"Rudderless" is a dramatic and emotional film about music but that doesn't stop it from hitting some bum notes. The story deals with a grieving father who is off on a directionless course after the tragic and premature death of his teenage son. It's a shallow and melodramatic tale about forgiveness and redemption with things being too unlikely and underdone for it to really strike a chord.
Billy Crudup ("Almost Famous") stars as Sam Manning, a man who once had it all including a wife, teenage son and a high-profile job at an advertising agency. After he wins an account from a large client he decides to celebrate with his son, Josh (Miles Heizer) except that the latter decides to blow his dad off. Tragedy strikes and Josh dies in a college shooting and the audience are left knowing and learning very little about the boy.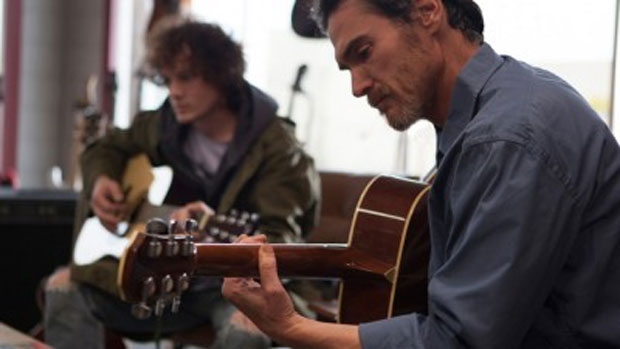 The plot then fast forwards two years and Sam is now a loner with a greying beard and he seems to have aged quite quickly in this time. His source of income is now by working as a house painter and he lives in a boat that's permanently docked in a lake. Sam has had a mighty fall from grace and is struggling to come to grips with his son's death. But this changes when he receives a visit from his now ex-wife, Emily (Felicity Huffman who is married to the film's actual director, William H. Macy).
Emily gifts Sam with old demo CDs and notebooks containing song lyrics by their late son, Josh. Sam teaches himself how to play his boy's songs and eventually performs one at an open mic night. This show leads to an unlikely friendship with Quentin (Anton Yelchin), a troubled youth who would have been the same age as Josh. Quentin convinces Sam to start a band and the group name themselves Rudderless. They enjoy some success as Quentin and Sam's friendship blossoms but this is all threatened when a large curveball is thrown into the mix in the third act (this is something that is introduced but not satisfactorily resolved).
"Rudderless  is only the second film to be directed by "Fargo's" William H. Macy, who also doubles as a co-writer along with Casey Twenter  and Jeff Robison. The film features a lot of original folk-rock songs and other music by Eef Barzelay, Charlton Pettus and Simon Steadman. Unfortunately, the musical performances are often at the expense of providing an adequate back story to the supporting characters. We never really learn much about Josh apart from his musical talent and then there are appearances by Selena Gomez and Laurence Fishburne who are caricatures of an angry ex-girlfriend and a kindly, old music store owner, respectively. The biggest omission is information about the shy and awkward Quentin's past, as we learn he had a rough childhood but that's about it.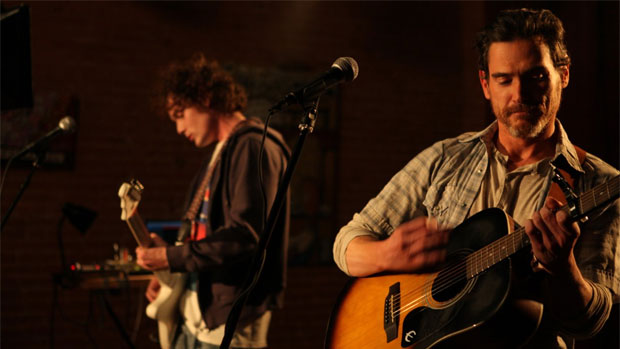 In the end Crudup and Yelchin do the best they can with the script and they both seem to share a great chemistry, which lends itself to a father and son-like relationship. But one also gets the sense that this could have been a stronger film except that things have coasted and drifted off-course, particularly in the final act. This is ultimately a dark story that has enough lighter moments to prevent it from completely wallowing near the ground. But when some new information is gradually revealed it does make things feel a bit too hollow and unbelievable. In all, "Rudderless" is both buoyant and black and mostly pleasant, but you just wish they would have ventured beneath the waters/surface for a little more depth and meaning.
DVD Details
Director – William H. Macy
Actors – Billy Crudup, Anton Yelchin, Felicity Huffman, Selena Gomez, Alexandra Lovelace, Miles Heizer
Film Genre – Drama
Label – Shock
Audio – English (Dolby Digital 2.0)
Running Time – 105
Aspect Ratio – 1.78:1
Region Coding – 4
TV Standard – PAL
Rating – M
Year of Release – 2014
Primary Format – Movies/TV – DVD