Drama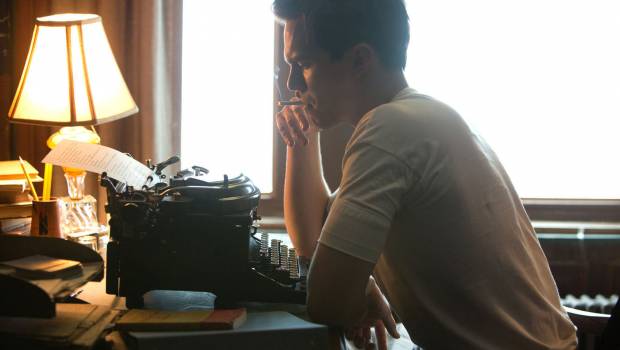 Published on February 21st, 2018 | by Natalie Salvo
Rebel In The Rye DVD Review
Summary: "Rebel in The Rye" is a serviceable but flawed bio-pic about the notoriously private author, J.D. Salinger. Its focus is on how his art imitated life and the result is a rather hollow rendering.
There is a line in "Rebel In The Rye" where famous author, J.D. Salinger declares that fiction is "More truthful than reality." The same can also be said of this bio-pic. The plot is all about the notoriously private and reclusive author of the classic novel, "The Catcher In The Rye," and while much has been speculated about the author's life over the years, you get the sense that some of these ideas have made their way into this rather safe and sanitised film.
"Rebel In The Rye' comes to us courtesy of first-time director, Danny Strong who is known for writing "The Hunger Games" films and for his acting roles in "Buffy" and "Gilmore Girls." The plot here is in part borrowed from Kenneth Slawenski's biography about Salinger.
Heartthrob, Nicholas Hoult ("X-Men: Apocalypse") stars as the tormented and prickly Salinger, complete with dark brown contacts over his eyes. Despite the film taking in a period of approximately two decades, Hoult is not made up to look any different from his fresh-faced self from the start to the very finish.
In the beginning, Salinger is a cocky student attending Columbia University to study writing. His father (Victor Garber) is disapproving of his son's chosen career path. Luckily, Salinger's mother (Hope Davis) supports her son's dreams. While studying, Salinger meets "Story" editor Whit Burnett (Kevin Spacey.) The latter challenges Salinger and pushes this overly-confident and stubborn fledgling writer to do some of his best work. In the meantime, Salinger also forms a strong romantic attachment to socialite Oona O'Neill (the gorgeous, Zoey Deutch.)
Then Pearl Harbour happens and Salinger – like many Americans – is forced to fight in World War II. His work involves liberating the Nazi death camps and while overseas he is unceremoniously dumped by O'Neill who marries Charlie Chaplin. The war changes Salinger and he returns home a tormented character with severe PTSD and Hoult does a great job in portraying this convincingly. Salinger is also in possession of the manuscript copy of his magnum opus, "The Catcher In The Rye." It's a book he wrote whilst fighting in the war and its one that will catapult him into literary stardom. But Salinger realises he doesn't want the fame and notoriety and eventually walks away to live life as a virtual recluse in a cabin in North Hampshire. In doing so, he alienates his wife Claire (Lucy Boynton) and children and spends his days meditating and writing millions of words that won't be published.
This film isn't one that would have been approved by the notoriously private and late Salinger. As a stand-alone piece, it feels a tad hollow at times and like it is barely scratching the surface of this important writer's life and motivations. It doesn't address or mention any of the more salacious or colourful allegations made with respect to his personality. Instead it presents a kind of sanitised hagiography and a love letter to this tormented writer and the craft employed by this creative genius. It means the result is far from illuminating and certainly flawed.
"Rebel In The Rye" was always going to be a difficult brief, to make a bio-pic about a writer who is private and eschews celebrity. While there are some interesting glimpses at Salinger offered here and a kind of art-imitates-life-like approach which is useful, you can't help but wonder how much of this story has been left out and is always going to be unknowable. The world thinks it may know and understand Salinger's most famous character, Holden Caulfield, but the same cannot be said of the illusive and prickly genius that created him and certainly not from this sterile bio-pic.
DVD Details
Director – Danny Strong
Actors – Nicholas Hoult, Zoey Deutch, Kevin Spacey, Sarah Paulson, Brian d'Arcy James, Lucy Boynton
Film Genre – Drama
Label – Roadshow
Audio – English (Dolby Digital 5.1)
Running Time – 104
Region Coding – 4
TV Standard – PAL
Rating – M
Consumer Advice – Mature themes, violence and coarse language
Year of Release – 2016
Primary Format – Movies/TV – DVD