Lifestyle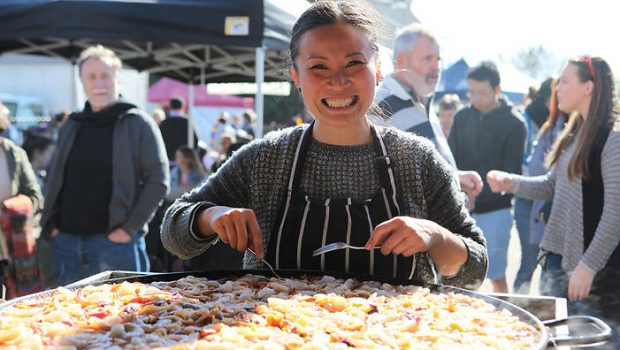 Published on July 24th, 2016 | by Natalie Salvo
Poh & Co. Series 2 DVD Review
Summary: "Poh & Co." is a humble, unpretentious program that is all about having fun with food and cooking in the presence of good friends and family. Poh's vivacious personality is infectious and her food looks like an absolute treat.
"Poh & Co." is a cooking and reality TV show starring Poh Ling Yeow, the former runner up of "MasterChef Australia" and the presenter of "Poh's Kitchen." This program has a homely, old school feel. In it Yeow spends time cooking and laughing while in the company of her family, friends and Scottish terrier dogs in suburban Adelaide. The result is a helpful and unpretentious series that is not dissimilar to "River Cottage Australia."
The second season has nine separate parts and it tracks Yeow and her friends as they realise their dreams of opening a café in Adelaide's Central Markets as well as their taking over a commercial kitchen. This space allows Yeow to come up with new ice-cream flavours and to expand their market stall with the help of her best friend, Sarah Rich. The latter is now married to Yeow's ex-husband and manager, Matt Phipps, but this is not mentioned at all in the program.
Yeow seems incredibly happy and busy with her new husband, Jono Bennett and all of the things they have going on. The two have a large garden in their backyard and this series includes some home renovations like designing a feature wall inside and a glasshouse in the yard, as well as an urban beehive to top things off. Another guest on this series is a fellow "MasterChef" alumnus, Andre Ursini as well as Yeow's mother and Aunty Kim plus a bunch of eccentrics from the markets.
Poh's recipes seem like a good mix of different flavours. She likes combining different ingredients and techniques in an uncomplicated way. A real highlight is the rainbow cake she makes for a children's party because it looks like it belongs at a mad-hatters tea party. Other recipes include her mother's laksa, tea-smoked duck, crème caramel, kimchi and American-style smoked ribs, to name a few. The food is mouth-watering and a pure feast for the eyes. It was disappointing however, that this DVD contained no special features.
"Poh & Co." is all about having fun with gorgeous food in the presence of friends and family. This vivacious artist and chef is an absolute joy to watch. She makes things fun and her outlook is rosy, even when her life seems quite busy and chaotic. In all, this program is a low-key one full of great advice and food and it's one where dreams become reality and new ideas are hatched and can run free. Wow!
DVD Details
Film Genre – TV Lifestyle
Label – SBS
Audio – English (Dolby Digital 2.0)
Running Time – 225
Aspect Ratio – 1.78:1
Region Coding – 4
TV Standard – PAL
Rating – E
Year of Release – 2016
Primary Format – Movies/TV – DVD