Lifestyle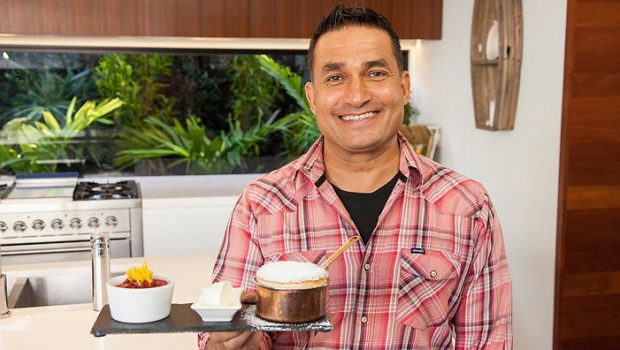 Published on January 22nd, 2017 | by Natalie Salvo
Peter Kuruvita's Coastal Kitchen DVD Review
Summary: "Coastal Kitchen" is a fun celebration of local produce and flavours from Queensland. Restaurateur, Peter Kuruvita's presenting style is as warm and engaging as the program's picturesque surrounds.
Peter Kuruvita's "Coastal Kitchen" shares a few things in common with recent cooking shows like "Poh & Co." and "River Cottage Australia" in that he uses the local neighbourhood for food inspiration. Kuruvita is no stranger to TV screens with the restaurateur previously presenting series about his homeland, Sri Lanka, as well as Mexico. For "Coastal Kitchen" Kuruvita uses his sea-change from Sydney to Noosa as inspiration for many of the culinary treats on display here.
This six-part series is all about celebrating local produce and flavours from Queensland and the areas surrounding the Sunshine Coast, with the featured destinations, including: Noosa, Gympie, Maleny, Kenilworth, Mooloolaba, the Glasshouse Mountains and Kin Kin. Each episode has a different theme or focus with instalments about indigenous foods or bush tucker, seafood, locally-grown farm produce and food for health, to name a few. Kuruvita is a laid-back and calm presenter, an enthusiastic interviewer and a passionate foodie. These things are all apparent in his bubbly, on-screen presence and technique.
Each episode features recipes that Kuruvita has devised and some of these are Sri Lankan in origin (i.e. curries and dahl soup.) There are also other dishes where he has adapted the traditional recipe to add a twist of Sri Lankan flavours to the mix. Examples of these include the Sri Lankan egg curry pho and the pippies with Sri Lankan XO sauce. Over the course of the series Kuruvita learns how to make cheese, goes fishing, discovers artisan bee-keeping, and learns about tempeh, a bi-protein soya bean.
Kuruvita often offers handy tips and tricks in his cooking demonstrations. One useful piece of advice is when he tells viewers to soak shellfish overnight so that you can remove any excess sand if this has not already been done. The extras are good and include lessons in how to fillet and scale raw fish and how to serve a cooked fish. The only complaint is that there should have been more of these because not everyone is a MasterChef or a cook for that matter.
"Coastal Kitchen" demonstrates how beautiful and peaceful Queensland is and how it is poised to become an important foodie destination. Kuruvita's relaxed delivery and passion for the local food and produce makes for a refreshing and entertaining watch. "Coastal Kitchen" is such a pleasant and enjoyable show it might convince others to embark on their own sea change because it encapsulates all of the benefits of coastal living. Divine.