Lifestyle
Published on October 3rd, 2016 | by Natalie Salvo
Penelope Keith's Hidden Villages Series 2 DVD Review
Summary: The second series of "Hidden Villages" is similar to the first in that it's another gentle travelogue and collection of eccentric individuals inhabiting parts of Britain's countryside, as well as their secrets and traditions.
3.75
Nut-bush city limits?
Penelope Keith's "Hidden Villages Series 2" picks up were the first one left off. It's another look at some places that are off the beaten track, are quintessentially British, full of eccentrics and befitting the term "villages." The former star of "To the Manor Born" and "The Good Life" delivers another bright and delightful program about a topic that is clearly rather close to her heart. This is particularly so when you consider that she has been living in a village herself for almost 40 years.
This time around Keith produces four episodes that focus on Devon and Cornwall; Cumbria and The Lake District; Royal Deeside; and East Sussex and Kent. In episode one Keith visits a number of coastal cities and looks at how fishing and mining played a role in village life. She also sees some troyboats race, catches the Polruan ferry and attends Oak Apple Day.  Keith is a keen gardener so it's fitting that she also has a turn around some large private gardens where Camelia and rhododendrons were first introduced and where large plantations of Darjeeling tea are now being grown.
The picturesque, Lake District is the setting for episode two and it's here that we learn that these farmlands were the inspiration and home of children's author, Beatrix Potter. The series focuses on a number of literary references (and not just the excerpts that Keith has highlighted from her 1932 travel book, the "Batsford Guide".) Keith also describes Wordsworth's Grasmere and East Sussex is where you will find Batemans, the former home of "The Jungle Book's author, Rudyard Kipling.
This series contains some exquisite shots of green, British landscapes. At the Royal Deeside, the audience is also treated to views of Balmoral Castle and acres of royal land that is used to grow vegetables and plants. This neighbourhood (and Braemar specifically) is also where the Highland Games are held. These are complete with dancers, bagpipe players and the hammer toss. The final episode includes a visit to Robertsbridge, the home of the cricket bat as well as trips along a steam train and a glimpse at the Beresford Hotel or one where The Beatles, Petula Clark and other famous people were once guests.
The second series of "Hidden Villages" is certainly not essential viewing. It's another gentle travelogue of rural England and the countryside as well as its coverage of the secrets and traditions of those places. This series looks absolutely gorgeous and Penelope Keith has a personality and presenting style to match. Her enthusiasm and optimism is infectious and the series will make just about anyone want to become a member of the village green preservation society.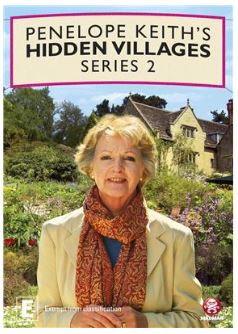 DVD Details
Film Genre – TV Documentary
Label – Madman Entertainment
Audio – English (Dolby Digital)
Running Time – 180
Aspect Ratio – 1.78:1
Region Coding – 4
TV Standard – PAL
Rating – E
Consumer Advice Line – Exempt from classification
Year of Release – 2015
Primary Format – Movies/TV – DVD