Documentary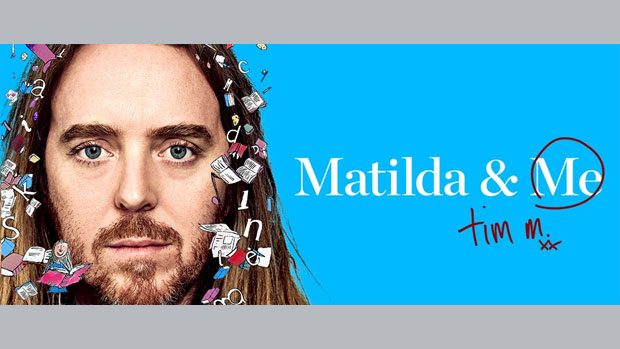 Published on April 27th, 2016 | by Natalie Salvo
Matilda & Me DVD Review
Summary: "Matilda & Me" is an intimate documentary that captures some of the magic pixie dust behind the story and adaptation of Roald Dahl's classic, "Matilda".
The documentary, "Matilda & Me" is more about the latter than the former. It's a film that looks at Tim Minchin's background and history, charting his rise from aspiring actor to successful comedian and renowned theatre composer. The movie is ultimately a fun and vibrant one about two great characters- the fictional, Roald Dahl creation, Matilda and the clever and creative larrikin, Minchin.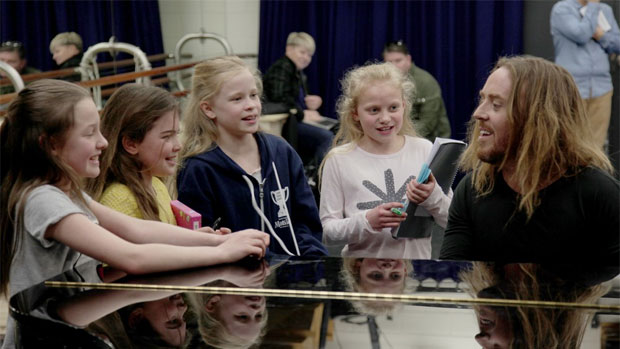 The film is written and directed by Minchin's sister, Nel Minchin as well as Rhian Skirving ("Rock n Roll Nerd"). The former gives us quite a personal look at her brother Tim, showing us old photographs and home movies and narrating Tim's story. Mr Minchin may have been introduced to theatre and creative things while still at school but he was an unlikely choice when it came to "Matilda". There was a long road to success and some of this journey even included some couch-surfing at playwright, Kate Mulvany's place. But it seems that the stars aligned with "Matilda" because this strange choice of composer would write some award-winning lyrics and music for the Roald Dahl classic.
"Matilda & Me" features a diverse range of interviewees. There is Mr Minchin himself as well as his siblings, Dan and Katie, wife Sarah and friends Andrew Denton and Eddie Perfect. There is also Dahl's cool wife, Felicity, Andrew Lloyd Webber and actress, Mara Wilson, who played the lead character in the 1996 film. There are also interviews with those involved in the stage production like: playwright, Dennis Kelly, director, Matthew Warchus and the four girls selected to play the lead character in the Sydney production: Georgia Taplin, Bella Thomas, Sasha Rose and Molly Barwick.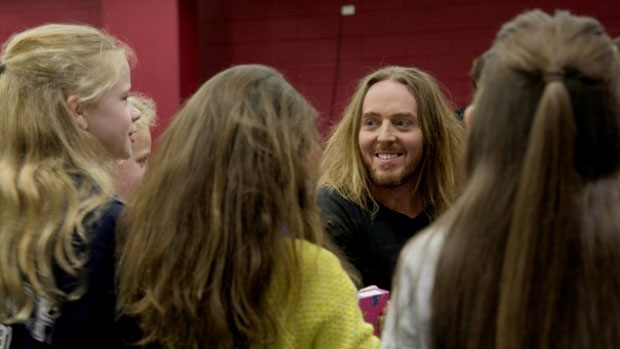 The story is ultimately an inspiring one just like the book. It shows how Minchin went from a modest childhood living on a farm and near the beach in WA to becoming hot property thanks to a successful and award-winning musical playing on Broadway and in the West End. Minchin himself is quite an engaging and interesting character. He can be quite outspoken and vocal (the recent Cardinal Pell song is testament to that) but he is also quite modest and quick to downplay his hand in the success of the show.
The DVD extras include some behind-the-scenes featurettes and interviews. They include subjects like "Meeting the Matildas", "A look at the magic of Roald Dahl" the "When I Grow Up Song" and interviews with associate choreographer, Fabian Aloise and actor, James Millar who plays the scary principal, Mrs Trunchbull in the Australian adaptation.
Tim Minchin may have set some tongues a wagging with his blue eye makeup, long hair and bare feet but he was the perfect person to work on the stage adaptation of "Matilda". Roald Dahl's magical tale has been given a new life on stage and "Matilda & Me" captures some of that enchanted pixie dust and the essence of the creative driving force behind it all. This documentary puts its spotlight squarely on Tim Minchin's star and gets an intimate look at the creative composer who took the story of a little girl and ran with it and a man that looks poised to do a whole lot more.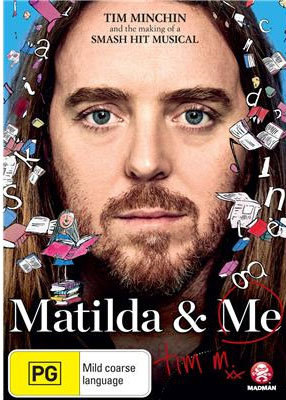 DVD Details
Film Genre – TV Documentary
Label – Madman Entertainment
Audio – English (Dolby Digital 2.0)
Running Time – 60
Aspect Ratio – 1.78:1
Region Coding – 4
TV Standard – PAL
Rating – PG
Year of Release – 2015
Primary Format – Movies/TV – DVD