Anime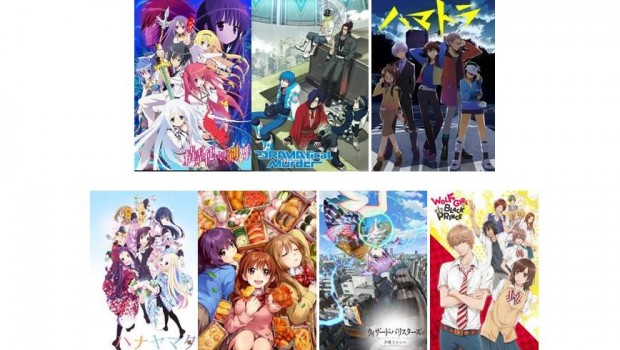 Published on June 22nd, 2015 | by Admin
MADMAN'S SUPANOVA SYDNEY PANEL ANNOUNCEMENTS – 2015
Madman is proud to announce the acquisition of a slate of great new titles. Release dates and formats will be announced in the near future. Check Madman.com.au for further information, subscribe to our newsletter, or follow us on social media.
Dramatical Murder:
This story revolves around a young man named Aoba who lives a quiet life working in a junk shop. When an online cyber game called "Rhyme" becomes popular on the island where he lives, he pays no interest. Soon enough though, he is somehow pulled into it. Without knowing it, his peaceful days have come to an end!
Hanayamata:
Naru is a high school girl who is average in every way. She loves fairy tale heroines, though she's never had the courage to escape her ordinary life. One day, she sees Hannah, a transfer student, dancing in the moonlight and becomes inspired to learn Yosakoi dancing.
Hamatora:
"Minimum" (otherwise known as "small miracles") is a special power that only manifests within a few, select humans. Those who possess this ability are called "Minimum Holders". 2014, Yokohama: The detective duo of Nice and Murasaki – AKA "Hamatora" – are waiting for work with their friends at their usual table in Cafe Nowhere, the location they use as their agency. Suddenly, a job comes in that seems to have a weird connection with the serial killer that Art, their police friend, is already searching for.
Wizard Barristers:
Wizard Barristers takes place in the near future of 2018, where wizards and humans live side-by-side in Tokyo. While police continue to protect the rest of society, wizards are tried according to magical laws in special courts defended by wizard barristers. Cecile Sudo has just become the youngest wizard barrister ever at 17, and begins work at the Butterfly Law Offices. However, unbeknownst to her, she harbours tremendous magical potential…
Blade Dance of the Elementalers:
Only a pure maiden can have the privilege to contract with a spirit. Priestesses, who can summon spirits from Astral Zero – the world of spirits – and have full command of their power, are called "Elementalists". Kamito Kazehaya is the one exception, the only male with this privilege. He comes to Areisha Spirit Academy, where priestesses are trained to become Elementalists, where he is to form a team with other priestesses to compete in the Blade Dance, a ritual from which the most powerful Elementalist is chosen.
Wolf Girl and Black Prince:
While the proud Erika boasts to her friends about being lovey-dovey with her boyfriend, she has never really had one for all her 16 years. Feeling the pressure of her lie, she takes a picture of a cool guy she randomly met in town and shows it to her friends, claiming him as her boyfriend. But the person in the picture happens to be Sata Kyouya who is in the same grade in their school. While she iss able to explain the situation and convince him to act like her boyfriend, he is not the nice looking boy she thought he would be: he is a super sadistic schemer! Thus begins Erika's life – blackmailed into being Sata's dog!
Kofuku Graffiti:
Ryo is a middle school girl who lives by herself. She has a knack for cooking, and she makes friendships with everyone through her food. The cooking anime is "full of detailed cuisine art to whet the appetite." The "koufuku" in the title is wordplay on two Japanese homonyms — one which means "happiness" and another that means "appetite."